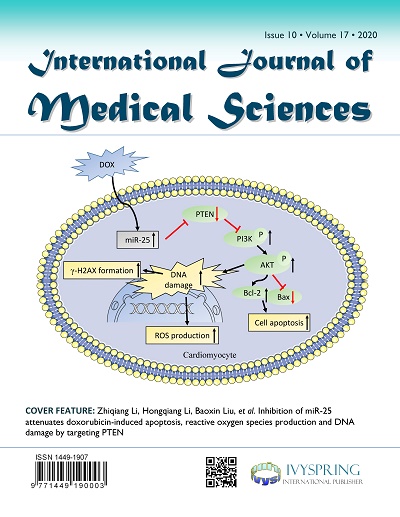 Research Paper
A Quantitative and Radiomics approach to monitoring ARDS in COVID-19 patients based on chest CT: a retrospective cohort study
Yuntian Chen, Yi Wang, Yuwei Zhang, Na Zhang, Shuang Zhao, Hanjiang Zeng, Wen Deng, Zixing Huang, Sanyuan Liu, Bin Song
Int. J. Med. Sci. 2020; 17(12): 1773-1782. doi:10.7150/ijms.48432
[Abstract] [Full text] [PDF]
Research Paper
FLAD1 is up-regulated in Gastric Cancer and is a potential prediction of prognosis
Pan Hu, Yuhang Pan, Chenyang Wang, Wenhui Zhang, He Huang, Jiani Wang, Nana Zhang
Int. J. Med. Sci. 2020; 17(12): 1763-1772. doi:10.7150/ijms.48162
[Abstract] [Full text] [PDF]
Research Paper
Effects of Bisphenol A Exposure during Pregnancy and lactation on Hippocampal Function in Newborn Rats
Ying Wang, Xiaomin Du, Dan Wang, Jun Wang, Juan Du
Int. J. Med. Sci. 2020; 17(12): 1751-1762. doi:10.7150/ijms.47300
[Abstract] [Full text] [PDF]
Research Paper
Risk factors for the exacerbation of patients with 2019 Novel Coronavirus: A meta-analysis
Jinqiu Zhao, Xiaosong Li, Yao Gao, Wenxiang Huang
Int. J. Med. Sci. 2020; 17(12): 1744-1750. doi:10.7150/ijms.47052
[Abstract] [Full text] [PDF]
Research Paper
Cordycepin attenuates Salivary Hypofunction through the Prevention of Oxidative Stress in Human Submandibular Gland Cells
Atchara Jaiboonma, Palakorn Kaokaen, Nipha Chaicharoenaudomrung, Phongsakorn Kunhorm, Kajohnkiart Janebodin, Parinya Noisa, Paiboon Jitprasertwong
Int. J. Med. Sci. 2020; 17(12): 1733-1743. doi:10.7150/ijms.46707
[Abstract] [Full text] [PDF]
Research Paper
Lipid Metabolism is the common pathologic mechanism between Type 2 Diabetes Mellitus and Parkinson's disease
Xi Zhang, Yu Fan, Yuping Luo, Lingjing Jin, Siguang Li
Int. J. Med. Sci. 2020; 17(12): 1723-1732. doi:10.7150/ijms.46456
[Abstract] [Full text] [PDF]
Research Paper
Small RNA Sequencing Reveals Transfer RNA-derived Small RNA Expression Profiles in Retinal Neovascularization
Yingqian Peng, Jingling Zou, Jiang-Hui Wang, Huilan Zeng, Wei Tan, Shigeo Yoshida, Liwei Zhang, Yun Li, Yedi Zhou
Int. J. Med. Sci. 2020; 17(12): 1713-1722. doi:10.7150/ijms.46209
[Abstract] [Full text] [PDF]
Research Paper
A Novel Nomogram Predicting Distant Metastasis in T1 and T2 Gallbladder Cancer: A SEER-based Study
Yu-Long Cai, Yi-Xin Lin, Li-Sheng Jiang, Hui Ye, Fu-Yu Li, Nan-Sheng Cheng
Int. J. Med. Sci. 2020; 17(12): 1704-1712. doi:10.7150/ijms.47073
[Abstract] [Full text] [PDF]
Research Paper
TGFβ1 induces bone formation from BMP9-activated Bone Mesenchymal Stem Cells, with possible involvement of non-canonical pathways
Huan Yao, Yulong Zou, Ke Yang, Liangjun Yin, Yang Liu, Ruidong Li
Int. J. Med. Sci. 2020; 17(12): 1692-1703. doi:10.7150/ijms.45786
[Abstract] [Full text] [PDF]
Research Paper
Effects of Dexamethasone on Remodeling of the Hippocampal Synaptic Filamentous Actin Cytoskeleton in a Model of Pilocarpine-induced Status Epilepticus
Nuo Yang, Yan Zhang, Jiang-Tao Wang, Chen Chen, Yan Song, Jian-Min Liang, Di-Hui Ma, Yan-Feng Zhang
Int. J. Med. Sci. 2020; 17(12): 1683-1691. doi:10.7150/ijms.44927
[Abstract] [Full text] [PDF]
Research Paper
Pancreatic Fat is not significantly correlated with β-cell Dysfunction in Patients with new-onset Type 2 Diabetes Mellitus using quantitative Computed Tomography
YX Li, YQ Sang, Yan Sun, XK Liu, HF Geng, Min Zha, Ben Wang, Fei Teng, HJ Sun, Yu Wang, QQ Qiu, Xiu Zang, Yun Wang, TT Wu, Peter M. Jones, Jun Liang, Wei Xu
Int. J. Med. Sci. 2020; 17(12): 1673-1682. doi:10.7150/ijms.46395
[Abstract] [Full text] [PDF]
Research Paper
Insensitive to PTH of CD8+ T cells regulate bone marrow mesenchymal stromal cell in aplastic anemia patients
Sidan Li, Maoquan Qin, Runhui Wu, Hengxing Meng, Yixuan He, Bin Wang, Xuan Zhou, Guanghua Zhu
Int. J. Med. Sci. 2020; 17(12): 1665-1672. doi:10.7150/ijms.47273
[Abstract] [Full text] [PDF]
Research Paper
Cancer Cell enters reversible quiescence through Intracellular Acidification to resist Paclitaxel Cytotoxicity
Min Jia, Dianpeng Zheng, Xiuyun Wang, Yongjun Zhang, Sansan Chen, Xiangsheng Cai, Lijun Mo, Zhiming Hu, Hongwei Li, Zhongxin Zhou, Jinlong Li
Int. J. Med. Sci. 2020; 17(11): 1652-1664. doi:10.7150/ijms.46034
[Abstract] [Full text] [PDF]
Research Paper
PODXL2 maintains cellular stemness and promotes breast cancer development through the Rac1/Akt pathway
Yi-Yi Lin, Chih-Yang Wang, Nam Nhut Phan, Chung-Chieh Chiao, Chung-Yen Li, Zhengda Sun, Jui-Hsiang Hung, Yi-Ling Chen, Meng-Chi Yen, Tzu-Yang Weng, Hui-Ping Hsu, Ming-Derg Lai
Int. J. Med. Sci. 2020; 17(11): 1639-1651. doi:10.7150/ijms.46125
[Abstract] [Full text] [PDF]
Review
Vitamin C: A Review on its Role in the Management of Metabolic Syndrome
Sok Kuan Wong, Kok-Yong Chin, Soelaiman Ima-Nirwana
Int. J. Med. Sci. 2020; 17(11): 1625-1638. doi:10.7150/ijms.47103
[Abstract] [Full text] [PDF]
Research Paper
Association of CXCL13 and Immune Cell Infiltration Signature in Clear Cell Renal Cell Carcinoma
Fangdong Jiao, Hao Sun, Qingya Yang, Hui Sun, Zehua Wang, Ming Liu, Jun Chen
Int. J. Med. Sci. 2020; 17(11): 1610-1624. doi:10.7150/ijms.46874
[Abstract] [Full text] [PDF]
Indexed in MEDLINE, PubMed, EMBASE, CAS/Chemical Abstracts, CAB Abstracts, Scopus, Science Citation Index (SCI) Expanded ....
Full texts of articles appear in PubMed Central and Europe PMC.
Journal of Genomics recent articles:


Research Paper
Complete genome and plasmid sequences of a multidrug-resistant Salmonella enterica subsp. enterica serovar Panama isolate from a German cattle farm
Anne Busch, Helmut Hotzel, Ulrich Methner
J. Genomics 2020; 8: 71-75. doi:10.7150/jgen.48656
[Abstract] [Full text] [PDF]
---
Research Paper
crispRdesignR: A Versatile Guide RNA Design Package in R for CRISPR/Cas9 Applications
Dylan Beeber, Frédéric JJ Chain
J. Genomics 2020; 8: 62-70. doi:10.7150/jgen.41196
[Abstract] [Full text] [PDF] [PubMed] [PMC]
---
Research Paper
Draft genome sequence of Actinomadura sp. K4S16 and elucidation of the nonthmicin biosynthetic pathway
Hisayuki Komaki, Enjuro Harunari, Natsuko Ichikawa, Akira Hosoyama, Moriyuki Hamada, Kannika Duangmal, Arinthip Thamchaipenet, Yasuhiro Igarashi
J. Genomics 2020; 8: 53-61. doi:10.7150/jgen.44650
[Abstract] [Full text] [PDF] [PubMed] [PMC]
Top cited papers:
Plasma viral load was positively correlated with VWF adhesive activity, which was elevated in acute relative to chronic treated HIV-1 infection. ADAMTS13 antigen and activity were both positively correlated with plasma viral load, and ADAMTS13 activity was significantly higher in men with acute HIV infection than in uninfected controls, and in both acute and chronic untreated HIV infection relative to chronic treated infection.
Conclusion: These findings suggest that even in the setting of increased ADAMTS13 protease activity, VWF in HIV-1 infection is hyperadhesive, which may favor development of microvascular and arterial thromboses and thereby contribute to increased cardiovascular risk in HIV-1-infected individuals.
...details