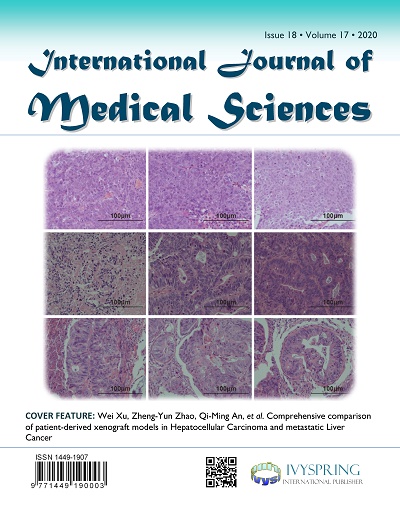 Research Paper
Multi‐omics analysis of tumor mutational burden combined with prognostic assessment in epithelial ovarian cancer based on TCGA database
Jinhui Liu, Wei Xu, Siyue Li, Rui Sun, Wenjun Cheng
Int. J. Med. Sci. 2020; 17(18): 3200-3213. doi:10.7150/ijms.50491
[Abstract] [Full text] [PDF]
Research Paper
Combined use of murine double minute-2 promoter methylation and serum AFP improves diagnostic efficiency in hepatitis B virus-related hepatocellular carcinoma
Jing-Wen Wang, Yu Qian, Chen-Si Wu, Ning-Hui Zhao, Yu Fang, Xiao-Dong Yuan, Shuai Gao, Yu-Chen Fan, Kai Wang
Int. J. Med. Sci. 2020; 17(18): 3190-3199. doi:10.7150/ijms.47003
[Abstract] [Full text] [PDF]
Research Paper
Effects of one-lung flooding on porcine haemodynamics and gas exchange
Thomas Lesser, Frank Wolfram, Conny Braun, Reiner Gottschall
Int. J. Med. Sci. 2020; 17(18): 3165-3173. doi:10.7150/ijms.50852
[Abstract] [Full text] [PDF]
Research Paper
Metabolic pathways underlying GATA6 regulating Trastuzumab resistance in Gastric Cancer cells based on untargeted metabolomics
Jinxia Chang, Qiang Wang, Anup Bhetuwal, Wenhu Liu
Int. J. Med. Sci. 2020; 17(18): 3146-3164. doi:10.7150/ijms.50563
[Abstract] [Full text] [PDF]
Research Paper
Herbal plants coordinate COVID-19 in multiple dimensions - An insight analysis for clinically applied remedies
Yuejian Zhang, Yibo Li, Xiting Wang, Rendong Qu, Juan Li, Tengteng Li, Tian He, Zheyi Wang, Yansong Liu, Xiangming Shao, Tao Lu
Int. J. Med. Sci. 2020; 17(18): 3125-3145. doi:10.7150/ijms.50260
[Abstract] [Full text] [PDF]
Research Paper
Gene signatures and prognostic analyses of the Tob/BTG pituitary tumor-transforming gene (PTTG) family in clinical breast cancer patients
Chung-Che Wu, Titus Ime Ekanem, Nam Nhut Phan, Do Thi Thuy Loan, Sz-Ying Hou, Kuen-Haur Lee, Chih-Yang Wang
Int. J. Med. Sci. 2020; 17(18): 3112-3124. doi:10.7150/ijms.49652
[Abstract] [Full text] [PDF]
Research Paper
Modified three-level techniques of retroperitoneal laparoscopic procedures to treat adrenal lesions for patients with BMI ≥ 25 Kg/m2
Minxiong Hu, Zesong Yang, Yuandong Chen, Guangbing Chen, Zhensheng Chen, Tao Li, Qingguo Zhu, Yongbao Wei, Liefu Ye
Int. J. Med. Sci. 2020; 17(18): 3107-3111. doi:10.7150/ijms.49574
[Abstract] [Full text] [PDF]
Research Paper
Angiotensin II receptor Neprilysin inhibitor (LCZ696) compared to Valsartan attenuates Hepatotoxicity in STZ-induced hyperglycemic rats
Faleh Alqahtani, Mohamed Mohany, Abdullah F Alasmari, Ahmed Z. Alanazi, Osamah M. Belali, Mohammed M Ahmed, Salim S Al-Rejaie
Int. J. Med. Sci. 2020; 17(18): 3098-3106. doi:10.7150/ijms.49373
[Abstract] [Full text] [PDF]
Research Paper
A predictive model of offspring congenital heart disease based on maternal risk factors during pregnancy: a hospital based case-control study in Nanchong City
Yun Liang, Xiaoqin Li, Xingsheng Hu, Bing Wen, Liang Wang, Cheng Wang
Int. J. Med. Sci. 2020; 17(18): 3091-3097. doi:10.7150/ijms.48046
[Abstract] [Full text] [PDF]
Research Paper
Changes of knowledge and practical skills before and after retraining for basic life support: Focused on students of Dental School
Seo-Yoon Kim, Dongmin Shin, Hyun Jeong Kim, Myong-Hwan Karm
Int. J. Med. Sci. 2020; 17(18): 3082-3090. doi:10.7150/ijms.47343
[Abstract] [Full text] [PDF]
Research Paper
Comprehensive comparison of patient-derived xenograft models in Hepatocellular Carcinoma and metastatic Liver Cancer
Wei Xu, Zheng-Yun Zhao, Qi-Ming An, Bin Dong, Ang Lv, Cheng-peng Li, Xiao-Ya Guan, Xiu-Yun Tian, Jian-Hui Wu, Chun-Yi Hao
Int. J. Med. Sci. 2020; 17(18): 3073-3081. doi:10.7150/ijms.46686
[Abstract] [Full text] [PDF]
Research Paper
IL-21 promotes osteoblastic differentiation of human valvular interstitial cells through the JAK3/STAT3 pathway
Zongtao Liu, Yixuan Wang, Jiawei Shi, Si Chen, Li Xu, Fei Li, Nianguo Dong
Int. J. Med. Sci. 2020; 17(18): 3065-3072. doi:10.7150/ijms.49533
[Abstract] [Full text] [PDF]
Research Paper
BDNF Val66Met Polymorphism, the Allele-Specific Analysis by qRT-PCR - a Novel Protocol
Gilmara Gomes de Assis, Jay R. Hoffman, Eugene V. Gasanov
Int. J. Med. Sci. 2020; 17(18): 3058-3064. doi:10.7150/ijms.50643
[Abstract] [Full text] [PDF]
Research Paper
Naringenin exerts anticancer effects by inducing tumor cell death and inhibiting angiogenesis in malignant melanoma
Jawun Choi, Dae-Hyo Lee, Hyuk Jang, Sang-Youel Park, Jae-Won Seol
Int. J. Med. Sci. 2020; 17(18): 3049-3057. doi:10.7150/ijms.44804
[Abstract] [Full text] [PDF]
Research Paper
Vitamin D Status and Pregnancy Complications: Serum 1,25-di-hydroxyl-Vitamin D and its Ratio to 25-hydroxy-Vitamin D are Superior Biomarkers than 25-hydroxy-Vitamin D
Ibrahim A. Albahlol, Abdulrahman H. Almaeen, Abdulrahman A. Alduraywish, Umar F. Dar, Tarek H. El-Metwally
Int. J. Med. Sci. 2020; 17(18): 3039-3048. doi:10.7150/ijms.47807
[Abstract] [Full text] [PDF]
Research Paper
Biatrial enlargement as a predictor for reablation of atrial fibrillation
Qiang Kong, Lisheng Shi, Ronghui Yu, Deyong Long, Yucong Zhang, Yujia Chen, Jing Li
Int. J. Med. Sci. 2020; 17(18): 3031-3038. doi:10.7150/ijms.47568
[Abstract] [Full text] [PDF]
Indexed in MEDLINE, PubMed, EMBASE, CAS/Chemical Abstracts, CAB Abstracts, Scopus, Science Citation Index (SCI) Expanded ....
Full texts of articles appear in PubMed Central and Europe PMC.
Journal of Genomics recent articles:


Research Paper
Draft Genome Sequences for the Frankia sp. strains CgS1, CcI156 and CgMI4, Nitrogen-Fixing Bacteria Isolated from Casuarina sp. in Egypt
Samira Mansour, Erik Swanson, Céline Pesce, Stephen Simpson, Krystalynne Morris, W. Kelley Thomas, Louis S. Tisa
J. Genomics 2020; 8: 84-88. doi:10.7150/jgen.51181
[Abstract] [Full text] [PDF] [PubMed] [PMC]
---
Research Paper
Nucleotide sequencing of the HoxA gene cluster using Gorilla fosmid clones
Takashi Kitano, Choong-Gon Kim, Naruya Saitou
J. Genomics 2020; 8: 80-83. doi:10.7150/jgen.50468
[Abstract] [Full text] [PDF] [PubMed] [PMC]
---
Short Research Paper
Draft genome sequence of multi-resistant Salmonella enterica subsp. enterica serovar Rissen strain 19CS0416 isolated from Vietnam reveals mcr-1 plasmid mediated resistance to colistin already in 2013
Belen Gonzalez-Santamarina, Anne Busch, Silvia Garcia-Soto, Mostafa Y. Abdel-Glil, Jörg Linde, Reinhard Fries, Diana Meemken, Helmut Hotzel, Herbert Tomaso
J. Genomics 2020; 8: 76-79. doi:10.7150/jgen.42790
[Abstract] [Full text] [PDF] [PubMed] [PMC]
Top cited papers:
Plasma viral load was positively correlated with VWF adhesive activity, which was elevated in acute relative to chronic treated HIV-1 infection. ADAMTS13 antigen and activity were both positively correlated with plasma viral load, and ADAMTS13 activity was significantly higher in men with acute HIV infection than in uninfected controls, and in both acute and chronic untreated HIV infection relative to chronic treated infection.
Conclusion: These findings suggest that even in the setting of increased ADAMTS13 protease activity, VWF in HIV-1 infection is hyperadhesive, which may favor development of microvascular and arterial thromboses and thereby contribute to increased cardiovascular risk in HIV-1-infected individuals.
...details