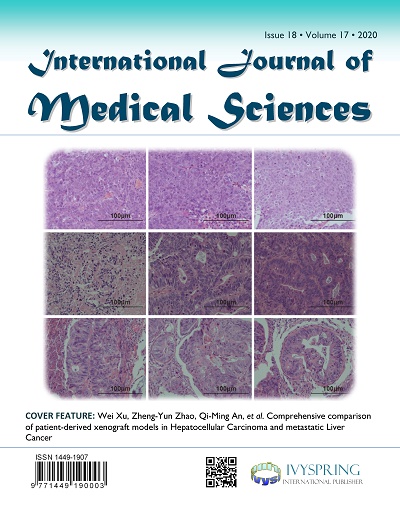 Review
DCs-based therapies: potential strategies in severe SARS-CoV-2 infection
Jian Han, Jiazhi Sun, Guixin Zhang, Hailong Chen
Int. J. Med. Sci. 2021; 18(2): 406-418. doi:10.7150/ijms.47706
[Abstract] [Full text] [PDF]
Review
A review of linc00673 as a novel lncRNA for tumor regulation
Kunjie Zhu, Zhaojian Gong, Panchun Li, Xianjie Jiang, Zhaoyang Zeng, Wei Xiong, Jianjun Yu
Int. J. Med. Sci. 2021; 18(2): 398-405. doi:10.7150/ijms.48134
[Abstract] [Full text] [PDF]
Research Paper
Blocking the Mineralocorticoid Receptor Improves Cognitive Impairment after Anesthesia/Splenectomy in Rats
Xixia Feng, Lu Chen, Ruihao Zhou, Xiuqun Bao, Hongxia Mou, Ling Ye, Pingliang Yang
Int. J. Med. Sci. 2021; 18(2): 387-397. doi:10.7150/ijms.48767
[Abstract] [Full text] [PDF]
Review
Correlation between C9ORF72 mutation and neurodegenerative diseases: A comprehensive review of the literature
Xingfeng Xu, Yan Su, Zhenyou Zou, Yali Zhou, Jianguo Yan
Int. J. Med. Sci. 2021; 18(2): 378-386. doi:10.7150/ijms.53550
[Abstract] [Full text] [PDF]
Research Paper
Impact of Footwear and Foot Deformities in patients with Parkinson's disease: A Case-Series Study
Eloy Trillo Novo, Daniel López López, Carmen de Labra Pinedo, Marta Elena Losa Iglesias, Ricardo Becerro de Bengoa Vallejo, César Calvo Lobo, Carlos Romero Morales, Marta San Antolín Gil
Int. J. Med. Sci. 2021; 18(2): 372-377. doi:10.7150/ijms.50967
[Abstract] [Full text] [PDF]
Research Paper
Polymeric immunoglobulin receptor (PIGR) exerts oncogenic functions via activating ribosome pathway in hepatocellular carcinoma
Yuan Zhang, Jijie Zhang, Xiaorong Chen, Zongguo Yang
Int. J. Med. Sci. 2021; 18(2): 364-371. doi:10.7150/ijms.49790
[Abstract] [Full text] [PDF]
Research Paper
Evidence of association between single-nucleotide polymorphisms in lipid metabolism-related genes and type 2 diabetes mellitus in a Chinese population
Yiping Li, Siqi He, Chuanyin Li, Keyu Shen, Man Yang, Wenyu Tao, Ying Yang, Li Shi, Yufeng Yao
Int. J. Med. Sci. 2021; 18(2): 356-363. doi:10.7150/ijms.53004
[Abstract] [Full text] [PDF]
Research Paper
Clinical characteristics and follow-up analysis of 324 discharged COVID-19 patients in Shenzhen during the recovery period
Han-Qing Liu, Bo Yuan, Ya-Wen An, Kai-Jing Chen, Qi Hu, Xiao-Peng Hu, Jia Zhao, Yu Dong, Yong-Xin Chen, Wei-Xin Li, Chang-Qing Sun, Jian-Chun Wang, Cheng Wang, Shuo Song
Int. J. Med. Sci. 2021; 18(2): 347-355. doi:10.7150/ijms.50873
[Abstract] [Full text] [PDF]
Research Paper
Bioinformatics Analyses of Potential miRNA-mRNA Regulatory Axis in HBV-related Hepatocellular Carcinoma
Dan-Ping Huang, Yi-Hao Zeng, Wei-Qu Yuan, Xiu-Fang Huang, Sheng-Qian Chen, Mu-Yao Wang, Yi-Jun Qiu, Guang-Dong Tong
Int. J. Med. Sci. 2021; 18(2): 335-346. doi:10.7150/ijms.50126
[Abstract] [Full text] [PDF]
Research Paper
USP37 downregulation elevates the Chemical Sensitivity of Human Breast Cancer Cells to Adriamycin
Tao Qin, Xin-Ye Cui, Hao Xiu, Chao Huang, Zhen-Ni Sun, Xiao-Mei Xu, Lian-Hong Li, Lu Yue
Int. J. Med. Sci. 2021; 18(2): 325-334. doi:10.7150/ijms.54301
[Abstract] [Full text] [PDF]
Review
Perspective Adjunctive Therapies for COVID-19: Beyond Antiviral Therapy
Ping Ho, Jing-Quan Zheng, Chia-Chao Wu, Yi-Chou Hou, Wen-Chih Liu, Chien-Lin Lu, Cai-Mei Zheng, Kuo-Cheng Lu, You-Chen Chao
Int. J. Med. Sci. 2021; 18(2): 314-324. doi:10.7150/ijms.51935
[Abstract] [Full text] [PDF]
Research Paper
FTY720 Reduces Endothelial Cell Apoptosis and Remodels Neurovascular Unit after Experimental Traumatic Brain Injury
Hao Cheng, Guangfu Di, Chao-Chao Gao, Guoyuan He, Xue Wang, Yan-Ling Han, Le-an Sun, Meng-Liang Zhou, Xiaochun Jiang
Int. J. Med. Sci. 2021; 18(2): 304-313. doi:10.7150/ijms.49066
[Abstract] [Full text] [PDF]
Research Paper
The effect of surgical suture material on osteoclast generation and implant-loosening
Ulrike Dapunt, Birgit Prior, Jan Philippe Kretzer, Gertrud Maria Hänsch, Matthias Martin Gaida
Int. J. Med. Sci. 2021; 18(2): 295-303. doi:10.7150/ijms.50270
[Abstract] [Full text] [PDF]
Research Paper
Fifteen-MiRNA-Based Signature Is a Reliable Prognosis-Predicting Tool for Prostate Cancer Patients
Zichen Bian, Xinbo Huang, Yiding Chen, Jialin Meng, Xingliang Feng, Meng Zhang, Li Zhang, Jun Zhou, Chaozhao Liang
Int. J. Med. Sci. 2021; 18(1): 284-294. doi:10.7150/ijms.49412
[Abstract] [Full text] [PDF]
Research Paper
Using CHADS2, R2CHADS2, CHA2DS2-VASc score for mortality prediction in patients with abnormal low and high ankle-brachial index
Nai-Yu Chi, Ho-Ming Su, Wen-Hsien Lee, Wei-Chung Tsai, Ying-Chih Chen, Tzu-Chieh Lin, Ye-Hsu Lu, Chee-Siong Lee, Tsung-Hsien Lin, Wen-Ter Lai, Sheng-Hsiung Sheu, Po-Chao Hsu
Int. J. Med. Sci. 2021; 18(1): 276-283. doi:10.7150/ijms.49018
[Abstract] [Full text] [PDF]
Research Paper
Prognostic value of initial chest CT findings for clinical outcomes in patients with COVID-19
Song Liu, Chen Nie, Qizhong Xu, Hong Xie, Maoren Wang, Chengxin Yu, Xuewen Hou
Int. J. Med. Sci. 2021; 18(1): 270-275. doi:10.7150/ijms.48281
[Abstract] [Full text] [PDF]
Indexed in MEDLINE, PubMed, EMBASE, CAS/Chemical Abstracts, CAB Abstracts, Scopus, Science Citation Index (SCI) Expanded ....
Full texts of articles appear in PubMed Central and Europe PMC.
Journal of Genomics recent articles:


Research Paper
Isolation, draft genome sequencing and identification of Enterobacter roggenkampii CCI9
Hironaga Akita, Yuya Itoiri, Noriyo Takeda, Zen-ichiro Kimura, Hiroyuki Inoue, Akinori Matsushika
J. Genomics 2021; 9: 1-5. doi:10.7150/jgen.46294
[Abstract] [Full text] [PDF]
---
Research Paper
Draft Genome Sequences for the Frankia sp. strains CgS1, CcI156 and CgMI4, Nitrogen-Fixing Bacteria Isolated from Casuarina sp. in Egypt
Samira Mansour, Erik Swanson, Céline Pesce, Stephen Simpson, Krystalynne Morris, W. Kelley Thomas, Louis S. Tisa
J. Genomics 2020; 8: 84-88. doi:10.7150/jgen.51181
[Abstract] [Full text] [PDF] [PubMed] [PMC]
---
Research Paper
Nucleotide sequencing of the HoxA gene cluster using Gorilla fosmid clones
Takashi Kitano, Choong-Gon Kim, Naruya Saitou
J. Genomics 2020; 8: 80-83. doi:10.7150/jgen.50468
[Abstract] [Full text] [PDF] [PubMed] [PMC]
Top cited papers:
Plasma viral load was positively correlated with VWF adhesive activity, which was elevated in acute relative to chronic treated HIV-1 infection. ADAMTS13 antigen and activity were both positively correlated with plasma viral load, and ADAMTS13 activity was significantly higher in men with acute HIV infection than in uninfected controls, and in both acute and chronic untreated HIV infection relative to chronic treated infection.
Conclusion: These findings suggest that even in the setting of increased ADAMTS13 protease activity, VWF in HIV-1 infection is hyperadhesive, which may favor development of microvascular and arterial thromboses and thereby contribute to increased cardiovascular risk in HIV-1-infected individuals.
...details