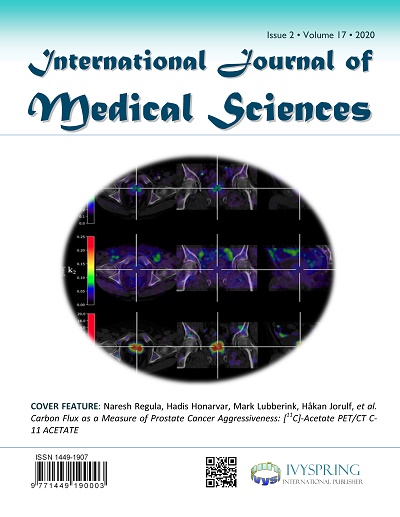 Research Paper
Confocal Raman Spectral Imaging Study of DAPT, a γ-secretase Inhibitor, Induced Physiological and Biochemical Reponses in Osteosarcoma Cells
Jie Li, Rui Wang, Jie Qin, Haishan Zeng, Kaige Wang, Qingli He, Difan Wang, Shuang Wang
Int. J. Med. Sci. 2020; 17(5): 577-590. doi:10.7150/ijms.43506
[Abstract] [Full text] [PDF]
Research Paper
Induction Chemotherapy Improved Long Term Outcomes in Stage IV Locoregional Advanced Nasopharyngeal Carcinoma
Yu-Wen Wang, Sheng-Yow Ho, Sung-Wei Lee, Chia-Chun Chen, Shieh Litsu, Wen-Tsung Huang, Ching-Chieh Yang, Chia-Hui Lin, Hsuan-Yu Chen, Li-Ching Lin
Int. J. Med. Sci. 2020; 17(5): 568-576. doi:10.7150/ijms.42005
[Abstract] [Full text] [PDF]
Research Paper
PDLSCs Regulate Angiogenesis of Periodontal Ligaments via VEGF Transferred by Exosomes in Periodontitis
Zhang Zhang, Yi Shuai, Feng Zhou, Jikai Yin, Jiachen Hu, Songlin Guo, Yan Wang, Wenjia Liu
Int. J. Med. Sci. 2020; 17(5): 558-567. doi:10.7150/ijms.40918
[Abstract] [Full text] [PDF]
Research Paper
Differential Gene Expression between Limbal Niche Progenitors and Bone Marrow Derived Mesenchymal Stem Cells
Wei Wang, Shen Li, Lingjuan Xu, Menglin Jiang, Xinyu Li, Yuan Zhang, Sean Tighe, Yingting Zhu, Guigang Li
Int. J. Med. Sci. 2020; 17(4): 549-557. doi:10.7150/ijms.40881
[Abstract] [Full text] [PDF]
Short Research Communication
Provoking factors for postpartum chronic hypertension in women with preceding gestational hypertension/preeclampsia: A longitudinal cohort study of 22,798 pregnancies
Kuo-Hu Chen, Li-Ru Chen
Int. J. Med. Sci. 2020; 17(4): 543-548. doi:10.7150/ijms.39432
[Abstract] [Full text] [PDF]
Review
Abdominal wall endometriosis (a narrative review)
Mara Carsote, Dana Cristiana Terzea, Ana Valea, Ancuta-Augustina Gheorghisan-Galateanu
Int. J. Med. Sci. 2020; 17(4): 536-542. doi:10.7150/ijms.38679
[Abstract] [Full text] [PDF]
Research Paper
Therapeutic Hypothermia Protects Against Heat Stroke-Induced Arterial Hypotension via Promoting Left Ventricular Performance in Rats
Wen-Ching Ko, Cheng-Hsien Lin, Jie-Jen Lee, Ching-Ping Chang, Chien-Ming Chao
Int. J. Med. Sci. 2020; 17(4): 525-535. doi:10.7150/ijms.39745
[Abstract] [Full text] [PDF]
Research Paper
Tooth loss early in life induces hippocampal morphology remodeling in senescence-accelerated mouse prone 8 (SAMP8) mice
Masahisa Katano, Kyoko Kajimoto, Mitsuo Iinuma, Kagaku Azuma, Kin-ya Kubo
Int. J. Med. Sci. 2020; 17(4): 517-524. doi:10.7150/ijms.40241
[Abstract] [Full text] [PDF]
Research Paper
Enhanced expression of asparagine synthetase under glucose-deprived conditions promotes esophageal squamous cell carcinoma development
Kang Fang, Yuan Chu, Ziying Zhao, Qinfang Li, Hongqi Li, Tao Chen, Meidong Xu
Int. J. Med. Sci. 2020; 17(4): 510-516. doi:10.7150/ijms.39557
[Abstract] [Full text] [PDF]
Research Paper
Suppressive effects of S100A8 and S100A9 on neutrophil apoptosis by cytokine release of human bronchial epithelial cells in asthma
Da Hye Kim, Ayoung Gu, Ji-Sook Lee, Eun Ju Yang, Ayesha Kashif, Min Hwa Hong, Geunyeong Kim, Beom Seok Park, Soo Jin Lee, In Sik Kim
Int. J. Med. Sci. 2020; 17(4): 498-509. doi:10.7150/ijms.37833
[Abstract] [Full text] [PDF]
Research Paper
Investigation of metastasis-associated in colon cancer-1 genetic variants in the development and clinicopathologcial characteristics of uterine cervical cancer in Taiwanese women
Yi-Hung Sun, Ying-Hsiang Chou, Chu-Chyn Ou, Soo-Cheen Ng, Huang-Pin Shen, Yueh‐Chun Lee, Chun-Fang Hsu, Shun-Fa Yang, Po-Hui Wang
Int. J. Med. Sci. 2020; 17(4): 490-497. doi:10.7150/ijms.40204
[Abstract] [Full text] [PDF]
Research Paper
Identification of VGF nerve growth factor inducible-producing cells in human spinal cords and expression change in patients with amyotrophic lateral sclerosis
Yasuhiro Noda, Miruto Tanaka, Shinsuke Nakamura, Junko Ito, Akiyoshi Kakita, Hideaki Hara, Masamitsu Shimazawa
Int. J. Med. Sci. 2020; 17(4): 480-489. doi:10.7150/ijms.39101
[Abstract] [Full text] [PDF]
Research Paper
Association between oral anticoagulants and osteoporosis: Real-world data mining using a multi-methodological approach
Satoshi Yokoyama, Shoko Ieda, Mirai Nagano, Chihiro Nakagawa, Makoto Iwase, Kouichi Hosomi, Mitsutaka Takada
Int. J. Med. Sci. 2020; 17(4): 471-479. doi:10.7150/ijms.39523
[Abstract] [Full text] [PDF]
Research Paper
Oxidative Stress Down-Regulates MiR-20b-5p, MiR-106a-5p and E2F1 Expression to Suppress the G1/S Transition of the Cell Cycle in Multipotent Stromal Cells
Lihui Tai, Chiu-Jung Huang, Kong Bung Choo, Soon Keng Cheong, Tunku Kamarul
Int. J. Med. Sci. 2020; 17(4): 457-470. doi:10.7150/ijms.38832
[Abstract] [Full text] [PDF]
Research Paper
Comparison of Biochemical Recurrence After Robot-assisted Laparoscopic Radical Prostatectomy with Volatile and Total Intravenous Anesthesia
Na Young Kim, Won Sik Jang, Young Deuk Choi, Jung Hwa Hong, Sewon Noh, Young-Chul Yoo
Int. J. Med. Sci. 2020; 17(4): 449-456. doi:10.7150/ijms.40958
[Abstract] [Full text] [PDF]
Research Paper
Plasma Exosome-derived MicroRNAs as Novel Biomarkers of Traumatic Brain Injury in Rats
Pengcheng Wang, Haoli Ma, Yuxian Zhang, Rong Zeng, Jiangtao Yu, Ruining Liu, Xiaoqing Jin, Yan Zhao
Int. J. Med. Sci. 2020; 17(4): 437-448. doi:10.7150/ijms.39667
[Abstract] [Full text] [PDF]
Indexed in MEDLINE, PubMed, EMBASE, CAS/Chemical Abstracts, CAB Abstracts, Scopus, Science Citation Index (SCI) Expanded ....
Full texts of articles appear in PubMed Central and Europe PMC.
Journal of Genomics recent articles:


Short Research Paper
Draft genome sequence of Deinococcus sp. KR-1, a potential strain for palladium-leaching
Hironaga Akita, Yuya Itoiri, Akio Kumagai, Noriyo Takeda, Akinori Matsushika, Mamoru Oshiki, Zen-ichiro Kimura
J. Genomics 2020; 8: 21-24. doi:10.7150/jgen.42020
[Abstract] [Full text] [PDF]
---
Research Paper
Isolation and genomic analysis of 11-aminoundecanoic acid-degrading bacterium Pseudomonas sp. JG-B from nylon 11 enrichment culture
Jocelyn Gatz-Schrupp, Peter Deckard, Benjamin Hufford, Steven Ly, Peter Tupa, Hisako Masuda
J. Genomics 2020; 8: 16-20. doi:10.7150/jgen.42095
[Abstract] [Full text] [PDF]
---
Research Paper
Draft Genome Sequence of the Symbiotic Frankia sp. strain B2 isolated from root nodules of Casuarina cunninghamiana found in Algeria
Kathia Belaid, Erik Swanson, Alyssa Carré-Mlouka, Valérie Hocher, Sergio Svistoonoff, Djamel Gully, Stephen Simpson, Krystalynne Morris, W. Kelley Thomas, Said Amrani, Louis S. Tisa, Hassen Gherbi
J. Genomics 2020; 8: 11-15. doi:10.7150/jgen.38461
[Abstract] [Full text] [PDF]
---
Short Research Paper
Draft genome sequences of Salmonella Oslo isolated from seafood and its laboratory generated auxotrophic mutant
Kadeeja Jazeela, Anirban Chakraborty, Praveen Rai, Ballamoole Krishna Kumar, Shabarinath Srikumar, Scot van Nguyen, Daniel Hurley, Seamus Fanning, Indrani Karunasagar, Vijaya Kumar Deekshit
J. Genomics 2020; 8: 7-10. doi:10.7150/jgen.40059
[Abstract] [Full text] [PDF] [PubMed] [PMC]
Top cited papers:
Plasma viral load was positively correlated with VWF adhesive activity, which was elevated in acute relative to chronic treated HIV-1 infection. ADAMTS13 antigen and activity were both positively correlated with plasma viral load, and ADAMTS13 activity was significantly higher in men with acute HIV infection than in uninfected controls, and in both acute and chronic untreated HIV infection relative to chronic treated infection.
Conclusion: These findings suggest that even in the setting of increased ADAMTS13 protease activity, VWF in HIV-1 infection is hyperadhesive, which may favor development of microvascular and arterial thromboses and thereby contribute to increased cardiovascular risk in HIV-1-infected individuals.
...details