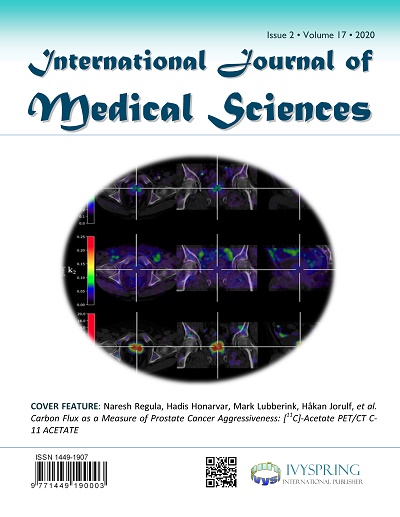 Research Paper
Upregulation of Enzymes involved in ISGylation and Ubiquitination in patients with hepatocellular carcinoma
Hoang Van Tong, Nghiem Xuan Hoan, Mai Thanh Binh, Dao Thanh Quyen, Christian G. Meyer, Dinh Thi Thu Hang, Dinh Thi Dieu Hang, Ho Anh Son, Hoang Van Luong, Nghiem Duc Thuan, Nguyen Truong Giang, Do Quyet, Mai Hong Bang, Le Huu Song, Thirumalaisamy P. Velavan, Nguyen Linh Toan
Int. J. Med. Sci. 2020; 17(3): 347-353. doi:10.7150/ijms.39823
[Abstract] [Full text] [PDF]
Research Paper
Aqueous Ocimum gratissimum extract induces cell apoptosis in human hepatocellular carcinoma cells
Chen-Cheng Huang, Jin-Ming Hwang, Jen-Hsiang Tsai, Jing Huei Chen, Ho Lin, Geng-Jhih Lin, Hsin-Ling Yang, Jer-Yuh Liu, Chiou-Ying Yang, Je-Chiuan Ye
Int. J. Med. Sci. 2020; 17(3): 338-346. doi:10.7150/ijms.39436
[Abstract] [Full text] [PDF]
Review
Procalcitonin: A promising tool or just another overhyped test?
Robin Paudel, Prerna Dogra, Ashley A Montgomery-Yates, Angel Coz Yataco
Int. J. Med. Sci. 2020; 17(3): 332-337. doi:10.7150/ijms.39367
[Abstract] [Full text] [PDF]
Research Paper
Difference of genomic copy numbers alterations between hairy cell leukemia-variant and classical hairy cell leukemia: a pilot retrospective study in Chinese
Rui Zhang, Yongli Wu, Xianfu Wang, Xianglan Lu, Yan Li, Shibo Li, Xiaojing Yan
Int. J. Med. Sci. 2020; 17(3): 325-331. doi:10.7150/ijms.39307
[Abstract] [Full text] [PDF]
Research Paper
Humanin gene expression in fibroblast of Down syndrome subjects
Michele Salemi, Federico Ridolfo, Maria Grazia Salluzzo, Rossella Cannarrella, Mariaconcetta Giambirtone, Salvatore Caniglia, Cataldo Tirolo, Raffaele Ferri, Corrado Romano
Int. J. Med. Sci. 2020; 17(3): 320-324. doi:10.7150/ijms.39145
[Abstract] [Full text] [PDF]
Research Paper
Hydrogen Sulfide Inhibits Homocysteine-Induced Neuronal Senescence by Up-Regulation of SIRT1
Xuan Kang, Cheng Li, Xi Xie, Ke-Bin Zhan, San-Qiao Yang, Yi-Yun Tang, Wei Zou, Ping Zhang, Xiao-Qing Tang
Int. J. Med. Sci. 2020; 17(3): 310-319. doi:10.7150/ijms.38602
[Abstract] [Full text] [PDF]
Research Paper
Inverse Association between Metformin and Amiodarone-Associated Extracardiac Adverse Events
Sayoko Kinoshita, Kouichi Hosomi, Satoshi Yokoyama, Mitsutaka Takada
Int. J. Med. Sci. 2020; 17(3): 302-309. doi:10.7150/ijms.39342
[Abstract] [Full text] [PDF]
Research Paper
Altered Long Non-coding RNAs Involved in Immunological Regulation and Associated with Choroidal Neovascularization in Mice
Liwei Zhang, Huilan Zeng, Jiang-Hui Wang, Han Zhao, Boxiang Zhang, Jingling Zou, Shigeo Yoshida, Yedi Zhou
Int. J. Med. Sci. 2020; 17(3): 292-301. doi:10.7150/ijms.37804
[Abstract] [Full text] [PDF]
Research Paper
Machine Learning in Prediction of Second Primary Cancer and Recurrence in Colorectal Cancer
Wen-Chien Ting, Yen-Chiao Angel Lu, Wei-Chi Ho, Chalong Cheewakriangkrai, Horng-Rong Chang, Chia-Ling Lin
Int. J. Med. Sci. 2020; 17(3): 280-291. doi:10.7150/ijms.37134
[Abstract] [Full text] [PDF]
Research Paper
Ube2S regulates Wnt/β-catenin signaling and promotes the progression of non-small cell lung cancer
Yanan Qin, Jiang Du, Chuifeng Fan
Int. J. Med. Sci. 2020; 17(3): 274-279. doi:10.7150/ijms.40243
[Abstract] [Full text] [PDF]
Research Paper
Transcriptome Profiling Reveals Distinct Phenotype of Human Bone Marrow Mesenchymal Stem Cell-derived Hepatocyte-like cells
Dongyan Shi, Jiaojiao Xin, Yingyan Lu, Wenchao Ding, Jing Jiang, Qian Zhou, Suwan Sun, Beibei Guo, Xingping Zhou, Jun Li
Int. J. Med. Sci. 2020; 17(2): 263-273. doi:10.7150/ijms.36255
[Abstract] [Full text] [PDF]
Research Paper
Alterations of plasma cytokine biomarkers for identifying age at onset of schizophrenia with neurological soft signs
Jia-Yun Liu, Han-Yu Chen, Jin-Jia Lin, Ming-Kun Lu, Hung-Pin Tan, Fong-Lin Jang, Sheng-Hsiang Lin
Int. J. Med. Sci. 2020; 17(2): 255-262. doi:10.7150/ijms.38891
[Abstract] [Full text] [PDF]
Research Paper
Increased risk of acute pancreatitis occurrence in smokers with rs5751901 polymorphisms in GGT1 gene
Milena Ściskalska, Monika Ołdakowska, Grzegorz Marek, Halina Milnerowicz
Int. J. Med. Sci. 2020; 17(2): 242-254. doi:10.7150/ijms.38657
[Abstract] [Full text] [PDF]
Review
Progress in Hematopoietic Stem Cell Transplantation for CIDP
Zhen Qin, Qianyi Huang, Jiangying Zou, Lisha Tang, Zhiping Hu, Xiangqi Tang
Int. J. Med. Sci. 2020; 17(2): 234-241. doi:10.7150/ijms.38363
[Abstract] [Full text] [PDF]
Research Paper
The new application of mifepristone in the relief of adenomyosis-caused dysmenorrhea
Xuan Che, Jianzhang Wang, Jiayi He, Xinyue Guo, Tiantian Li, Xinmei Zhang
Int. J. Med. Sci. 2020; 17(2): 224-233. doi:10.7150/ijms.39252
[Abstract] [Full text] [PDF]
Research Paper
Carbon Flux as a Measure of Prostate Cancer Aggressiveness: [11C]-Acetate PET/CT
Naresh Regula, Hadis Honarvar, Mark Lubberink, Håkan Jorulf, Sam Ladjevardi, Michael Häggman, Gunnar Antoni, Jos Buijs, Irina Velikyan, Jens Sörensen
Int. J. Med. Sci. 2020; 17(2): 214-223. doi:10.7150/ijms.39542
[Abstract] [Full text] [PDF]
Indexed in MEDLINE, PubMed, EMBASE, CAS/Chemical Abstracts, CAB Abstracts, Scopus, Science Citation Index (SCI) Expanded ....
Full texts of articles appear in PubMed Central and Europe PMC.
Journal of Genomics recent articles:


Research Paper
Isolation and genomic analysis of 11-aminoundecanoic acid-degrading bacterium Pseudomonas sp. JG-B from nylon 11 enrichment culture
Jocelyn Gatz-Schrupp, Peter Deckard, Benjamin Hufford, Steven Ly, Peter Tupa, Hisako Masuda
J. Genomics 2020; 8: 16-20. doi:10.7150/jgen.42095
[Abstract] [Full text] [PDF]
---
Research Paper
Draft Genome Sequence of the Symbiotic Frankia sp. strain B2 isolated from root nodules of Casuarina cunninghamiana found in Algeria
Kathia Belaid, Erik Swanson, Alyssa Carré-Mlouka, Valérie Hocher, Sergio Svistoonoff, Djamel Gully, Stephen Simpson, Krystalynne Morris, W. Kelley Thomas, Said Amrani, Louis S. Tisa, Hassen Gherbi
J. Genomics 2020; 8: 11-15. doi:10.7150/jgen.38461
[Abstract] [Full text] [PDF]
---
Short Research Paper
Draft genome sequences of Salmonella Oslo isolated from seafood and its laboratory generated auxotrophic mutant
Kadeeja Jazeela, Anirban Chakraborty, Praveen Rai, Ballamoole Krishna Kumar, Shabarinath Srikumar, Scot van Nguyen, Daniel Hurley, Seamus Fanning, Indrani Karunasagar, Vijaya Kumar Deekshit
J. Genomics 2020; 8: 7-10. doi:10.7150/jgen.40059
[Abstract] [Full text] [PDF] [PubMed] [PMC]
---
Research Paper
Genomic Characteristics of the Toxic Bloom-Forming Cyanobacterium Microcystis aeruginosa NIES-102
Haruyo Yamaguchi, Shigekatsu Suzuki, Yasunori Osana, Masanobu Kawachi
J. Genomics 2020; 8: 1-6. doi:10.7150/jgen.40978
[Abstract] [Full text] [PDF] [PubMed] [PMC]
Top cited papers:
Plasma viral load was positively correlated with VWF adhesive activity, which was elevated in acute relative to chronic treated HIV-1 infection. ADAMTS13 antigen and activity were both positively correlated with plasma viral load, and ADAMTS13 activity was significantly higher in men with acute HIV infection than in uninfected controls, and in both acute and chronic untreated HIV infection relative to chronic treated infection.
Conclusion: These findings suggest that even in the setting of increased ADAMTS13 protease activity, VWF in HIV-1 infection is hyperadhesive, which may favor development of microvascular and arterial thromboses and thereby contribute to increased cardiovascular risk in HIV-1-infected individuals.
...details