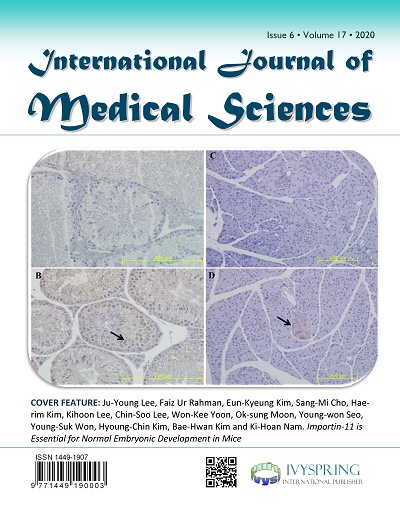 Research Paper
Piwi-interacting RNAs play a role in vitamin C-mediated effects on endothelial aging
Sulin Zheng, Haoxiao Zheng, Anqing Huang, Linlin Mai, Xiaohui Huang, Yunzhao Hu, Yuli Huang
Int. J. Med. Sci. 2020; 17(7): 946-952. doi:10.7150/ijms.42586
[Abstract] [Full text] [PDF]
Research Paper
The extracts of Astragalus membranaceus overcome tumor immune tolerance by inhibition of tumor programmed cell death protein ligand-1 expression
Hsu-Liang Chang, Yi-Hsuan Kuo, Li-Hsien Wu, Chih-Min Chang, Kai-Jen Cheng, Yu-Chang Tyan, Che-Hsin Lee
Int. J. Med. Sci. 2020; 17(7): 939-945. doi:10.7150/ijms.42978
[Abstract] [Full text] [PDF]
Research Paper
Association of Human Papillomavirus Type 16 Long Control Region Variations with Cervical Cancer in a Han Chinese Population
Shuying Dai, Chuanyin Li, Zhiling Yan, Ziyun Zhou, Xia Wang, Jun Wang, Le Sun, Li Shi, Yufeng Yao
Int. J. Med. Sci. 2020; 17(7): 931-938. doi:10.7150/ijms.43030
[Abstract] [Full text] [PDF]
Research Paper
Evaluation of anti-infective-related Clostridium difficile-associated colitis using the Japanese Adverse Drug Event Report database
Satoshi Nakao, Shiori Hasegawa, Kazuyo Shimada, Ririka Mukai, Mizuki Tanaka, Kiyoka Matsumoto, Hiroaki Uranishi, Mayuko Masuta, Hiroaki Ikesue, Tohru Hashida, Kazuhiro Iguchi, Mitsuhiro Nakamura
Int. J. Med. Sci. 2020; 17(7): 921-930. doi:10.7150/ijms.43789
[Abstract] [Full text] [PDF]
Research Paper
CCR9 Promotes Migration and Invasion of Lung Adenocarcinoma Cancer Stem Cells
Lin Lu, Huan Du, Haowei Huang, Chenxi Wang, Peipei Wang, Zhiqiang Zha, Yong Wu, Xia Liu, Chengyin Weng, Xisheng Fang, Baoxiu Li, Haibo Mao, Lina Wang, Mingmei Guan, Guolong Liu
Int. J. Med. Sci. 2020; 17(7): 912-920. doi:10.7150/ijms.40864
[Abstract] [Full text] [PDF]
Research Paper
Tranexamic Acid Inhibits Angiogenesis and Melanogenesis in Vitro by Targeting VEGF Receptors
Jian-Wei Zhu, Ya-Jie Ni, Xiao-Yun Tong, Xia Guo, Xiao-Ping Wu, Zhong-Fa Lu
Int. J. Med. Sci. 2020; 17(7): 903-911. doi:10.7150/ijms.44188
[Abstract] [Full text] [PDF]
Review
Direct-acting Antiviral in the Treatment of Chronic Hepatitis C: Bonuses and Challenges
Haiyan Zeng, Lei Li, Zhouhua Hou, Yapeng Zhang, Zhongxiang Tang, Shuiping Liu
Int. J. Med. Sci. 2020; 17(7): 892-902. doi:10.7150/ijms.43079
[Abstract] [Full text] [PDF]
Research Paper
Are body circumferences able to predict strength, muscle mass and bone characteristics in obesity? A preliminary study in women
Valentina Cavedon, Chiara Milanese, Carlo Zancanaro
Int. J. Med. Sci. 2020; 17(7): 881-891. doi:10.7150/ijms.41713
[Abstract] [Full text] [PDF]
Research Paper
Long-term administration of Tolvaptan to patients with decompensated cirrhosis
Kengo Kanayama, Tetsuhiro Chiba, Kazufumi Kobayashi, Keisuke Koroki, Toru Maruta, Hiroaki Kanzaki, Yuko Kusakabe, Tomoko Saito, Souichiro Kiyono, Masato Nakamura, Sadahisa Ogasawara, Eiichiro Suzuki, Yoshihiko Ooka, Shingo Nakamoto, Shin Yasui, Tatsuo Kanda, Hitoshi Maruyama, Jun Kato, Naoya Kato
Int. J. Med. Sci. 2020; 17(7): 874-880. doi:10.7150/ijms.41454
[Abstract] [Full text] [PDF]
Research Paper
Electric field down-regulates CD9 to promote keratinocytes migration through AMPK pathway
Ran Ji, Miao Teng, Ze Zhang, Wenping Wang, Qiong Zhang, Yanling Lv, Jiaping Zhang, Xupin Jiang
Int. J. Med. Sci. 2020; 17(7): 865-873. doi:10.7150/ijms.42840
[Abstract] [Full text] [PDF]
Research Paper
Tacrolimus Concentration after Letermovir Initiation in Hematopoietic Stem Cell Transplantation Recipients Receiving Voriconazole: A Retrospective, Observational Study
Shinichi Hikasa, Shota Shimabukuro, Yuko Osugi, Kazuhiro Ikegame, Katsuji Kaida, Keiko Fukunaga, Tomoko Higami, Masami Tada, Kuniyoshi Tanaka, Mina Yanai, Takeshi Kimura
Int. J. Med. Sci. 2020; 17(7): 859-864. doi:10.7150/ijms.42011
[Abstract] [Full text] [PDF]
Review
Nano-scientific Application of Atomic Force Microscopy in Pathology: from Molecules to Tissues
Tony Mutiso Kiio, Soyeun Park
Int. J. Med. Sci. 2020; 17(7): 844-858. doi:10.7150/ijms.41805
[Abstract] [Full text] [PDF]
Research Paper
Action of low doses of Aspirin in Inflammation and Oxidative Stress induced by aβ1-42 on Astrocytes in primary culture
Adrian Jorda, Martin Aldasoro, Constanza Aldasoro, Sol Guerra-Ojeda, Antonio Iradi, Jose Mª Vila, Juan Campos-Campos, Soraya L. Valles
Int. J. Med. Sci. 2020; 17(6): 834-843. doi:10.7150/ijms.40959
[Abstract] [Full text] [PDF] [PubMed] [PMC]
Research Paper
Assessment of Anti-Tumor potential and safety of application of Glutathione stabilized Gold Nanoparticles conjugated with Chemotherapeutics
Karol P. Steckiewicz, Ewelina Barcinska, Katarzyna Sobczak, Ewelina Tomczyk, Michał Wojcik, Iwona Inkielewicz-Stepniak
Int. J. Med. Sci. 2020; 17(6): 824-833. doi:10.7150/ijms.40827
[Abstract] [Full text] [PDF] [PubMed] [PMC]
Research Paper
Importin-11 is Essential for Normal Embryonic Development in Mice
Ju-Young Lee, Faiz Ur Rahman, Eun-Kyeung Kim, Sang-Mi Cho, Hae-rim Kim, Kihoon Lee, Chin-Soo Lee, Won-Kee Yoon, Ok-sung Moon, Young-won Seo, Young-Suk Won, Hyoung-Chin Kim, Bae-Hwan Kim, Ki-Hoan Nam
Int. J. Med. Sci. 2020; 17(6): 815-823. doi:10.7150/ijms.40697
[Abstract] [Full text] [PDF] [PubMed] [PMC]
Research Paper
FAM83A is amplified and promotes tumorigenicity in non-small cell lung cancer via ERK and PI3K/Akt/mTOR pathways
Haiyang Hu, Fajiu Wang, Muyun Wang, Yuanyuan Liu, Han Wu, Xi Chen, Qiang Lin
Int. J. Med. Sci. 2020; 17(6): 807-814. doi:10.7150/ijms.33992
[Abstract] [Full text] [PDF] [PubMed] [PMC]
🆘 Coronavirus Alert: (WHO): All countries must aim to stop transmission and prevent the spread of COVID-19, whether they face no cases, sporadic cases, clusters or community transmission.
"This is not a drill. This is not the time to give up. This is not a time for excuses. This is a time to pull out all the stops,"
"Iran and Italy are suffering now but I guarantee you other countries will be in that situation very soon," ...
Indexed in MEDLINE, PubMed, EMBASE, CAS/Chemical Abstracts, CAB Abstracts, Scopus, Science Citation Index (SCI) Expanded ....
Full texts of articles appear in PubMed Central and Europe PMC.
Journal of Genomics recent articles:


Research Paper
Draft Genome Sequences of Bifidobacterium animalis Consecutively Isolated from Healthy Japanese Individuals
Tomoya Tsukimi, Tsubasa Watabe, Kazuki Tanaka, Mitsuhiko P. Sato, Haruo Suzuki, Masaru Tomita, Shinji Fukuda
J. Genomics 2020; 8: 37-42. doi:10.7150/jgen.38516
[Abstract] [Full text] [PDF]
---
Research Paper
Programmable CRISPR interference for gene silencing using Cas13a in mosquitoes
Aditi Kulkarni, Wanqin Yu, Alex Moon, Ashmita Pandey, Kathryn A. Hanley, Jiannong Xu
J. Genomics 2020; 8: 30-36. doi:10.7150/jgen.43928
[Abstract] [Full text] [PDF] [PubMed] [PMC]
---
Research Paper
Draft Genome Analysis of Christensenella minuta DSM 22607, exhibiting an unusual expansion of transporter homologs of unknown function
David A Coil, Guillaume Jospin, Jonathan A. Eisen
J. Genomics 2020; 8: 25-29. doi:10.7150/jgen.43162
[Abstract] [Full text] [PDF] [PubMed] [PMC]
---
Short Research Paper
Draft genome sequence of Deinococcus sp. KR-1, a potential strain for palladium-leaching
Hironaga Akita, Yuya Itoiri, Akio Kumagai, Noriyo Takeda, Akinori Matsushika, Mamoru Oshiki, Zen-ichiro Kimura
J. Genomics 2020; 8: 21-24. doi:10.7150/jgen.42020
[Abstract] [Full text] [PDF] [PubMed] [PMC]
Top cited papers:
Plasma viral load was positively correlated with VWF adhesive activity, which was elevated in acute relative to chronic treated HIV-1 infection. ADAMTS13 antigen and activity were both positively correlated with plasma viral load, and ADAMTS13 activity was significantly higher in men with acute HIV infection than in uninfected controls, and in both acute and chronic untreated HIV infection relative to chronic treated infection.
Conclusion: These findings suggest that even in the setting of increased ADAMTS13 protease activity, VWF in HIV-1 infection is hyperadhesive, which may favor development of microvascular and arterial thromboses and thereby contribute to increased cardiovascular risk in HIV-1-infected individuals.
...details