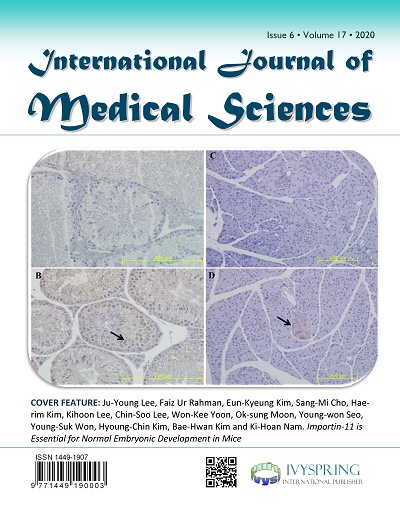 Review
The emerging role of EGFL6 in angiogenesis and tumor progression
Jing Kang, Juanjuan Wang, Jihua Tian, Ruyi Shi, Hongyan Jia, Yanhong Wang
Int. J. Med. Sci. 2020; 17(10): 1320-1326. doi:10.7150/ijms.45129
[Abstract] [Full text] [PDF]
Research Paper
Long non-coding RNA GAS5 expression in patients with Down syndrome
Michele Salemi, Giovanna Marchese, Angela Cordella, Rossella Cannarella, Concetta Barone, Maria Grazia Salluzzo, Aldo E. Calogero, Corrado Romano
Int. J. Med. Sci. 2020; 17(10): 1315-1319. doi:10.7150/ijms.45386
[Abstract] [Full text] [PDF]
Review
The Role of Histone Acetyltransferases and Histone Deacetylases in Photoreceptor Differentiation and Degeneration
Meng Zhao, Ye Tao, Guang-Hua Peng
Int. J. Med. Sci. 2020; 17(10): 1307-1314. doi:10.7150/ijms.43140
[Abstract] [Full text] [PDF]
Research Paper
Usefulness of four-limb blood pressure measurement in prediction of overall and cardiovascular mortality in acute myocardial infarction
Po-Chao Hsu, Wen-Hsien Lee, Wei-Chung Tsai, Chun-Yuan Chu, Chee-Siong Lee, Hsueh-Wei Yen, Tsung-Hsien Lin, Wen-Chol Voon, Wen-Ter Lai, Sheng-Hsiung Sheu, Ho-Ming Su
Int. J. Med. Sci. 2020; 17(10): 1300-1306. doi:10.7150/ijms.44735
[Abstract] [Full text] [PDF]
Research Paper
Mitochondrial Transcription Factor A added to Osteocytes in a Stressed Environment has a Cytoprotective Effect
Shusuke Ueda, Miyako Shimasaki, Toru Ichiseki, Hiroaki Hirata, Norio kawahara, Yoshimichi Ueda
Int. J. Med. Sci. 2020; 17(9): 1293-1299. doi:10.7150/ijms.45335
[Abstract] [Full text] [PDF]
Research Paper
Factors associated with death outcome in patients with severe coronavirus disease-19 (COVID-19): a case-control study
Feng Pan, Lian Yang, Yuncheng Li, Bo Liang, Lin Li, Tianhe Ye, Lingli Li, Dehan Liu, Shan Gui, Yu Hu, Chuansheng Zheng
Int. J. Med. Sci. 2020; 17(9): 1281-1292. doi:10.7150/ijms.46614
[Abstract] [Full text] [PDF]
Research Paper
Identification of the key genes and microRNAs in adult acute myeloid leukemia with FLT3 mutation by bioinformatics analysis
Shuyi Chen, Yimin Chen, Zhiguo Zhu, Huo Tan, Jielun Lu, Pengfei Qin, Lihua Xu
Int. J. Med. Sci. 2020; 17(9): 1269-1280. doi:10.7150/ijms.46441
[Abstract] [Full text] [PDF]
Research Paper
IL-1β Promotes Stemness of Tumor Cells by Activating Smad/ID1 Signaling Pathway
Lin Lu, Peipei Wang, Yonghong Zou, Zhiqiang Zha, Haowei Huang, Mingmei Guan, Yong Wu, Guolong Liu
Int. J. Med. Sci. 2020; 17(9): 1257-1268. doi:10.7150/ijms.44285
[Abstract] [Full text] [PDF]
Research Paper
AKR1B10 Inhibitor Epalrestat Facilitates Sorafenib-Induced Apoptosis and Autophagy Via Targeting the mTOR Pathway in Hepatocellular Carcinoma
Nan Geng, Yuanyuan Jin, Yurong Li, Shixuan Zhu, Han Bai
Int. J. Med. Sci. 2020; 17(9): 1246-1256. doi:10.7150/ijms.42956
[Abstract] [Full text] [PDF]
Research Paper
Melatonin Protects Human Renal Proximal Tubule Epithelial Cells Against High Glucose-Mediated Fibrosis via the Cellular Prion Protein-TGF-β-Smad Signaling Axis
Yong-Seok Han, Yeo Min Yoon, Gyeongyun Go, Jun Hee Lee, Sang Hun Lee
Int. J. Med. Sci. 2020; 17(9): 1235-1245. doi:10.7150/ijms.42603
[Abstract] [Full text] [PDF]
Research Paper
Long non-coding RNA LINC01503 promotes the progression of hepatocellular carcinoma via activating MAPK/ERK pathway
Mu-Ru Wang, Dan Fang, Mu-Ping Di, Jia-Lun Guan, Ge Wang, Lian Liu, Jia-Qi Sheng, De-An Tian, Pei-Yuan Li
Int. J. Med. Sci. 2020; 17(9): 1224-1234. doi:10.7150/ijms.45256
[Abstract] [Full text] [PDF]
Research Paper
Notch1 Affects Chemo-resistance Through Regulating Epithelial-Mesenchymal Transition (EMT) in Epithelial Ovarian cancer cells
Xue-qian Qian, Sang-sang Tang, Yuan-ming Shen, Li-li Chen, Xiao-dong Cheng, Xiao-yun Wan
Int. J. Med. Sci. 2020; 17(9): 1215-1223. doi:10.7150/ijms.44683
[Abstract] [Full text] [PDF]
Research Paper
S1P promotes IL-6 expression in osteoblasts through the PI3K, MEK/ERK and NF-κB signaling pathways
Sung-Lin Hu, Chien-Chung Huang, Tzu-Ting Tzeng, Shan-Chi Liu, Chun-Hao Tsai, Yi-Chin Fong, Chih-Hsin Tang
Int. J. Med. Sci. 2020; 17(9): 1207-1214. doi:10.7150/ijms.44612
[Abstract] [Full text] [PDF]
Research Paper
Downregulation of P300/CBP-Associated Factor Attenuates Myocardial Ischemia-Reperfusion Injury Via Inhibiting Autophagy
Liqiang Qiu, Changwu Xu, Hao Xia, Jing Chen, Huafen Liu, Hong Jiang
Int. J. Med. Sci. 2020; 17(9): 1196-1206. doi:10.7150/ijms.44604
[Abstract] [Full text] [PDF]
Research Paper
The relationships of genetic polymorphisms of the long noncoding RNA growth arrest-specific transcript 5 with uterine cervical cancer
Shun-Long Weng, Soo-Cheen Ng, Yueh‐Chun Lee, Yi-Hsuan Hsiao, Chun-Fang Hsu, Shun-Fa Yang, Po-Hui Wang
Int. J. Med. Sci. 2020; 17(9): 1187-1195. doi:10.7150/ijms.44583
[Abstract] [Full text] [PDF]
Research Paper
Circ-APBB1IP as a Prognostic Biomarker Promotes Clear Cell Renal Cell Carcinoma Progression Through The ERK1/2 Signaling Pathway
Jierong Mo, Yuwan Zhao, Zhixian Ao, Lixin Chen, Shanhong Lin, Wenfeng Zeng, Haokai Wu, Jianjun Liu
Int. J. Med. Sci. 2020; 17(9): 1177-1186. doi:10.7150/ijms.44550
[Abstract] [Full text] [PDF]
🆘 Coronavirus Alert: (WHO): All countries must aim to stop transmission and prevent the spread of COVID-19, whether they face no cases, sporadic cases, clusters or community transmission.
"This is not a drill. This is not the time to give up. This is not a time for excuses. This is a time to pull out all the stops,"
"Iran and Italy are suffering now but I guarantee you other countries will be in that situation very soon," ...
Indexed in MEDLINE, PubMed, EMBASE, CAS/Chemical Abstracts, CAB Abstracts, Scopus, Science Citation Index (SCI) Expanded ....
Full texts of articles appear in PubMed Central.
Journal of Genomics recent articles:


Research Paper
crispRdesignR: A Versatile Guide RNA Design Package in R for CRISPR/Cas9 Applications
Dylan Beeber, Frédéric JJ Chain
J. Genomics 2020; 8: 62-70. doi:10.7150/jgen.41196
[Abstract] [Full text] [PDF]
---
Research Paper
Draft genome sequence of Actinomadura sp. K4S16 and elucidation of the nonthmicin biosynthetic pathway
Hisayuki Komaki, Enjuro Harunari, Natsuko Ichikawa, Akira Hosoyama, Moriyuki Hamada, Kannika Duangmal, Arinthip Thamchaipenet, Yasuhiro Igarashi
J. Genomics 2020; 8: 53-61. doi:10.7150/jgen.44650
[Abstract] [Full text] [PDF]
---
Short Research Paper
Complete Genome Sequence of Leptospira interrogans Strains FMAS_KW1, FMAS_KW2 and FMAS_AW1 Isolated from Leptospirosis Patients from Karawanalla and Awissawella, Sri Lanka
Indika Seneviratha, Dinesha Jayasundara, Joshua P. Lefler, Kira L. Chaiboonm, Janith Warnasekara, Suneth Agampodi, Michael A. Matthias, Joseph M. Vinetz
J. Genomics 2020; 8: 49-52. doi:10.7150/jgen.43953
[Abstract] [Full text] [PDF]
---
Research Paper
A detailed characteristics of bias associated with long runs of homozygosity identification based on medium density SNP microarrays
Tomasz Szmatoła, Artur Gurgul, Igor Jasielczuk, Weiwei Fu, Katarzyna Ropka-Molik
J. Genomics 2020; 8: 43-48. doi:10.7150/jgen.39147
[Abstract] [Full text] [PDF] [PubMed] [PMC]
Top cited papers:
Plasma viral load was positively correlated with VWF adhesive activity, which was elevated in acute relative to chronic treated HIV-1 infection. ADAMTS13 antigen and activity were both positively correlated with plasma viral load, and ADAMTS13 activity was significantly higher in men with acute HIV infection than in uninfected controls, and in both acute and chronic untreated HIV infection relative to chronic treated infection.
Conclusion: These findings suggest that even in the setting of increased ADAMTS13 protease activity, VWF in HIV-1 infection is hyperadhesive, which may favor development of microvascular and arterial thromboses and thereby contribute to increased cardiovascular risk in HIV-1-infected individuals.
...details