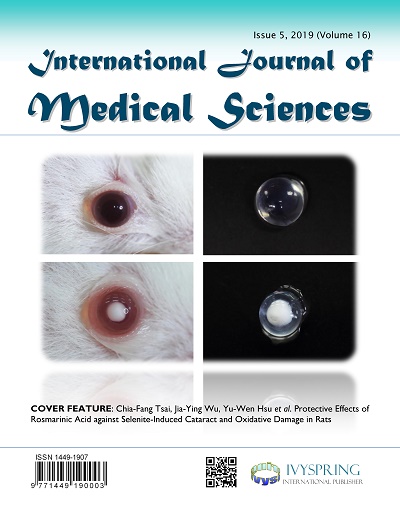 Research Paper
Effects of Therapeutic Doses of Celecoxib on Several Physiological Parameters of Cultured Human Osteoblasts
Víctor J. Costela-Ruiz, Lucia Melguizo-Rodríguez, Rebeca Illescas-Montes, Javier Ramos-Torrecillas, Francisco J. Manzano-Moreno, Concepción Ruiz, Elvira De Luna- Bertos
Int. J. Med. Sci. 2019; 16(11): 1466-1472. doi:10.7150/ijms.37857
[Abstract] [Full text] [PDF]
Research Paper
Association study of the functional Catechol-O-Methyltranferase (COMT) Val158Met polymorphism on executive cognitive function in a Thai sample
Bupachad Khanthiyong, Samur Thanoi, Gavin P. Reynolds, Sutisa Nudmamud-Thanoi
Int. J. Med. Sci. 2019; 16(11): 1461-1465. doi:10.7150/ijms.35789
[Abstract] [Full text] [PDF]
Research Paper
Longitudinal micro-endoscopic monitoring of high-success intramucosal xenografts for mouse models of colorectal cancer
Bjorn Paulson, Ick Hee Kim, Jung-Man Namgoong, Young Gyu Kim, Sanghwa Lee, Youngjin Moon, Dong-Myung Shin, Myung-Soo Choo, Jun Ki Kim
Int. J. Med. Sci. 2019; 16(11): 1453-1460. doi:10.7150/ijms.35666
[Abstract] [Full text] [PDF]
Research Paper
Can muscle vibration be the future in the treatment of cerebral palsy-related drooling? A feasibility study.
Emanuele F. Russo, Rocco S. Calabrò, Patrizio Sale, Filomena Vergura, Maria C. De Cola, Angela Militi, Placido Bramanti, Simona Portaro, Serena Filoni
Int. J. Med. Sci. 2019; 16(11): 1447-1452. doi:10.7150/ijms.34850
[Abstract] [Full text] [PDF]
Research Paper
Comparison of the Analgesic Effect of Sufentanil versus Fentanyl in Intravenous Patient-Controlled Analgesia after Total Laparoscopic Hysterectomy: A Randomized, Double-blind, Prospective Study
Seok Kyeong Oh, Il Ok Lee, Byung Gun Lim, Hyerim Jeong, Young Sung Kim, Sul Gi Ji, Jong Sun Park
Int. J. Med. Sci. 2019; 16(11): 1439-1446. doi:10.7150/ijms.34656
[Abstract] [Full text] [PDF]
Research Paper
Placenta-Derived Mesenchymal Stem Cells Reduce the Interleukin-5 Level Experimentally in Children with Asthma
Sheng-Chieh Lin, Yih-Mei Liou, Thai-Yen Ling, Ya-Hui Chuang, Bor-Luen Chiang
Int. J. Med. Sci. 2019; 16(11): 1430-1438. doi:10.7150/ijms.33590
[Abstract] [Full text] [PDF]
Research Paper
Impact of GAS5 genetic polymorphism on prostate cancer susceptibility and clinicopathologic characteristics
Chia-Yen Lin, Shian-Shiang Wang, Cheng-Kuang Yang, Jian-Ri Li, Chuan-Shu Chen, Sheng-Chun Hung, Kun-Yuan Chiu, Chen-Li Cheng, Yen-Chuan Ou, Shun-Fa Yang
Int. J. Med. Sci. 2019; 16(11): 1424-1429. doi:10.7150/ijms.38080
[Abstract] [Full text] [PDF]
Research Paper
Synergistic apoptosis of human gastric cancer cells by bortezomib and TRAIL
Hang Thi Thuy Bui, Nhu Huynh Le, Qui Anh Le, Sung Eun Kim, Sooho Lee, Dongchul Kang
Int. J. Med. Sci. 2019; 16(11): 1412-1423. doi:10.7150/ijms.34398
[Abstract] [Full text] [PDF]
Research Paper
Knockdown of NSD2 Suppresses Renal Cell Carcinoma Metastasis by Inhibiting Epithelial-Mesenchymal Transition
Xu Han, Lianhua Piao, Xiaofeng Yuan, Luhui Wang, Zhiwei Liu, Xiaozhou He
Int. J. Med. Sci. 2019; 16(10): 1404-1411. doi:10.7150/ijms.36128
[Abstract] [Full text] [PDF]
Research Paper
VEGF-C Gene Polymorphisms Increase Susceptibility to Rheumatoid Arthritis
Chengqian Dai, Shu-Jui Kuo, Sung-Lin Hu, Chun-Hao Tsai, Yuan-Li Huang, Chien-Chung Huang, Lihong Wang, Guohong Xu, Chen-Ming Su, Chih-Hsin Tang
Int. J. Med. Sci. 2019; 16(10): 1397-1403. doi:10.7150/ijms.34659
[Abstract] [Full text] [PDF]
Review
Potential for therapeutic use of hydrogen sulfide in oxidative stress-induced neurodegenerative diseases
Rubaiya Tabassum, Na Young Jeong
Int. J. Med. Sci. 2019; 16(10): 1386-1396. doi:10.7150/ijms.36516
[Abstract] [Full text] [PDF]
Review
Clinical importance of the superficial temporal artery in neurovascular diseases: A PRISMA-compliant systematic review
Kun Hou, Yunbao Guo, Kan Xu, Jinlu Yu
Int. J. Med. Sci. 2019; 16(10): 1377-1385. doi:10.7150/ijms.36698
[Abstract] [Full text] [PDF]
Research Paper
Efficacy of Ahmed Glaucoma Valve Implantation on Neovascular Glaucoma
Zhan Xie, Hai Liu, Mulong Du, Min Zhu, Sean Tighe, Xue Chen, Zhilan Yuan, Hong Sun
Int. J. Med. Sci. 2019; 16(10): 1371-1376. doi:10.7150/ijms.35267
[Abstract] [Full text] [PDF]
Short Research Communication
Superinfection of hepatitis A virus in hepatocytes infected with hepatitis B virus
Nan Nwe Win, Tatsuo Kanda, Masahiro Ogawa, Shingo Nakamoto, Yuki Haga, Reina Sasaki, Masato Nakamura, Shuang Wu, Naoki Matsumoto, Shunichi Matsuoka, Naoya Kato, Hiroshi Shirasawa, Osamu Yokosuka, Hiroaki Okamoto, Mitsuhiko Moriyama
Int. J. Med. Sci. 2019; 16(10): 1366-1370. doi:10.7150/ijms.32795
[Abstract] [Full text] [PDF]
Research Paper
Identifying circRNA-associated-ceRNA networks in retinal neovascularization in mice
Manjing Cao, Lusi Zhang, Jiang-Hui Wang, Huilan Zeng, Yingqian Peng, Jingling Zou, Jingming Shi, Liwei Zhang, Yun Li, Shigeo Yoshida, Luosheng Tang, Yedi Zhou
Int. J. Med. Sci. 2019; 16(10): 1356-1365. doi:10.7150/ijms.35149
[Abstract] [Full text] [PDF]
Research Paper
Comparison of adhesion prevention capabilities of the modified starch powder-based medical devices 4DryField® PH and Arista™ AH in the Optimized Peritoneal Adhesion Model
Daniel Poehnert, Lavinia Neubert, Juergen Klempnauer, Paul Borchert, Danny Jonigk, Markus Winny
Int. J. Med. Sci. 2019; 16(10): 1350-1355. doi:10.7150/ijms.33277
[Abstract] [Full text] [PDF]
Indexed in MEDLINE, PubMed, EMBASE, CAS/Chemical Abstracts, CAB Abstracts, Scopus, Science Citation Index (SCI) Expanded ....
Full texts of articles appear in PubMed Central and Europe PMC.
Cover suggestion: Authors are encouraged to submit high quality, eye catching illustrations or images for consideration as the issue covers of the journal. ...details
Top cited papers:
Plasma viral load was positively correlated with VWF adhesive activity, which was elevated in acute relative to chronic treated HIV-1 infection. ADAMTS13 antigen and activity were both positively correlated with plasma viral load, and ADAMTS13 activity was significantly higher in men with acute HIV infection than in uninfected controls, and in both acute and chronic untreated HIV infection relative to chronic treated infection.
Conclusion: These findings suggest that even in the setting of increased ADAMTS13 protease activity, VWF in HIV-1 infection is hyperadhesive, which may favor development of microvascular and arterial thromboses and thereby contribute to increased cardiovascular risk in HIV-1-infected individuals.
...details
Colorectal cancer (CRC) is one of leading causes of mortality in western countries and novel treatment strategies are required. The medicinal application of mushrooms has been used in traditional medicine in many oriental countries. Polysaccharide-rich extracts obtained from certain medicinal mushroom species have shown antitumor effects in different experimental models. In the present study, we have developed polysaccharide-rich extracts from Trametes versicolor (TV) and Grifola frondosa (GF) fruit bodies. We aim to evaluate the anticancer effects of these polysaccharide-rich extracts in LoVo and HT-29 human colon cancer cells. The in vitro effects were determined by cytotoxicity assay, proliferation assay, wound healing assay and invasion assay. Moreover, the effect on anchorage independent-cell growth was also determined. Our results showed that TV and GF extracts did inhibit human colon cell proliferation and induce cytotoxicity.. ...details