Journal of Biomedicine

International Journal of Biological Sciences
Journal of Bone and Joint Infection (JBJI)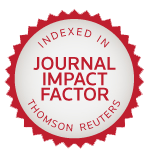 Submission
Please submit the whole manuscript in a single file of PDF (or MS Word) containing all figures and tables. A separate file for supplementary materials can be submitted if necessary. PDF is preferred due to its multi-platform compatibility.
For new submission,
Please suggest 3-6 potential reviewers and provide their detailed contact information including names, academic ranks, affiliations, and email addresses in the "Suggested reviewers" field. It is important that the authors suggest credible reviewers that are free from any potential conflict of interest (e.g. same university, former colleagues).
Please also submit a cover letter explaining why the study is important and deserves publication.
Main contact email: Please use your own email in your institution. Free email addresses or third-party emails are not acceptable. Please double check to make sure it is the correct email address. We use this email address to communicate with you.
To submit a revision of an existing manuscript, you can also sign in here and follow the "Submit a revision" link.
A note on case reports: Please do not submit case reports to this journal as they are not considered for publication.
Start of submission (Fields with * are required):