Int J Med Sci 2021; 18(14):3224-3235. doi:10.7150/ijms.60907
Research Paper
MiR-508-3p promotes proliferation and inhibits apoptosis of middle ear cholesteatoma cells by targeting PTEN/PI3K/AKT pathway
Department of Otolaryngology Head and Neck Surgery, Shengjing Hospital of China Medical University, Liaoning 110004, China

This is an open access article distributed under the terms of the Creative Commons Attribution License (https://creativecommons.org/licenses/by/4.0/). See http://ivyspring.com/terms for full terms and conditions.
Citation:
Liu D, Ma X. MiR-508-3p promotes proliferation and inhibits apoptosis of middle ear cholesteatoma cells by targeting PTEN/PI3K/AKT pathway.
Int J Med Sci
2021; 18(14):3224-3235. doi:10.7150/ijms.60907. Available from
https://www.medsci.org/v18p3224.htm
Abstract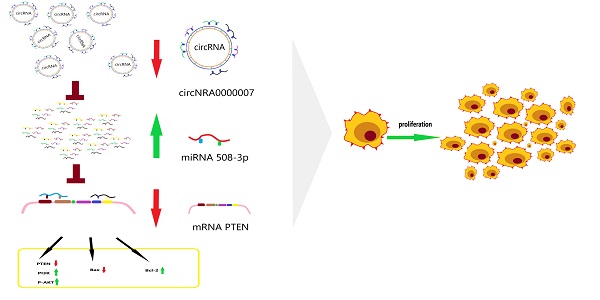 Cholesteatoma of the middle ear is a common disease in otolaryngology, which can lead to serious intracranial and extracranial complications. Recent studies showed that the dysregulation of microRNA may be involved in the formation of middle ear cholesteatoma. This study aimed to explore the regulatory effect of micro ribonucleic acid 508-3p (miR-508-3p) on proliferation and apoptosis of middle ear cholesteatoma cells and excavate its underlying regulatory mechanism. We found miR-508-3p expression was upregulated in tissues and cells of cholesteatoma which was inversely related to the expression of hsa_circ_0000007. Overexpression of miR-508-3p could notably facilitate cholesteatoma cell proliferation. Luciferase reporter assay showed that miR-508-3p bound the 3'-untranslated region of its downstream mRNA PTEN. Gain and loss of functions of miR-508-3p were performed to identify their roles in the biological behaviors of cholesteatoma cells, including proliferation and apoptosis. Rescue assays confirmed that PTEN could reverse the effect of miR-508-3p overexpression on cell proliferation. In a word, this study validated that the development of cholesteatoma may regulated by hsa_circ_0000007/miR-508-3p/ PTEN/ PI3K/Akt axis.
Keywords: hsa_circ_0000007, miR-508-3p, PTEN/ PI3K/Akt pathway, cholesteatoma, proliferation and apoptosis