Int J Med Sci 2021; 18(13):2905-2909. doi:10.7150/ijms.57010 This issue
Research Paper
Association of QRS-T angle and Late Gadolinium Enhancement in patients with a Clinical Suspicion of Myocarditis
1. Department of Cardiology and Angiology, Contilia Heart and Vascular Center, Elisabeth-Krankenhaus Essen, Essen, Germany.
2. Ruhr University Bochum, Bochum, Germany.
3. Department of Diagnostic and Interventional Radiology and Neuroradiology, University Hospital Essen, Essen, Germany.

This is an open access article distributed under the terms of the Creative Commons Attribution License (https://creativecommons.org/licenses/by/4.0/). See http://ivyspring.com/terms for full terms and conditions.
Citation:
Jensen CJ, Zadeh B, Wambach JM, Lambers M, Nassenstein K, Bruder O. Association of QRS-T angle and Late Gadolinium Enhancement in patients with a Clinical Suspicion of Myocarditis.
Int J Med Sci
2021; 18(13):2905-2909. doi:10.7150/ijms.57010. Available from
https://www.medsci.org/v18p2905.htm
Abstract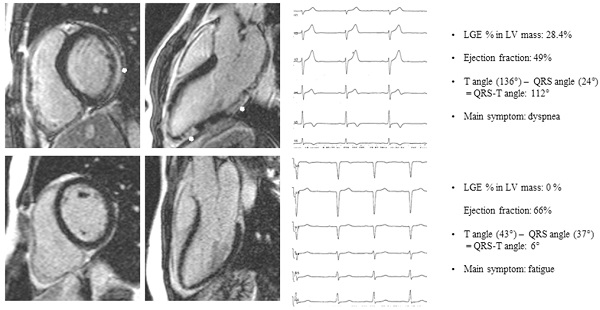 Objective: To investigate the association of a wide QRS-T angle on the surface ECG and late gadolinium enhancement on contrast-enhanced cardiovascular magnetic (CMR) imaging in patients with clinically suspected myocarditis.
Background: Diagnosis and risk stratification in patients with suspected myocarditis is particularly challenging due to a great spectrum of clinical presentations. Late gadolinium enhancement (LGE) visualizes myocardial necrosis and fibrosis in patients with biopsy-proven myocarditis. The presence or absence of late gadolinium enhancements in these patients is prognostically meaningful. The QRS-T angle from the surface ECG, on the other hand, may serve as a simple and easily available risk marker in suspected myocarditis.
Methods: We enrolled 97 consecutive patients that were referred to CMR imaging for a clinical suspicion of myocarditis. All patients obtained a standardized digital 12-lead ECG for the calculation of the QRS-T angle and underwent contrast-enhanced CMR imaging. Patients were divided into two groups according to the absence or presence of LGE on CMR.
Results: 78 of 97 patients with suspected myocarditis had LGE on CMR. Patients with LGE had wider QRS-T angles as compared to the patient group without LGE (53.95-47.5 vs. 26.2-21.2; p<0.001). The sensivity, specificity, negative predictive value and positive predictive value for a QRS-T angle above 90 degrees for LGE positive myocarditis were 16.5%, 100%, 24.7%, and 100%, respectively.
Conclusion: A wide QRS-T angle of 90 degrees or more is linked to myocardial fibrosis or necrosis (late gadolinium enhancement) in patients with suspected myocarditis.
Keywords: QRS-T angle, cardiovascular magnetic resonance, late gadolinium enhancement, fibrosis, necrosis, myocarditis