Int J Med Sci 2021; 18(12):2607-2614. doi:10.7150/ijms.60342 This issue
Research Paper
L-3-n-butylphthalide promotes restoration after an experimental animal model of intracerebral hemorrhage
Department of Neurology, Second Xiangya Hospital, Central South University, Changsha, Hunan, China.
* These authors contributed equally to this work and should be considered co-first authors.

This is an open access article distributed under the terms of the Creative Commons Attribution License (https://creativecommons.org/licenses/by/4.0/). See http://ivyspring.com/terms for full terms and conditions.
Citation:
Pi Z, Liu J, Xiao H, Hu Z. L-3-n-butylphthalide promotes restoration after an experimental animal model of intracerebral hemorrhage.
Int J Med Sci
2021; 18(12):2607-2614. doi:10.7150/ijms.60342. Available from
https://www.medsci.org/v18p2607.htm
Abstract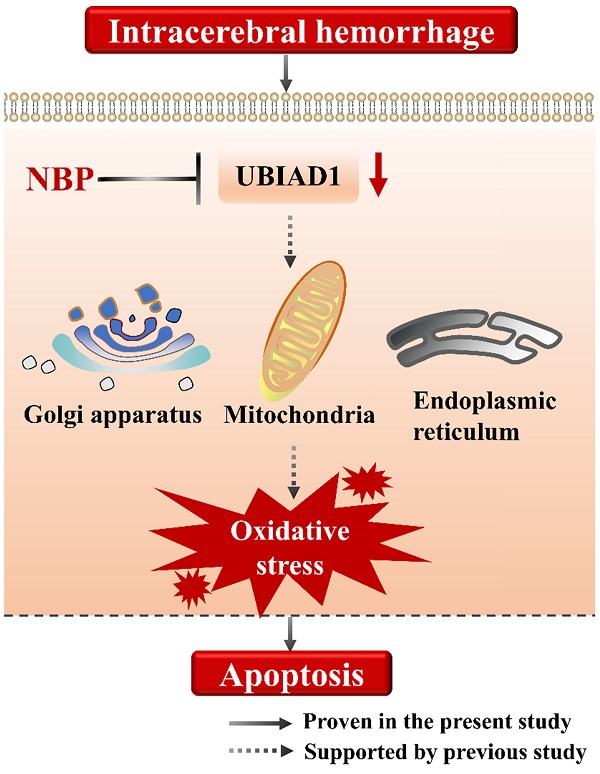 Intracerebral hemorrhage (ICH) is a devastating type of stroke with high morbidity and mortality, and the effective therapies for ICH remain to be explored. L-3-n-butylphthalide (NBP) is widely used in the treatment of ischemic stroke. However, few studies evaluated the therapeutic effects of NBP on ICH. Therefore, the present study aims to evaluate the effects of NBP on ICH and its potential mechanism. The rats were randomly divided into sham-operated group, saline-treated (ICH + saline) group, and NBP-treated (ICH + NBP) group. The ICH model of SD rats induced by IV collagenase was established. The modified Garcia JH score was used to detect the neurological deficit in rats. Western Blot and immunohistochemistry analysis was applied to test the levels of UBIAD1 and caspase-3 expressions in the perihematomal region. The rates of apoptotic cells were detected by TUNEL staining. The results showed that NBP up-regulated the expression of UBIAD1, reduced the apoptotic cells in the perihematomal region, and improved the neurological deficit. Taken together, our study added some new evidence to the application of NBP in ICH treatment.
Keywords: Intracerebral hemorrhage, L-3-n-butylphthalide, Neuroprotection, UBIAD1.