Global reach, higher impact
International Journal of Biological Sciences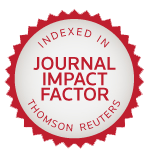 Int J Med Sci 2014; 11(12):1262-1269. doi:10.7150/ijms.10038
Research Paper
Silencing SATB1 Inhibits the Malignant Phenotype and Increases Sensitivity of Human Osteosarcoma U2OS Cells to Arsenic Trioxide
1. Key Laboratory of Pathobiology, Ministry of Education, Norman Bethune College of Medicine, Jilin University, Changchun, China
2. School of Public Health, Jilin University, Changchun, China
3. The Second Hospital of Jilin University, Changchun, China

In a previous study, we found that the global genome organizer Special AT-rich binding protein 1 (SATB1) is highly expressed in mesenchymal-derived human osteosarcoma U2OS cells and that the knock-down of SATB1 results in the inhibition of cell proliferation. The present study was aimed at investigating the effect of silencing SATB1 on cell migration, invasion, apoptosis and resistance to the chemotherapeutic drug arsenic trioxide. Cell migration and invasion were detected by wound-healing assays and trans-well invasion assays, respectively. Cell apoptosis was analyzed by an in situ Cell Death Detection POD Kit, based on terminal deoxynucleotydyl transferase mediated dUTP nick-end labeling (TUNEL) staining and mRNAs were analyzed by real time qRT-PCR. We found that cell migration and invasion were inhibited and that the proportion of apoptotic cells and sensitivities to the chemotherapeutic drug arsenic trioxide were enhanced by knockdown of SATB1 in U2OS cells. Furthermore, mRNA of ABCC1 and ABCG2 were decreased strikingly after SATB1 silencing. It was concluded that the elevated expression of SATB1 in U2OS cells contributes to maintenance of the malignant phenotype and resistance to chemotherapeutic drugs ATO, suggesting that silencing SATB1 in the cells might improve the effects of arsenic trioxides in the treatment of osteosarcoma in which SATB1 is over-expressed and that ABCC1 and ABCG2 were involved in SATB1 mediated resistance of U2OS cells to ATO.
Keywords: SATB1, migration, invasion, apoptosis, arsenic trioxide
How to cite this article:
Zhang H, Su X, Guo L, Zhong L, Li W, Yue Z, Wang X, Mu Y, Li X, Li R, Wang Z. Silencing SATB1 Inhibits the Malignant Phenotype and Increases Sensitivity of Human Osteosarcoma U2OS Cells to Arsenic Trioxide.
Int J Med Sci
2014; 11(12):1262-1269. doi:10.7150/ijms.10038. Available from
http://www.medsci.org/v11p1262.htm