Global reach, higher impact
International Journal of Biological Sciences
Journal of Bone and Joint Infection (JBJI)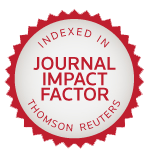 Int J Med Sci 2009; 6(6):374-375. doi:10.7150/ijms.6.374
Case Report
Campylobacter cholecystitis
1. Resident Physician, Department of Internal Medicine, University of North Dakota, Fargo, ND 58102, USA
2. Attending Physician, Department of Internal Medicine, Meritcare Hospital, 801 Broadway N, Fargo ND 58102, USA

There are 13 cases of campylobacter cholecystitis reported so far in the medical literature. Among them, only 4 patients had diarrhea. We report another case of acalculous cholecystitis in a setting of campylobacter enteritis. The case report is followed by a literature review regarding this rare condition.
Keywords: Campylobacter cholecystitis, Extra-intestinal manifestations of campylobacter, cholecystitis, campylobacter
How to cite this article:
Udayakumar D, Sanaullah M. Campylobacter cholecystitis.
Int J Med Sci
2009; 6(6):374-375. doi:10.7150/ijms.6.374. Available from
http://www.medsci.org/v06p0374.htm