Int J Med Sci 2021; 18(15):3588-3598. doi:10.7150/ijms.62467
Research Paper
PRMT4 promotes hepatocellular carcinoma progression by activating AKT/mTOR signaling and indicates poor prognosis
Department of General Surgery, The First Affiliated Hospital of Nanchang University, Nanchang, Jiangxi 330006, China.

This is an open access article distributed under the terms of the Creative Commons Attribution License (https://creativecommons.org/licenses/by/4.0/). See http://ivyspring.com/terms for full terms and conditions.
Citation:
Du P, Luo K, Li G, Zhu J, Xiao Q, Li Y, Zhang X. PRMT4 promotes hepatocellular carcinoma progression by activating AKT/mTOR signaling and indicates poor prognosis.
Int J Med Sci
2021; 18(15):3588-3598. doi:10.7150/ijms.62467. Available from
https://www.medsci.org/v18p3588.htm
Abstract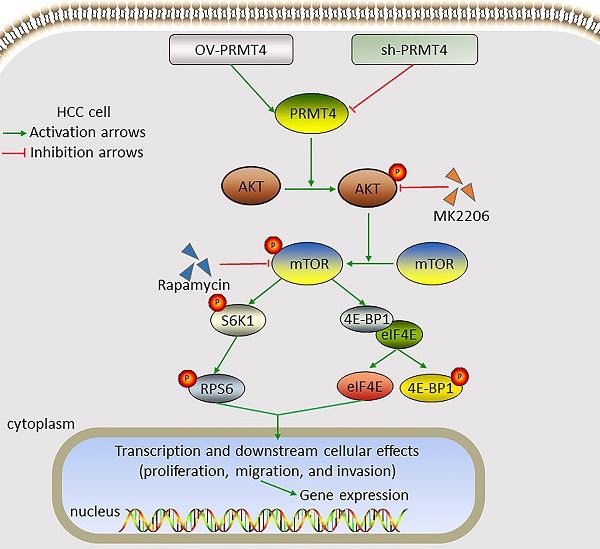 Background: Protein arginine methyltransferase 4 (PRMT4) has been reported to play a role in several common cancers; however, the function and mechanism of PRMT4 in hepatocellular carcinoma (HCC) are not fully understood. This study aimed to investigate the role and mechanism of PRMT4 in the progression of HCC.
Methods: PRMT4 expression and clinicopathological characteristics were investigated using an HCC tissue microarray (TMA) consisting of 140 patient samples analyzed by immunohistochemistry. CCK-8, crystal violet and Transwell assays were used to determine cell proliferation, colony formation, migration, and invasion of HCC cell lines in which PRMT4 was overexpressed or downregulated. The underlying mechanism of PRMT4 function was explored by Western blot assays.
Results: PRMT4 was highly expressed in HCC tumor tissues compared to adjacent nontumor tissues. PRMT4 expression was significantly associated with alpha-fetoprotein levels, tumor size, satellite nodules, and microvascular invasion. Patients with higher PRMT4 expression had a shorter survival time and higher recurrence rate. Functional studies demonstrated that PRMT4 overexpression promoted HCC cell proliferation, migration, and invasion in vitro, while knocking down PRMT4 inhibited these malignant behaviors. Additional results revealed that PRMT4 promoted the progression of HCC cells via activation of the AKT/mTOR signaling pathway. Furthermore, inhibition of the AKT/mTOR signaling by MK2206 or rapamycin significantly attenuated PRMT4-mediated malignant phenotypes.
Conclusions: This study suggests that PRMT4 may promote the progression of HCC cells by activating the AKT/mTOR signaling pathway, which may be a valuable biomarker and potential target for HCC.
Keywords: PRMT4, hepatocellular carcinoma, progression, AKT/mTOR