Int J Med Sci 2021; 18(15):3506-3515. doi:10.7150/ijms.63564 This issue
Research Paper
Downregulation of circ_0000673 Promotes Cell Proliferation and Migration in Endometriosis via the Mir-616-3p/PTEN Axis
1. Department of Clinical Laboratory, Xiangya Hospital, Central South University, No. 87 Xiangya Road, Changsha, 410008, P. R. China.
2. Department of Gynecology, Xiangya Hospital, Central South University, No. 87 Xiangya Road, Changsha, 410008, P. R. China.

This is an open access article distributed under the terms of the Creative Commons Attribution License (https://creativecommons.org/licenses/by/4.0/). See http://ivyspring.com/terms for full terms and conditions.
Citation:
Yang Y, Ban D, Zhang C, Shen L. Downregulation of circ_0000673 Promotes Cell Proliferation and Migration in Endometriosis via the Mir-616-3p/PTEN Axis.
Int J Med Sci
2021; 18(15):3506-3515. doi:10.7150/ijms.63564. Available from
https://www.medsci.org/v18p3506.htm
Abstract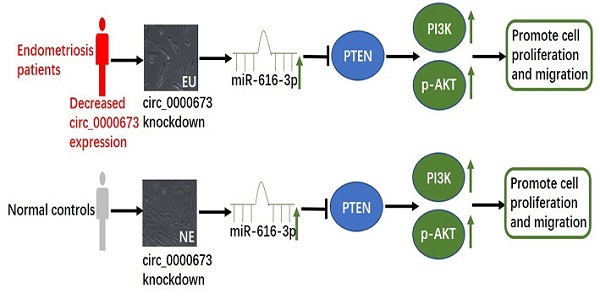 Endometriosis is a common gynecological disease, affecting up to 10% of women of reproductive age and approximately 50% of women with infertility. Circular RNAs (circRNAs) have been shown to be involved in a number of diseases. Dysregulated expression of circRNAs in endometriosis has been reported, and circ_0000673 was significantly downregulated. However, the details of its role in the pathogenesis of endometriosis are still poorly understood. We investigated the location and effects of the downregulation of circ_0000673 in endometriosis. We demonstrated that knockdown of circ_0000673 significantly increased the proliferation and migration of eutopic and normal endometrial cells. Bioinformatics analysis predicted that circ_0000673 might act as a sponge for miR-616-3p. We found that the effect of circ_0000673 knockdown could be recovered by miR-616-3p inhibitor and enhanced by miR-616-3p mimics. qPCR and western blot assays showed that circ_0000673 knockdown could decrease the expression of PTEN and increase the expression of PI3K and p-AKT. PTEN was confirmed to be a target of miR-616-3p. These results demonstrated that the downregulation of circ_0000673 could promote the progression of endometriosis by inactivating PTEN via the deregulation of miR-616-3p.
Keywords: circRNA, endometriosis, miRNA, PTEN