Int J Med Sci 2021; 18(15):3395-3402. doi:10.7150/ijms.50568 This issue
Research Paper
Chest CT abnormalities in COVID-19: a systematic review
1. Division of Urology, Brigham and Women's Hospital and Harvard Medical School Boston, MA 02115, USA
2. Department of Global Health and Population, Harvard T.H. Chan School of Public Health, Boston, MA 02115, USA
3. Department of Pediatrics, Yonsei University College of Medicine, Yonsei-ro 50, Seodaemun-gu, C.P.O Box 8044, Seoul 03722, Republic of Korea
4. Department of Nephrology, Yonsei University Wonju College of Medicine, Ilsan-ro 20, Wonju 26426, Republic of Korea
5. Yonsei University College of Medicine, Seoul, Republic of Korea
6. Research and Development Unit, Parc Sanitari Sant Joan de Déu, CIBERSAM, Dr. Antoni Pujadas, 42, Sant Boi de Llobregat, 08830, Barcelona, Spain.
7. ICREA, Pg, Lluis Companys 23, Barcelona, Spain
8. Faculty of Medicine, University of Versailles Saint-Quentin-en-Yvelines, Montigny-le-Bretonneux, 78180, Versailles, France.
9. The Cambridge Centre for Sport and Exercise Sciences, Anglia Ruskin University, Cambridge CB1 1PT, UK
10. University of Florida College of Medicine, Gainesville, FL 32610, USA
11. Department of Internal Medicine IV, Nephrology and Hypertension, Medical University Innsbruck, Innsbruck, Austria
† These authors contributed equally

This is an open access article distributed under the terms of the Creative Commons Attribution License (https://creativecommons.org/licenses/by/4.0/). See http://ivyspring.com/terms for full terms and conditions.
Citation:
Ghayda RA, Lee KH, Kim JS, Lee S, Hong SH, Kim KS, Kim KE, Seok J, Kim H, Seo J, Lee S, Koyanagi A, Jacob L, Smith L, Li H, Kronbichler A, Shin JI. Chest CT abnormalities in COVID-19: a systematic review.
Int J Med Sci
2021; 18(15):3395-3402. doi:10.7150/ijms.50568. Available from
https://www.medsci.org/v18p3395.htm
Abstract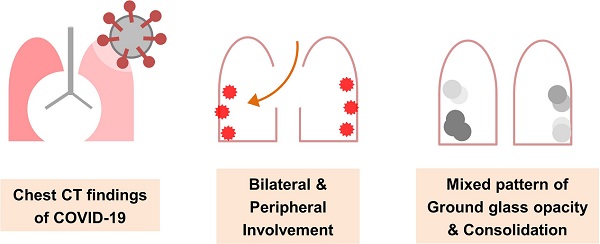 Computed tomography (CT) of the chest is one of the main diagnositic tools for coronavirus disease 2019 (COVID-19) infection. To document the chest CT findings in patients with confirmed COVID-19 and their association with the clinical severity, we searched related literatures through PubMed, MEDLINE, Embase, Web of Science (inception to May 4, 2020) and reviewed reference lists of previous systematic reviews. A total of 31 case reports (3768 patients) on CT findings of COVID-19 were included. The most common comorbid conditions were hypertension (18.4%) and diabetes mellitus (8.3%). The most common symptom was fever (78.7%), followed by cough (60.2%). It took an average of 5.6 days from symptom onset to admission. The most common chest CT finding was vascular enlargement (84.8%), followed by ground-glass opacity (GGO) (60.1%), air-bronchogram (47.8%), and consolidation (41.4%). Most lung lesions were located in the lung periphery (72.2%) and involved bilateral lung (76%). Most patients showed normal range of laboratory findings such as white blood cell count (96.4%) and lymphocyte (87.2%). Compared to previous published meta-analyses, our study is the first to summarize the different radiologic characteristics of chest CT in a total of 3768 COVID-19 patients by compiling case series studies. A comprehensive diagnostic approach should be adopted for patients with known COVID-19, suspected cases, and for exposed individuals.
Keywords: Coronavirus disease 2019 (COVID-19), Computed tomography (CT), Systematic review