Int J Med Sci 2021; 18(15):3380-3388. doi:10.7150/ijms.61681 This issue
Research Paper
The combination therapy with EpCAM/CD3 BsAb and MUC-1/CD3 BsAb elicited antitumor immunity by T-cell adoptive immunotherapy in lung cancer
Shenzhen key laboratory of stem cell research and clinical transformation, Guangdong Engineering Technology Research Center of Stem cell and Cell therapy, Translational Medicine Collaborative Innovation Center, The Second Clinical Medical College (Shenzhen People's Hospital), Jinan University, Shenzhen 518020, China.

This is an open access article distributed under the terms of the Creative Commons Attribution License (https://creativecommons.org/licenses/by/4.0/). See http://ivyspring.com/terms for full terms and conditions.
Citation:
Wang C, Chen S, Wu Y, Wu D, Wang J, Li F. The combination therapy with EpCAM/CD3 BsAb and MUC-1/CD3 BsAb elicited antitumor immunity by T-cell adoptive immunotherapy in lung cancer.
Int J Med Sci
2021; 18(15):3380-3388. doi:10.7150/ijms.61681. Available from
https://www.medsci.org/v18p3380.htm
Abstract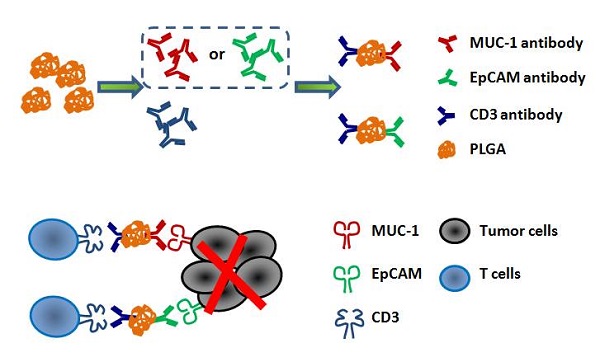 Lung cancer remains a global challenge due to high morbidity and mortality rates and poor response to treatment, and there are still no effective strategies to solve it. The bispecific antibody (BsAb) is a novel antibody, which can target two different antigens and mediate specific killing effects by selectively redirecting effector cells to the target cells. In this study, we combined two BsAbs to achieve a dual-target therapy strategy of EpCAM+ and MUC-1+ with high affinity and specificity. The results showed that the combination of two BsAbs against EpCAM and MUC-1 could inhibit the growth of lung cancer more effectively in cell lines and primary tumors. The superior antitumor effect of two BsAbs could be attributable to enhanced CTL and increased production of type I IFNs. At the same time, the combination of EpCAM/CD3 BsAb and MUC-1/CD3 BsAb significantly regulated T population in the TDLNs. Therefore, we have found a potential immunotherapeutic strategy, which was the combination therapy with EpCAM/CD3 BsAb and MUC-1/CD3 BsAb for the treatment of non-small cell lung cancer.
Keywords: non-small cell lung cancer, EpCAM/CD3 BsAb, MUC-1/CD3 BsAb, immunotherapy