Int J Med Sci 2021; 18(14):3326-3332. doi:10.7150/ijms.61500
Research Paper
A Retrospective Study of 158 Cases on the Risk Factors for Recurrence in Ameloblastoma
1. Department of Stomatology, The First Affiliated Hospital, Zhejiang University School of Medicine , Hangzhou, 310003,China
2. Key Laboratory for Drug Evaluation and Clinical Research of Zhejiang Province, The First Affiliated Hospital, Zhejiang University School of Medicine, Hangzhou, 310003,China
3. The Affiliated Hospital of Stomatology, School of Stomatology, Zhejiang University School of Medicine, and Key Laboratory of Oral Biomedical Research of Zhejiang Province, Hangzhou, Zhejiang, 310006, China

This is an open access article distributed under the terms of the Creative Commons Attribution License (https://creativecommons.org/licenses/by/4.0/). See http://ivyspring.com/terms for full terms and conditions.
Citation:
Bi L, Wei D, Hong D, Wang J, Qian K, Wang H, Zhu H. A Retrospective Study of 158 Cases on the Risk Factors for Recurrence in Ameloblastoma.
Int J Med Sci
2021; 18(14):3326-3332. doi:10.7150/ijms.61500. Available from
https://www.medsci.org/v18p3326.htm
Abstract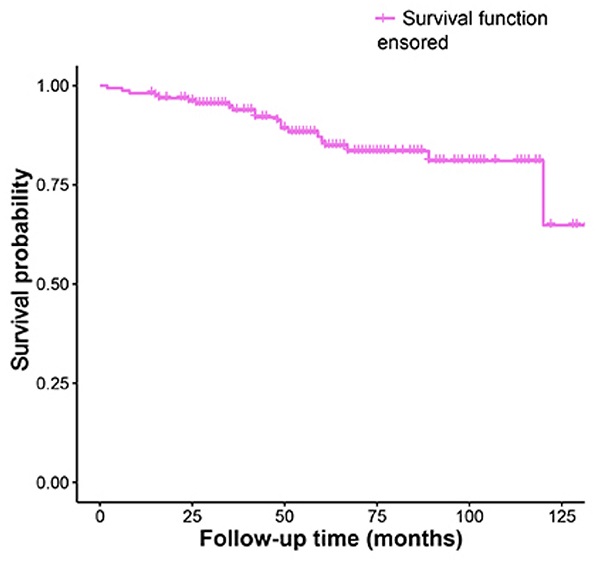 Background: Ameloblastoma is an odontogenic tumor occurring in jaws, with local aggressiveness and postoperative recurrence. This study was aim to investigate the clinical and radiographic risk factors for recurrence in ameloblastoma.
Methods: Patients diagnosed with ameloblastoma between March 2009 and March 2019 were retrospectively analyzed. Clinical and Radiological data and follow-up records were collected. Survival analyses were performed by Kaplan-Meier and log-rank tests, as well as Cox proportional hazards model.
Results: One hundred and fifty-eight patients (104 males and 54 females were enrolled. The overall recurrence rate for ameloblastoma was 13.29%, and 10.76% recurred within 5 years. Most of the tumors were located in mandible (86.71%), while the rest 21 cases were in maxilla (13.29%). More than half cases (55.06%) showed multilocular radiolucency, 61 cases (38.61%) showed unilocular radiolucency. Significant differences were found with amelobastoma recurrence rate related to treatment modality, impacted tooth and root resorption (P =0.002, 0.022 and 0.007 respectively).
Conclusions: Treatment modality, impacted tooth and root resorption all showed statistically significant associations with the recurrence rate in ameloblastoma. However, due to the limitation of this study, further studies are needed to reveal the true mechanism of ameloblastoma recurrence.
Keywords: ameloblastoma, risk factor, recurrence, survival analysis