Int J Med Sci 2021; 18(14):3206-3213. doi:10.7150/ijms.61014
Research Paper
Maternal vascular endothelial growth factor receptor and interleukin levels in pregnant women with twin-twin transfusion syndrome
1. Hanoi Obstetrics and Gynecology Hospital
2. Institute of Biomedicine and Pharmacy, Vietnam Military Medical University
3. Hanoi Medical University
# Shared first authorship

This is an open access article distributed under the terms of the Creative Commons Attribution License (https://creativecommons.org/licenses/by/4.0/). See http://ivyspring.com/terms for full terms and conditions.
Citation:
Anh ND, Thuong PH, Sim NT, Thao TTP, Anh LTL, Canh TTT, Dieu NV, Bac ND, Tong HV. Maternal vascular endothelial growth factor receptor and interleukin levels in pregnant women with twin-twin transfusion syndrome.
Int J Med Sci
2021; 18(14):3206-3213. doi:10.7150/ijms.61014. Available from
https://www.medsci.org/v18p3206.htm
Abstract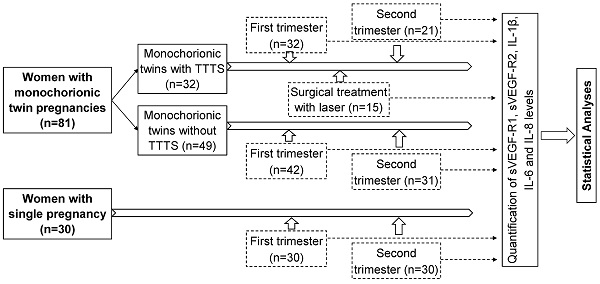 Twin-twin transfusion syndrome (TTTS) is an unusual and serious condition that occurs in twin pregnancies when identical twins share a placenta but develop discordant amniotic fluid volumes. TTTS is associated with an increased risk of fetal death and birth defects if untreated. This study investigated the soluble levels of biomarkers including growth factors and interleukins in pregnant women with and without TTTS during pregnancy. We quantified plasma levels of VEGF-R1, VEGF-R2, IL-1β, IL-6 and IL-8 in twin pregnant women with (n=53) and without TTTS (n=72) and in women with single pregnancy (n=30) by ELISA and analyzed the association of maternal circulating biomarker levels with TTTS. Our results showed that maternal VEGF-R1 levels were significantly higher in twins compared to single pregnancy (P<0.05) and were decreased in the second trimester compared to the first trimester (P = 0.065, 0.019 and 0.072 for twins with and without TTTS and single pregnancy, respectively). VEGF-R2 levels had a trend to be lower in twins compared to single pregnancy. In addition, soluble VEGF-R1 and VEGF-R2 levels were significantly decreased while IL-6 levels were increased after surgical treatment with laser in twin pregnant women with TTTS (P = 0.016, 0.041 and 0.04, respectively). These results suggest that IL-6, VEGF-R1 and VEGF-R2 are involved in vascular regulation and stabilization in twin pregnancies and may contribute to the pathogenesis of TTTS and thus play a prognostic role in the surgical treatment of TTTS.
Keywords: Twin-twin transfusion syndrome, IL-1β, IL-6, IL-8, VEGF-R1 and VEGF-R2