Int J Med Sci 2021; 18(14):3158-3170. doi:10.7150/ijms.45226
Research Paper
Temporomandibular Disorders and Oral Features in Idiopathic Inflammatory Myopathies (IIMs) Patients: An Observational Study
1. Department of Basic Medical Sciences, Neurosciences and Sensory Organs, "Aldo Moro" University of Bari, Piazza G. Cesare 11, 70124 Bari, Italy.
2. Department of Surgical Sciences, University of Turin, Italy.
3. Department of Clinical and Experimental Medicine, University of Foggia, Via Rovelli 50, 71122 Foggia, Italy.

This is an open access article distributed under the terms of the Creative Commons Attribution License (https://creativecommons.org/licenses/by/4.0/). See http://ivyspring.com/terms for full terms and conditions.
Citation:
Crincoli V, Cannavale M, Cazzolla AP, Dioguardi M, Piancino MG, Di Comite M. Temporomandibular Disorders and Oral Features in Idiopathic Inflammatory Myopathies (IIMs) Patients: An Observational Study.
Int J Med Sci
2021; 18(14):3158-3170. doi:10.7150/ijms.45226. Available from
https://www.medsci.org/v18p3158.htm
Abstract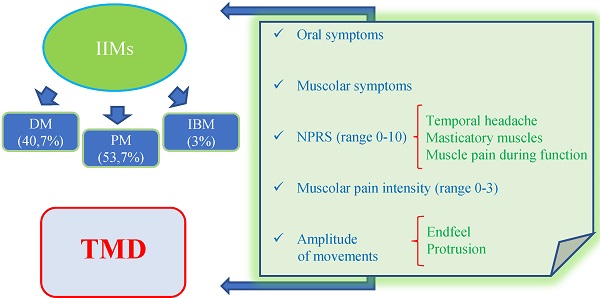 Aim: Inflammatory idiopathic myopathies (IIMs) are inflammatory processes affecting skeletal musculature and extramuscular organs. Temporomandibular disorders (TMD) involve jaw muscles and temporomandibular joint. The aim of this observational study was to investigate the prevalence of the main TMD symptoms and signs as well as oral implications in IIM patients.
Methods: The study group included 54 patients (42 women and 12 men), 22 of whom affected by dermatomyositis (DM), 29 by polymyositis (PM) and 3 by inclusion body myositis (IBM). A group of 54 patients not affected by this disease, served as CG. Oral and TMD signs and symptoms were evaluated by means of a questionnaire and through clinical examination.
Results: About oral symptoms, the study group complained more frequently dysgeusia, with loss of taste or unpleasant taste (p<0.0001) and feeling of burning mouth (9.4% versus 0 controls). Xerostomia was more prevalent in the study group respect to the CG (p<0.0001). Dysphagia was reported by 48.1% of IIM patients while was absent in CG (p<0.0001). About oral signs, cheilitis (p<0.05) and oral ulcers (p<0.05) were significantly more frequent in CG. As regard to TMD symptoms, arthralgia and tinnitus didn't showed significant differences between the two groups, while neck/shoulders and masticatory muscle pain was significantly more referred in IIM patients than in the CG (p<0.05). About TMJ signs, sounds were overlapping in the two groups: click=11.1% in both IIM patients and CG (p>0.05), crepitation in 11.1% of IIM and 9.3% of controls (p>0.05). No significant difference was detected about deflection (9.3%, p>0.05), while deviation was wider in CG (p<0.05). Active opening and lateralities showed no significant differences, while endfeel was significantly increased in IIM group for a higher presence of muscular contracture. Bruxism was present only in CG.
Conclusion: The data collected from this observational study seem to support the existence of a relationship between the prevalence of TMD symptoms and signs as well as oral features in patients with myositis. A remarkable reduction of salivary flow and dysphagia were more frequent and severe in IIM patients, as well as muscle contracture and myofacial pain evoked by palpation, this result being highly significant.
Keywords: inflammatory idiopathic myopathies, oral signs and symptoms, temporomandibular disorders