Int J Med Sci 2021; 18(14):3097-3105. doi:10.7150/ijms.60030
Research Paper
UHRF2 promotes Hepatocellular Carcinoma Progression by Upregulating ErbB3/Ras/Raf Signaling Pathway
1. Department of Cell Biology and Genetics, Chongqing Medical University, #1 Yixueyuan Road, Chongqing 400016, China.
2. Department of Hepatobiliary Surgery, The First Affiliated Hospital of Chongqing Medical University, Chongqing Medical University, Chongqing 400000, China.

This is an open access article distributed under the terms of the Creative Commons Attribution License (https://creativecommons.org/licenses/by/4.0/). See http://ivyspring.com/terms for full terms and conditions.
Citation:
Sun J, Wu K, Chen S, Jiang S, Chen Y, Duan C. UHRF2 promotes Hepatocellular Carcinoma Progression by Upregulating ErbB3/Ras/Raf Signaling Pathway.
Int J Med Sci
2021; 18(14):3097-3105. doi:10.7150/ijms.60030. Available from
https://www.medsci.org/v18p3097.htm
Abstract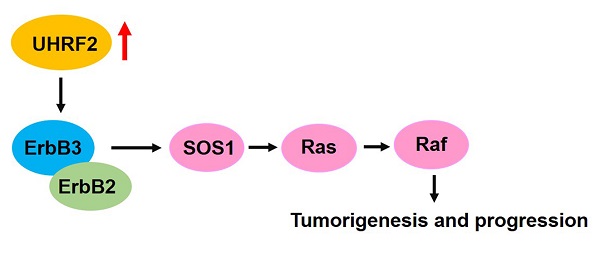 Emerging evidence revealed that UHRF2 was implicated in a variety of human diseases, especially in cancer. However, the biological function, clinical significance and underly mechanisms of UHRF2 in hepatocellular carcinoma (HCC) is largely unknown. We analyzed the expression of UHRF2 in 371 HCC tissues and 50 para-cancerous tissues of TCGA database. We found that UHRF2 was significantly upregulated in HCC tissues, which was further confirmed in HCC cells and tissues by western blot. More importantly, the level of UHRF2 was correlated with pathological grade and clinical stage, and the patients with high level of UHRF2 had lower overall survival, disease-free survival and higher recurrence rate than those with low UHRF2 level. Univariate and multivariate Cox regression analysis revealed that high level of UHRF2 might be an independent prognostic factor for HCC patients. Functional investigations suggested that ectopic expression of UHRF2 could promote the proliferation, migration and invasion of HCC cell lines, whereas knock down of UHRF2 exhibited an opposite effect. Additionally, gene set enrichment analysis indicated that ERBB signaling pathway was upregulated in patients with high level of UHRF2. Pearson correlation analysis indicated that the expression of UHRF2 was positively correlated with ErbB3 and its downstream targets SOS1, Ras and Raf-1. Furthermore, we found that overexpression of UHRF2 could upregulate the expression of ErbB3, SOS1, Ras and Raf-1. Our findings suggested that UHRF2 might accelerate HCC progression by upregulating ErbB3/Ras/Raf signaling pathway and it might serve as a diagnostic marker and therapeutic target for HCC patients.
Keywords: UHRF2, hepatocellular carcinoma, progression, ErbB3