Int J Med Sci 2021; 18(13):3039-3049. doi:10.7150/ijms.60399 This issue
Research Paper
Antitumor Activity of Small Activating RNAs Induced PAWR Gene Activation in Human Bladder Cancer Cells
1. Department of Urology, the First Affiliated Hospital, Zhejiang University School of Medicine, Hangzhou, Zhejiang 310003, P.R. China.
2. Department of Pharmacy, Traditional Chinese Medical Hospital of Zhejiang Province, Hangzhou, Zhejiang 310006, P.R. China.
* These authors contributed equally to this work.

This is an open access article distributed under the terms of the Creative Commons Attribution License (https://creativecommons.org/licenses/by/4.0/). See http://ivyspring.com/terms for full terms and conditions.
Citation:
Yang K, Shen J, Tan FQ, Zheng XY, Xie LP. Antitumor Activity of Small Activating RNAs Induced PAWR Gene Activation in Human Bladder Cancer Cells.
Int J Med Sci
2021; 18(13):3039-3049. doi:10.7150/ijms.60399. Available from
https://www.medsci.org/v18p3039.htm
Abstract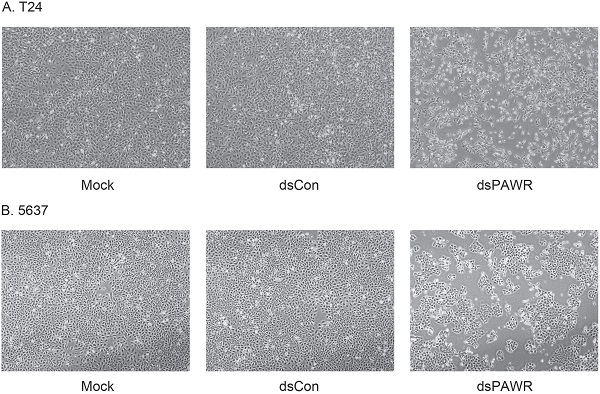 Small double-stranded RNAs (dsRNAs) have been proved to effectively up-regulate the expression of particular genes by targeting their promoters. These small dsRNAs were also termed small activating RNAs (saRNAs). We previously reported that several small double-stranded RNAs (dsRNAs) targeting the PRKC apoptosis WT1 regulator (PAWR) promoter can up-regulate PAWR gene expression effectively in human cancer cells. The present study was conducted to evaluate the antitumor potential of PAWR gene induction by these saRNAs in bladder cancer. Promisingly, we found that up-regulation of PAWR by saRNA inhibited the growth of bladder cancer cells by inducing cell apoptosis and cell cycle arrest which was related to inhibition of anti‑apoptotic protein Bcl-2 and inactivation of the NF-κB and Akt pathways. The activation of the caspase cascade and the regulation of cell cycle related proteins also supported the efficacy of the treatment. Moreover, our study also showed that these saRNAs cooperated with cisplatin in the inhibition of bladder cancer cells. Overall, these data suggest that activation of PAWR by saRNA may have a therapeutic benefit for bladder cancer.
Keywords: RNA activation, small activating RNA, PAWR, bladder cancer, cell cycle arrest, apoptosis.