Int J Med Sci 2021; 18(13):2981-2989. doi:10.7150/ijms.60281 This issue
Research Paper
Salmonella alters heparanase expression and reduces tumor metastasis
1. Department of Orthopaedics, Kaohsiung Armed Forces General Hospital, Kaohsiung 80284, Taiwan.
2. Department of Biological Sciences, National Sun Yat-sen University, Kaohsiung 80424, Taiwan.
3. Aerosol Science Research Center, National Sun Yat-sen University, Kaohsiung, Taiwan, 80424, Taiwan.
4. Department of Medical Education and Research, Kaohsiung Veterans General Hospital, Kaohsiung, Taiwan.
5. Department of Medical Imaging and Radiological Sciences, Kaohsiung Medical University, Kaohsiung, Taiwan.
6. Department of Medical Research, China Medical University Hospital, China Medical University, Taichung 404, Taiwan.
7. Department of Medical Laboratory Science and Biotechnology, Kaohsiung Medical University, Kaohsiung 80708, Taiwan.
8. Doctoral Degree Program in Marine Biotechnology, National Sun Yat-sen University, Kaohsiung 80424, Taiwan.

This is an open access article distributed under the terms of the Creative Commons Attribution License (https://creativecommons.org/licenses/by/4.0/). See http://ivyspring.com/terms for full terms and conditions.
Citation:
Chiu HM, Chiou WY, Hsu WJ, Wu LH, Yang MH, Tyan YC, Lee CH.
Salmonella
alters heparanase expression and reduces tumor metastasis.
Int J Med Sci
2021; 18(13):2981-2989. doi:10.7150/ijms.60281. Available from
https://www.medsci.org/v18p2981.htm
Abstract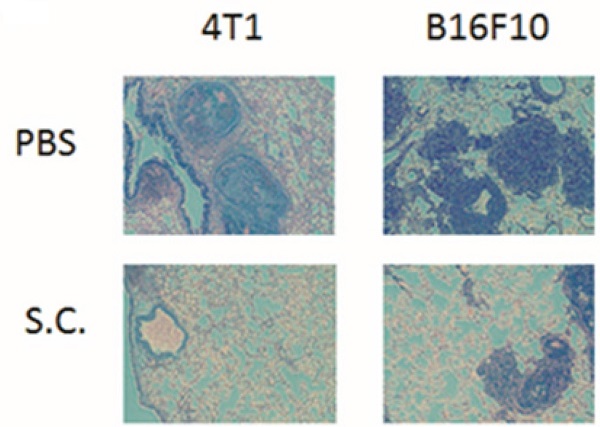 Salmonella causes salmonellosis, is a facultative anaerobe and is one of the common Gram-negative bacteria. Salmonella has anti-tumor potential and tumor-targeting activity. The heparin sulfate on cell surfaces can be cleaved by heparanase that is an endo-β-D-glucuronidase. Heparanase can destroy the extracellular matrix and is involved in tumor metastasis and angiogenic activity. Previously, Salmonella was demonstrated to inhibit tumor metastasis. It remains unclear whether Salmonella inhibits metastasis by regulating heparanase. The expression of heparanase in Salmonella-treated tumor cells was found to be decreased. Transwell and wound-healing assays demonstrated the inhibition of cell migration after Salmonella treatment. Salmonella was found to influence the levels of phosphate-protein kinase B (P-AKT) and phosphate-extracellular regulated protein kinases (P-ERK), which are involved in heparanase expression. Salmonella reduced the heparanase expression induced upregulating PERK and PAKT signaling pathways. The mice bearing an experimental metastasis tumor model was used to evaluate the anti-tumor metastatic effects of Salmonella. Compared with the control group, Salmonella significantly reduced the number of metastatic nodules and enhanced survival. The results of our study indicate that Salmonella plays a vital role in the inhibition of tumor metastasis through the downregulation of heparanase.
Keywords: Salmonella, Heparanase, tumor migration, metastasis