Int J Med Sci 2021; 18(13):2849-2870. doi:10.7150/ijms.59218 This issue
Review
Clinical applications of mesenchymal stromal cell-based therapies for pulmonary diseases: An Update and Concise Review
1. Unicell Life Science Development Co., Ltd, Tianjin, China.
2. Department of Genetics, School of Basic Medical Sciences, Tianjin Medical University, Tianjin, China.
3. Department of Clinical Laboratory Medicine, the Second Hospital of Tianjin Medical University, Tianjin Institute of Urology, Tianjin, China.
4. Department of Clinical Laboratory Medicine, Tianjin TEDA Hospital, Tianjin, China.
*These authors contributed equally in this manuscript.

This is an open access article distributed under the terms of the Creative Commons Attribution License (https://creativecommons.org/licenses/by/4.0/). See http://ivyspring.com/terms for full terms and conditions.
Citation:
Chen X, Wang F, Huang Z, Wu Y, Geng J, Wang Y. Clinical applications of mesenchymal stromal cell-based therapies for pulmonary diseases: An Update and Concise Review.
Int J Med Sci
2021; 18(13):2849-2870. doi:10.7150/ijms.59218. Available from
https://www.medsci.org/v18p2849.htm
Abstract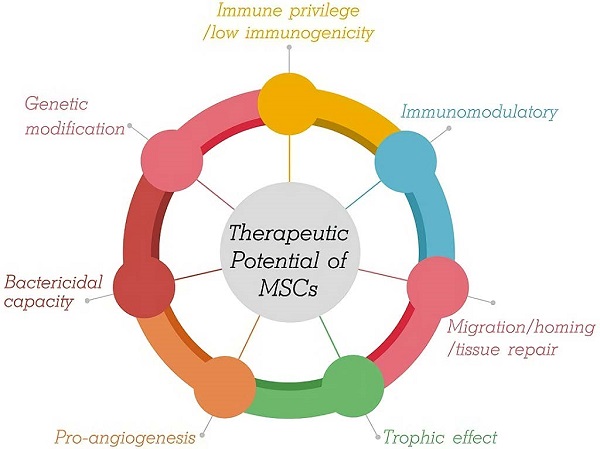 Lung disorders are a leading cause of morbidity and death worldwide. For many disease conditions, no effective and curative treatment options are available. Mesenchymal stromal cell (MSC)-based therapy is one of the cutting-edge topics in medical research today. It offers a novel and promising therapeutic option for various acute and chronic lung diseases due to its potent and broad-ranging immunomodulatory activities, bacterial clearance, tissue regeneration, and proangiogenic and antifibrotic properties, which rely on both cell-to-cell contact and paracrine mechanisms. This review covers the sources and therapeutic potential of MSCs. In particular, a total of 110 MSC-based clinical applications, either completed clinical trials with safety and early efficacy results reported or ongoing worldwide clinical trials of pulmonary diseases, are systematically summarized following preferred reporting items for systematic reviews and meta-analyses (PRISMA) guidelines, including acute/viral pulmonary disease, community-acquired pneumonia (CAP), chronic obstructive pulmonary disease (COPD), bronchopulmonary dysplasia (BPD), interstitial lung diseases (ILD), chronic pulmonary fibrosis, bronchiolitis obliterans syndrome (BOS) and lung cancer. The results of recent clinical studies suggest that MSCs are a promising therapeutic approach for the treatment of lung diseases. Nevertheless, large-scale clinical trials and evaluation of long-term effects are necessary in further studies.