Int J Med Sci 2021; 18(13):2835-2841. doi:10.7150/ijms.60439 This issue
Research Paper
Salmonella reduces tumor metastasis by downregulation C-X-C chemokine receptor type 4
1. Department of Internal Medicine, Kaohsiung Municipal Ta-Tung Hospital, Kaohsiung Medical University Hospital, Kaohsiung Medical University, Taiwan.
2. Department of Biological Sciences, National Sun Yat-sen University, Kaohsiung, Taiwan.
3. Department of Medical Education and Research, Kaohsiung Veterans General Hospital, Kaohsiung, Taiwan.
4. Department of Medical Imaging and Radiological Sciences, Kaohsiung Medical University, Kaohsiung, Taiwan.
5. Department of Medical Research, China Medical University Hospital, China Medical University, Taichung, Taiwan.
6. Department of Medical Laboratory Science and Biotechnology, Kaohsiung Medical University, Kaohsiung, Taiwan.
7. International Ph.D. Program for Science, National Sun Yat-sen University, Kaohsiung, Taiwan.

This is an open access article distributed under the terms of the Creative Commons Attribution License (https://creativecommons.org/licenses/by/4.0/). See http://ivyspring.com/terms for full terms and conditions.
Citation:
Lee TH, Lin GY, Yang MH, Tyan YC, Lee CH.
Salmonella
reduces tumor metastasis by downregulation C-X-C chemokine receptor type 4.
Int J Med Sci
2021; 18(13):2835-2841. doi:10.7150/ijms.60439. Available from
https://www.medsci.org/v18p2835.htm
Abstract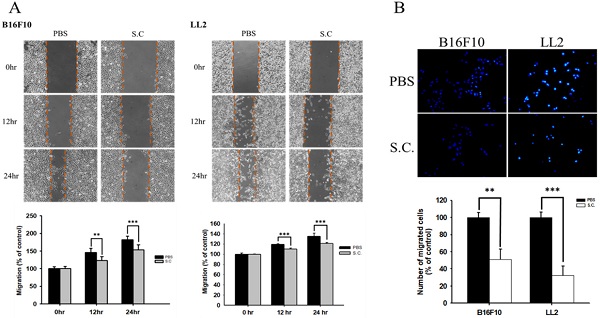 Tumor metastasis is the main reason for the death of most cancer patients. C-X-C chemokine receptor type 4 (CXCR4) has been demonstrated to be overexpressed in numerous types of cancer. CXCR4 selectively binds with stromal cell-derived factor 1 (SDF1), also known as C-X-C family chemokine ligand 12 (CXCL12) (CXCL12/SDF-1), which induced tumor proliferation and metastasis. Recently, the use of conventional cancer treatments had some limitation; bacteria treatment for cancer becomes a trend that overcomes these limitations. Plenty of studies show that Salmonella has anti-tumor and anti-metastatic activity. The current study aimed to investigate Salmonella suppresses CXCR4 protein expression and tumor cell migration ability in B16F10 melanoma and LL2 lung carcinoma cells. Salmonella reduced CXCR4 protein expression through downregulating Protein Kinase-B (Akt)/Mammalian Target of Rapamycin (mTOR) signaling pathway. In cells transfected with constitutively active Akt plasmids, a reverse effect of Salmonella-induced inhibition of CXCR4 was observed. Tumor cells have chemotactic response to CXCL12 in migration assay, and we found that Salmonella reduced tumor chemotactic response after CXCL12 treatment. The C57BL/6 mice were intravenously injected with B16F10 and LL2 cells pre-incubated with or without Salmonella, the tumor size and lung weight of Salmonella group had obviously decreased, indicating anti-metastatic effect that confirmed the findings from the in vitro experiments.
Keywords: Salmonella, Metastasis, Migration, CXCR4, CXCL12