Int J Med Sci 2021; 18(13):2799-2813. doi:10.7150/ijms.59171 This issue
Review
Targeted therapy for intervertebral disc degeneration: inhibiting apoptosis is a promising treatment strategy
1. Department of Orthopedics, Lanzhou University Second Hospital, Lanzhou, Gansu 730000, PR China.
2. Department of Orthopedics, Honghui Hospital, Xi'an, Shanxi, 710000, PR China.
3. Key Laboratory of Bone and Joint Disease Research of Gansu Province, Lanzhou, Gansu 730000, PR China.
4. Xigu District People's Hospital, Lanzhou, Gansu 730000, PR China.
*Equal contributions to this work.

This is an open access article distributed under the terms of the Creative Commons Attribution License (https://creativecommons.org/licenses/by/4.0/). See http://ivyspring.com/terms for full terms and conditions.
Citation:
Zhang Xb, Hu Yc, Cheng P, Zhou Hy, Chen Xy, Wu D, Zhang Rh, Yu Dc, Gao Xd, Shi Jt, Zhang K, Li Sl, Song Pj, Wang Kp. Targeted therapy for intervertebral disc degeneration: inhibiting apoptosis is a promising treatment strategy.
Int J Med Sci
2021; 18(13):2799-2813. doi:10.7150/ijms.59171. Available from
https://www.medsci.org/v18p2799.htm
Abstract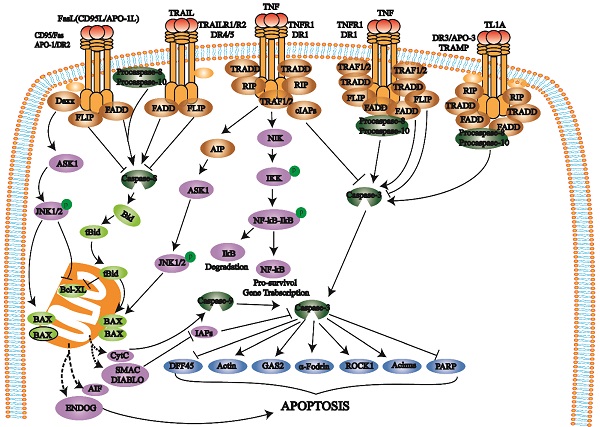 Intervertebral disc (IVD) degeneration (IDD) is a multifactorial pathological process associated with low back pain (LBP). The pathogenesis is complicated, and the main pathological changes are IVD cell apoptosis and extracellular matrix (ECM) degradation. Apoptotic cell loss leads to ECM degradation, which plays an essential role in IDD pathogenesis. Apoptosis regulation may be a potential attractive therapeutic strategy for IDD. Previous studies have shown that IVD cell apoptosis is mainly induced by the death receptor pathway, mitochondrial pathway, and endoplasmic reticulum stress (ERS) pathway. This article mainly summarizes the factors that induce IDD and apoptosis, the relationship between the three apoptotic pathways and IDD, and potential therapeutic strategies. Preliminary animal and cell experiments show that targeting apoptotic pathway genes or drug inhibition can effectively inhibit IVD cell apoptosis and slow IDD progression. Targeted apoptotic pathway inhibition may be an effective strategy to alleviate IDD at the gene level. This manuscript provides new insights and ideas for IDD therapy.
Keywords: intervertebral disc degeneration, death receptor pathway, mitochondrial pathway, endoplasmic reticulum stress pathway, targeted therapy