Int J Med Sci 2021; 18(12):2673-2688. doi:10.7150/ijms.58147 This issue
Review
Repurposing New Use for Old Drug Chloroquine against Metabolic Syndrome: A Review on Animal and Human Evidence
Department of Pharmacology, Faculty of Medicine, Universiti Kebangsaan Malaysia, Jalan Yaacob Latif, Bandar Tun Razak, 56000 Cheras, Kuala Lumpur, Malaysia.

This is an open access article distributed under the terms of the Creative Commons Attribution License (https://creativecommons.org/licenses/by/4.0/). See http://ivyspring.com/terms for full terms and conditions.
Citation:
Wong SK. Repurposing New Use for Old Drug Chloroquine against Metabolic Syndrome: A Review on Animal and Human Evidence.
Int J Med Sci
2021; 18(12):2673-2688. doi:10.7150/ijms.58147. Available from
https://www.medsci.org/v18p2673.htm
Abstract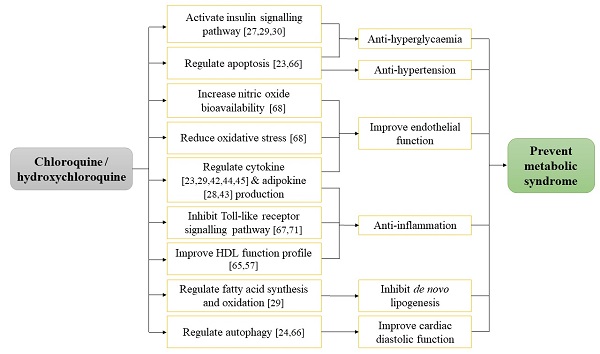 Chloroquine (CQ) and hydroxychloroquine (HCQ) are traditional anti-malarial drugs that have been repurposed for new therapeutic uses in many diseases due to their simple usage and cost-effectiveness. The pleiotropic effects of CQ and HCQ in regulating blood pressure, glucose homeostasis, lipid, and carbohydrate metabolism have been previously described in vivo and in humans, thus suggesting their role in metabolic syndrome (MetS) prevention. The anti-hyperglycaemic, anti-hyperlipidaemic, cardioprotective, anti-hypertensive, and anti-obesity effects of CQ and HCQ might be elicited through reduction of inflammatory response and oxidative stress, improvement of endothelial function, activation of insulin signalling pathway, inhibition of lipogenesis and autophagy, as well as regulation of adipokines and apoptosis. In conclusion, the current state of knowledge supported the repurposing of CQ and HCQ usage in the management of MetS.
Keywords: diabetes, dyslipidaemia, hypertension, immunomodulation, inflammation, obesity