Int J Med Sci 2021; 18(12):2641-2652. doi:10.7150/ijms.60726 This issue
Research Paper
Evaluation of the Efficacy of Supplementation with Planox® Lemon Verbena Extract in Improving Oxidative Stress and Muscle Damage: A Randomized Double-Blind Controlled Trial
1. Graduate Institute of Sports Science, National Taiwan Sport University, Taoyuan City 33301, Taiwan.
2. Department of Food Science, College of Agriculture, Tunghai University, Taichung City 40704, Taiwan.

This is an open access article distributed under the terms of the Creative Commons Attribution License (https://creativecommons.org/licenses/by/4.0/). See http://ivyspring.com/terms for full terms and conditions.
Citation:
Lee MC, Hsu YJ, Ho CS, Chang CH, Liu CW, Huang CC, Chiang WD. Evaluation of the Efficacy of Supplementation with Planox® Lemon Verbena Extract in Improving Oxidative Stress and Muscle Damage: A Randomized Double-Blind Controlled Trial.
Int J Med Sci
2021; 18(12):2641-2652. doi:10.7150/ijms.60726. Available from
https://www.medsci.org/v18p2641.htm
Abstract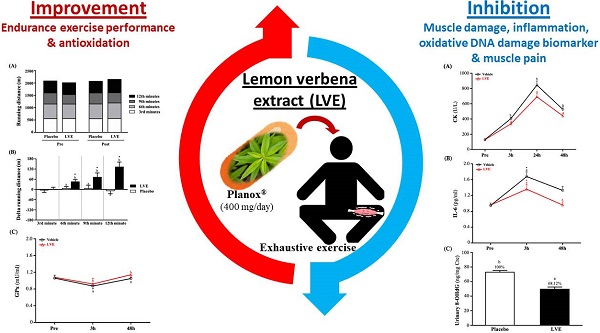 Excessive exercise load can cause muscle soreness and fatigue, as well as inflammation and oxidative stress. Lemon verbena (Aloysia triphylla; Lippia citriodora) is often used as a spice in tea or beverages. Its leaves are rich in polyphenols, which have antioxidant and anti-inflammatory bioactivities. In the present study, we investigated whether supplementation with Planox® lemon verbena extract (LVE) could improve muscle damage and biochemical indicators after exhaustive exercise challenge. All subjects (30 males and 30 females) underwent a double-blind trial and were randomly divided into a placebo group (0 mg/human/day) and an LVE supplement group (400 mg/human/day), with gender-equal distribution. All subjects started supplementation 10 days before exhaustive exercise and continued it until all tests were completed. Before the intervention, after the exhaustive exercise, and on the following 3 days, the participants underwent 12-minute Cooper running/walking; blood collection; assessments of pain, muscle stiffness, maximum jump heights, and isometric maximum muscle strength. The results showed that supplementation with LVE effectively increased GPx and reduced CK, IL-6, 8-OHdG and muscle pain after the exhaustive exercise, but it had significant effect on strength recovery. In summary, LVE is a safe and edible natural plant extract that can reduce muscle damage and soreness after exercise. This trial was registered at clinicaltrials.gov as NCT04742244.
Keywords: Lemon verbena, oxidative stress, muscle injury, inflammation.