Int J Med Sci 2021; 18(12):2581-2588. doi:10.7150/ijms.58650 This issue
Research Paper
A clinical study on plasma biomarkers for deciding the use of adjuvant corticosteroid therapy in bronchopulmonary dysplasia of premature infants
1. Department of Neonatology, The Affiliated Huaian No.1 People's Hospital of Nanjing Medical University, Huai'an, Jiangsu, China.
2. University of Barcelona, TPM-DTI, Barcelona, Catalunya, Spain
3. Neonatal Medical Center, Huai'an Maternity and Child Healthcare Hospital, Yangzhou University Medical College, Huai'an, Jiangsu, China.
#These authors contributed equally to this work as first author.

This is an open access article distributed under the terms of the Creative Commons Attribution License (https://creativecommons.org/licenses/by/4.0/). See http://ivyspring.com/terms for full terms and conditions.
Citation:
Zhu H, Tian Y, Cheng H, Zheng Y, Wang W, Bao T, Wu R, Tian Z. A clinical study on plasma biomarkers for deciding the use of adjuvant corticosteroid therapy in bronchopulmonary dysplasia of premature infants.
Int J Med Sci
2021; 18(12):2581-2588. doi:10.7150/ijms.58650. Available from
https://www.medsci.org/v18p2581.htm
Abstract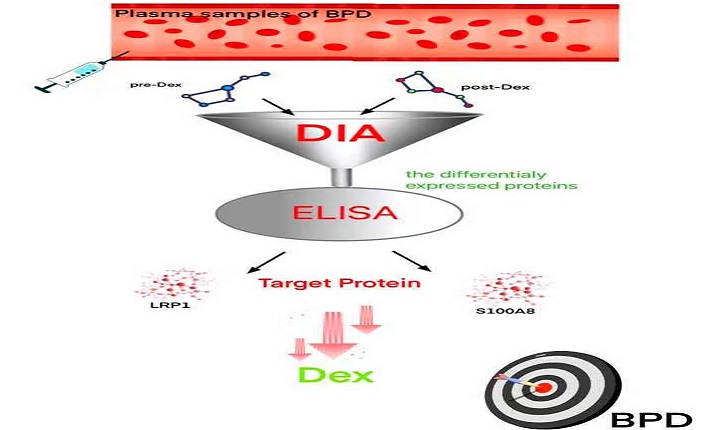 Objective: The study was designed to investigate some plasma markers which help us to decide the use of adjuvant corticosteroid therapy in bronchopulmonary dysplasia (BPD) of premature infants.
Methods: Thirty BPD infants were treated by dexamethasone. Among these cases, dexamethasone was significant effective in 10 cases, and no significant effective in 20 cases. These patients were divided into two groups as the significant effect (SE) group (n=10) and the non-significant effect (NE) group (n=20) according to the curative effect of dexamethasone. Fifteen non-BPD infants with gestational age and gender matching were selected as the control group. Plasma samples before and after dexamethasone treatment were collected from three infants chosen randomly from SEG for the data-independent acquisition (DIA) analysis. ELISA was further used to detect the levels of differential proteins LRP1 and S100A8 in all individuals, including SE, NE and control groups.
Results: DIA analysis results showed that after dexamethasone treatment, there were a total of 52 plasma proteins that showed significant differences, of which 43 proteins were down-regulated and 9 proteins were up-regulated. LRP1 and S100A8 were two plasma proteins that were significantly changed after dexamethasone treatment. Compared with the control group, plasma LRP1 was significantly increased in BPD. Interestingly, the plasma concentration of LRP1 in the NE group was significantly higher than that in the SE group. S100A8, as an indicator of plasma inflammation, was significantly higher in BPD than the control group. Unlike LRP1, there was no significantly difference between the SE and NE group (P=0.279) before dexamethasone treatment.
Conclusion: Elevated plasma LRP1 and S100A8 in BPD infants are two indicators that correlated with the efficacy of dexamethasone, and might be used as biomarkers for deciding the use of adjuvant corticosteroids therapy in the BPD.
Keywords: bronchopulmonary dysplasia, proteome, biomarker, corticosteroids