Int J Med Sci 2021; 18(12):2551-2560. doi:10.7150/ijms.50484 This issue
Research Paper
γ-secretase inhibitors, DAPT and RO4929097, promote the migration of Human Glioma Cells via Smad5-downregulated E-cadherin Expression
1. Department of Medical Research and Development, Chang Gung Memorial Hospital Chiayi Branch, Chiayi, Taiwan.
2. Department of Neurosurgery, Chang Gung Memorial Hospital, Chiayi, Taiwan.
3. Graduate Institute of Clinical Medical Sciences, College of Medicine, Chang Gung University, Taoyuan, Taiwan.
4. Department of Biomedical Sciences and Institute of Molecular Biology, National Chung Cheng University, Chiayi, Taiwan.
5. College of Medicine, Chang Gung University, Taoyuan, Taiwan.

This is an open access article distributed under the terms of the Creative Commons Attribution License (https://creativecommons.org/licenses/by/4.0/). See http://ivyspring.com/terms for full terms and conditions.
Citation:
Chang SF, Yang WH, Cheng CY, Luo SJ, Wang TC. γ-secretase inhibitors, DAPT and RO4929097, promote the migration of Human Glioma Cells via Smad5-downregulated E-cadherin Expression.
Int J Med Sci
2021; 18(12):2551-2560. doi:10.7150/ijms.50484. Available from
https://www.medsci.org/v18p2551.htm
Abstract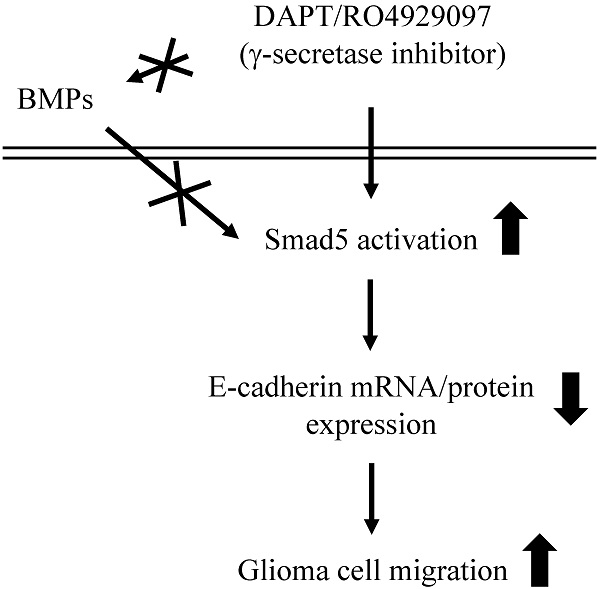 Malignant gliomas are a type of central nervous system cancer with extremely high mortality rates in humans. γ-secretase has been becoming a potential target for cancer therapy, including glioma, because of the involvement of its enzymatic activity in regulating the proliferation and metastasis of cancer cells. In this study, we attempted to determine whether γ-secretase activity regulates E-cadherin to affect glioma cell migration. The human glioma cell lines, including LN18 and LN229, and the γ-secretase inhibitors, including N-[N-(3,5-difluorophenacetyl)-L-alanyl]-S-phenylglycine t-butyl ester (DAPT) and RO4929097, were used in this study. It was shown that γ-secretase activity inhibition by DAPT and RO4929097 could promote LN18 and LN229 glioma cell migration via downregulating E-cadherin mRNA and protein expressions, but not via affecting E-cadherin protein processing. In addition, γ-secretase activity inhibition was regulated by bone morphogenetic proteins-independent Smad5 activation in glioma cells. Moreover, endogenous Smad1 in glioma cells was found to play an important role in regulating E-cadherin expression and subsequent cell migration but did not affect DAPT-stimulated effects. These results help further elucidate the molecular mechanisms of γ-secretase activity regulation involved in controlling glioma cell malignancy. Information about a potential role for Smad1/5 activity upregulation and subsequent E-cadherin downregulation during inhibition of γ-secretase activity in the development of gliomas is therefore relevant for future research.
Keywords: bone morphogenetic proteins, E-cadherin, γ-secretase, glioma, Smad1/5