Int J Med Sci 2021; 18(12):2510-2520. doi:10.7150/ijms.58954 This issue
Research Paper
Promoter Methylation-mediated Silencing of the MiR-192-5p Promotes Endometrial Cancer Progression by Targeting ALX1
1. Department of Radiation Oncology, Fudan University Shanghai Cancer Center, Shanghai, China.
2. Department of Gynecologic Oncology, Fudan University Shanghai Cancer Center, Shanghai, China.
3. Department of Oncology, Shanghai Medical College, Fudan University, Shanghai, China.
* Contributing equally as first authors.

This is an open access article distributed under the terms of the Creative Commons Attribution License (https://creativecommons.org/licenses/by/4.0/). See http://ivyspring.com/terms for full terms and conditions.
Citation:
Ni J, Tian W, Liang S, Wang H, Ren Y. Promoter Methylation-mediated Silencing of the MiR-192-5p Promotes Endometrial Cancer Progression by Targeting ALX1.
Int J Med Sci
2021; 18(12):2510-2520. doi:10.7150/ijms.58954. Available from
https://www.medsci.org/v18p2510.htm
Abstract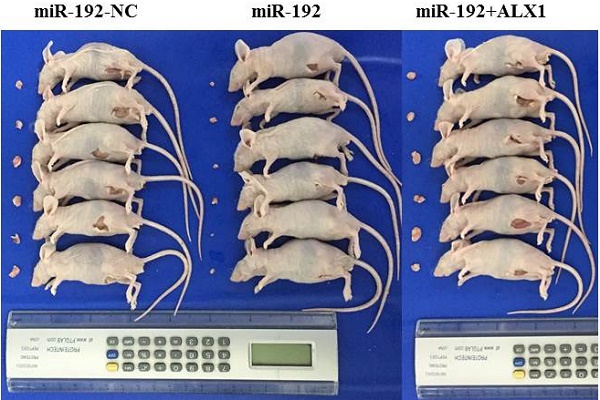 Background: Epigenetic regulation by promoter methylation-mediated silencing of cancer-related microRNAs plays vital roles in tumorigenesis. MiR-192-5p promotes tumor progression in various human cancers with conflicting biological effects. However, its expression levels and biological functions in endometrial carcinoma (EC) have not been reported.
Methods: The methylation status of miR-192-5p in tissue samples and cell lines, was examined using bisulfite sequencing PCR. miR-192-5p expression was also measured. EC cell lines transfected with specifically designed vectors overexpressing miR-192-5p, its target gene ALX1 or both, were constructed. Tumorigenicity of these cell lines were examined by in vitro and in vivo experiments. Dual-luciferase reporter assay were employed to verify the target of miR-192-5p.
Results: The promoter region of miR-192-5p gene was highly methylated and its expression significantly repressed in EC samples. Moreover, a higher level of promoter methylation as well as a lower expression of miR-192-5p, was significantly associated with advanced Federation of Gynecology and Obstetrics stage and shorter disease-free survival in patients with curatively resected EC. Functional studies demonstrated that miR-192-5p overexpression inhibited in vitro tumor progression, in vivo tumorigenicity and the expression of several oncoproteins that was highly related to epithelial-to-mesenchymal transition. ALX1 was verified as a direct target of miR-192-5p and demonstrated to mediate the tumor-suppressive function of miR-192-5p.
Conclusion: miR-192-5p is a tumor suppressor miRNA that is epigenetically silenced by promoter methylation and may serve as a potential prognostic biomarker in EC.
Keywords: ALX1, endometrial carcinoma, methylation, miR-192-5p, prognosis.