Int J Med Sci 2021; 18(8):1886-1898. doi:10.7150/ijms.54787 This issue
Review
Perspectives on long pentraxin 3 and rheumatoid arthritis: several potential breakthrough points relying on study foundation of the past
1. Department of Orthopedic Surgery, The First Affiliated Hospital of Shandong First Medical University, Jinan 250014, Shandong, P. R. China.
2. Cheeloo College of Medicine, Shandong University, Jinan 250012, Shandong, P. R. China.
3. Department of Orthopaedic Surgery, Qilu Hospital, Cheeloo College of Medicine, Shandong University, Jinan 250012, Shandong, P. R. China.
4. College of Stomatology, Qingdao University, Qingdao 266071, Shandong, P. R. China.
5. Key Laboratory of High Efficiency and Clean Manufacturing, School of Mechanical Engineering, Shandong University, Jinan 250061, Shandong, P. R. China.

This is an open access article distributed under the terms of the Creative Commons Attribution License (https://creativecommons.org/licenses/by/4.0/). See http://ivyspring.com/terms for full terms and conditions.
Citation:
Qiu C, Han Y, Zhang H, Liu T, Hou H, Luo D, Yu M, Bian K, Zhao Y, Xiao X. Perspectives on long pentraxin 3 and rheumatoid arthritis: several potential breakthrough points relying on study foundation of the past.
Int J Med Sci
2021; 18(8):1886-1898. doi:10.7150/ijms.54787. Available from
https://www.medsci.org/v18p1886.htm
Abstract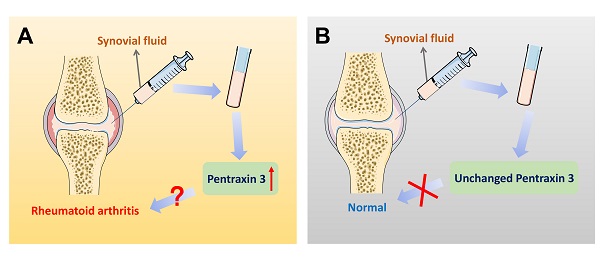 Rheumatoid arthritis (RA) is a systemic chronic autoimmune inflammatory disease which is mainly characterized by synovitis and results in a severe burden for both the individual and society. To date, the underlying mechanisms of RA are still poorly understood. Pentraxin 3 (PTX3) is a typical long pentraxin protein which has been highly conserved during evolution. Meanwhile, functions as well as properties of PTX3 have been extensively studied. Several studies identified that PTX3 plays a predominate role in infection, inflammation, immunity and tumor. Interestingly, PTX3 has also been verified to be closely associated with development of RA. We therefore accomplished an elaboration of the relationships between PTX3 and RA. Herein, we mainly focus on the associated cell types and cognate cytokines involved in RA, in combination with PTX3. This review infers the insight into the interaction of PTX3 in RA and aims to provide novel clues for potential therapeutic target of RA in clinic.
Keywords: Pentraxin 3, Rheumatoid arthritis, Synovitis, TNF-α, Inflammation