Int J Med Sci 2021; 18(8):1810-1823. doi:10.7150/ijms.51654 This issue
Research Paper
Hirsutella sinensis mycelium regulates autophagy of alveolar macrophages via TLR4/NF-κB signaling pathway
1. The State Key Laboratory of Pharmaceutical Biotechnology, Division of Immunology, Medical School, Nanjing University, Nanjing 210093, China.
2. Jiangsu Key Laboratory of Molecular Medicine, Nanjing University, Nanjing 210093, China.
* These authors contributed equally to this work.

This is an open access article distributed under the terms of the Creative Commons Attribution License (https://creativecommons.org/licenses/by/4.0/). See http://ivyspring.com/terms for full terms and conditions.
Citation:
Fu J, Lu L, Wang H, Hou Y, Dou H.
Hirsutella sinensis
mycelium regulates autophagy of alveolar macrophages via TLR4/NF-κB signaling pathway.
Int J Med Sci
2021; 18(8):1810-1823. doi:10.7150/ijms.51654. Available from
https://www.medsci.org/v18p1810.htm
Abstract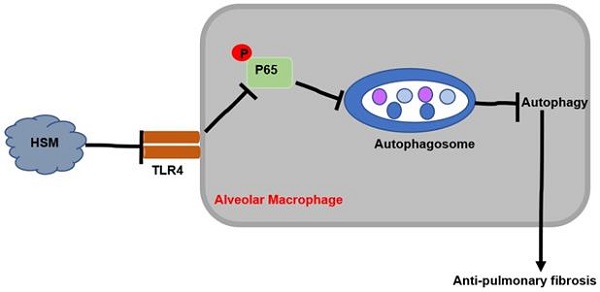 Background: Hirsutella sinensis mycelium (HSM) has potent anti-pulmonary fibrotic activities and has been proposed as an effective treatment for idiopathic pulmonary fibrosis. Macrophages are the main innate immune cells in the lung tissue, playing key roles in pulmonary fibrosis repair and homeostasis. Excessive macrophage autophagy plays a vital role in pulmonary fibrosis. The protective effect of HSM on macrophages of bleomycin (BLM)-induced pulmonary fibrotic mice remain unclear.
Methods: In this study, we collected lung tissue and bronchoalveolar lavage fluid (BALF) samples from pulmonary fibrotic mice. Meanwhile, alveolar macrophages were isolated and murine macrophage RAW264.7 cell line was cultured for further study of HSM autophagy.
Results: First, we found that HSM decreased the number of autophagosomes, as well as the levels of LC3B and ATG5, and increased the protein level of P62 during the development of pulmonary fibrosis. Meanwhile, HSM reduced alveolar macrophages infiltration into the BALF and inhibited their accumulation in the fibrotic lung tissue. Flow cytometry analysis showed that HSM administration inhibited the autophagy marker LC3B expression in CD11bloCD11chi alveolar macrophages in BLM-induced lung fibrosis without affecting CD11bhiCD11clo interstitial macrophages. Transmission electron microscopy and JC-1 staining for mitochondrial membrane potential of alveolar macrophages also verified that the HSM significantly decreased autophagy in the alveolar macrophages of BLM-treated mice. In vitro, autophagosomes-lysosome fusion inhibitor chloroquine (CQ) was pre-incubated with RAW264.7 cells, and HSM reduced CQ-induced autophagosomes accumulation. TLR4 signaling inhibitor CLI095 reversed the above effects, suggesting HSM could reduce the cumulation of autophagosomes dependent on TLR4. Furthermore, lipopolysaccharide (LPS)-stimulated TLR4-related autophagy was significantly inhibited by HSM treatment. In addition, the protein expressions of TLR4 and phospho-NF-κB p65 were markedly inhibited in cells treated with HSM.
Conclusions: These results indicated that HSM could inhibit the autophagy of alveolar macrophages through TLR4/NF-κB signaling pathway to achieve anti-fibrotic effect.
Keywords: Hirsutella sinensis mycelium, pulmonary fibrosis, alveolar macrophage, autophagy, TLR4 signal pathway.