Int J Med Sci 2021; 18(5):1269-1276. doi:10.7150/ijms.52620 This issue
Research Paper
Drug Resistance of CPT-11 in Human DLD-1 Colorectal Cancer Cells through MutS Homolog 2 Upregulation
1. Department of Colorectal Surgery, Department of Surgery, Chang Gung Memorial Hospital; Kaohsiung Medical Center, Kaohsiung 833, Taiwan.
2. Department of Food Science, National Chiayi University, Chiayi 600, Taiwan.
3. Department of Biochemical Science and Technology, National Chiayi University, Chiayi 600, Taiwan.
4. Department of Medical Research and Development, Chiayi Chang Gung Memorial Hospital, Chiayi 613, Taiwan.
5. Graduate Institute of Clinical Medical Sciences, College of Medicine, Chang Gung University, Taoyuan 333, Taiwan.
6. Division of Colon and Rectal Surgery, Department of Surgery, Chiayi Chang Gung Memorial Hospital, Chiayi 613, Taiwan.

This is an open access article distributed under the terms of the Creative Commons Attribution License (https://creativecommons.org/licenses/by/4.0/). See http://ivyspring.com/terms for full terms and conditions.
Citation:
Lee KC, Yen CK, Chen CN, Chang SF, Lu YC, Huang WS. Drug Resistance of CPT-11 in Human DLD-1 Colorectal Cancer Cells through MutS Homolog 2 Upregulation.
Int J Med Sci
2021; 18(5):1269-1276. doi:10.7150/ijms.52620. Available from
https://www.medsci.org/v18p1269.htm
Abstract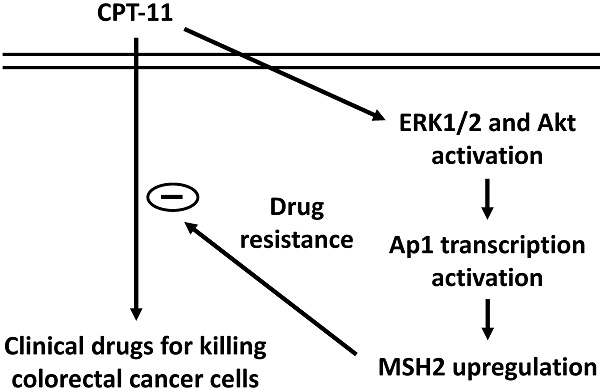 Colorectal cancers (CRCs) is the most commonly diagnosed and deadly cancer types in the world. Despite advances in chemotherapy for CRCs, drug resistance remains a major challenge to high incurable and eventually deadly rates for patients. CPT-11 is one of the current chemotherapy agents for CRC patients and the CPT-11 resistance development of CRCs is also inevitable. Recently, accumulating data has suggested that DNA repair system might be an inducer of chemotherapy resistance in cancer cells. Thus, this study was aimed to examine whether MutS homolog (MSH) 2, one member of DNA repair system, plays a role to affect the cytotoxicity of CPT-11 to CRCs. Human DLD-1 CRC cells were used in this study. It was shown that MSH2 gene and protein expression could be upregulated in DLD-1 cells under CPT-11 treatment and this upregulation subsequently attenuates the sensitivity of DLD-1 cells to CPT-11. Moreover, ERK1/2 and Akt signaling and AP-1 transcription factor have been found to modulate these effects. These results elucidate the drug resistance role of MSH2 upregulation in the CPT-11-treated DLD-1 CRC cells. Our findings may provide a useful thought for new adjuvant drug development by controlling the DNA repair system.
Keywords: Colorectal cancer, CPT-11, DNA topoisomerases, Drug resistance, MutS homolog 2