Int J Med Sci 2018; 15(13):1472. doi:10.7150/ijms.29742
Erratum
LncRNA AFAP1-AS Functions as a Competing Endogenous RNA to Regulate RAP1B Expression by sponging miR-181a in the HSCR: Erratum
1. State Key Laboratory of Reproductive Medicine, Institute of Toxicology, School of Public Health, Nanjing Medical University, Nanjing 211166, China;
2. Key Laboratory of Modern Toxicology (Nanjing Medical University), Ministry of Education, China;
3. Department of Pediatric Surgery, Children's Hospital of Nanjing Medical University.
* These authors contributed equally

This is an open access article distributed under the terms of the Creative Commons Attribution (CC BY-NC) license (https://creativecommons.org/licenses/by-nc/4.0/). See http://ivyspring.com/terms for full terms and conditions.
Citation:
Chen G, Peng L, Zhu Z, Du C, Shen Z, Zang R, Su Y, Xia Y, Tang W. LncRNA AFAP1-AS Functions as a Competing Endogenous RNA to Regulate RAP1B Expression by sponging miR-181a in the HSCR: Erratum.
Int J Med Sci
2018; 15(13):1472. doi:10.7150/ijms.29742. Available from
http://www.medsci.org/v15p1472.htm
Corrected-article in Int J Med Sci, Volume 14, 1022
The authors confirm that all of the results and conclusions of the article remain unchanged.
In our paper [1], Figure 4F should be corrected as follows:
Figure 4
Relationship between AFAP1-AS and the miR-181a target, RAP1B: (F).Western blot and qRT-PCR analysis of RAP1B were conducted after transfection with si-NC, si-AFAP1-AS, and inhibition of AFAP1-AS in combination with miR-181a inhibitor. GAPDH was used as control. All results were presented as mean ± SE.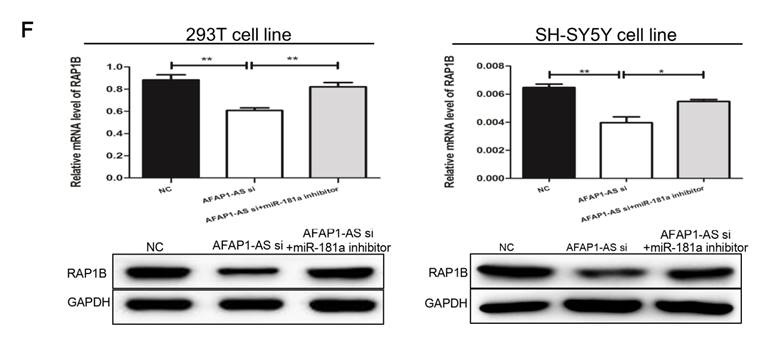 (Click on the image to enlarge.)
The sentence of page 1024: "Image-pro Plus 6.0 (Media Cybernetics, Silver Spring, MD, USA) to count migrated cells while cell numbers of normal control were normalized to 1." should be removed.
References
1. Chen G, Peng L, Zhu Z, Du C, Shen Z, Zang R, Su Y, Xia Y, Tang W. LncRNA AFAP1-AS Functions as a Competing Endogenous RNA to Regulate RAP1B Expression by sponging miR-181a in the HSCR. Int J Med Sci. 2017;14(10):1022-1030 doi:10.7150/ijms.18392
Author contact

Corresponding author: Weibing Tang, Department of Pediatric Surgery, Children's Hospital of Nanjing Medical University, Nanjing 210008, China. Tel: +86-25-83117354; E-mail: twbcnedu.cn; Fax: +86-25-86868427
---
Published 2018-10-2