Global reach, higher impact
International Journal of Biological Sciences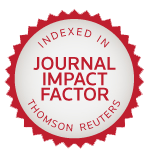 Int J Med Sci 2016; 13(6):432-439. doi:10.7150/ijms.14934
Review
Study and Therapeutic Progress on Intracranial Serpentine Aneurysms
1. Department of Neurosurgery, First Hospital of Jilin University, Changchun, 130021, P.R. China;
2. Department of Orthopedics, First Hospital of Jilin University, Changchun, 130021, P.R. China.
* Kan Xu and Tiecheng Yu contributed equally to the work.

An intracranial serpentine aneurysm (SA) is a clinically rare entity, and very few multi-case studies on SA have been published. The present study reviewed the relevant literature available on PubMed. The studied information included the formation mechanism and natural history of SA as well as its clinical manifestation, imaging characteristics, and current treatments. After reviewing the literature, we conclude that intracranial SA can be managed surgically and by endovascular embolization, but the degree of blood flow in normal brain tissue distal to the SA must be evaluated. A balloon occlusion test (BOT) or cross compression test is recommended for this evaluation. If the collateral circulation is sufficiently compensatory, direct excision or embolization can be performed. However, if the compensatory collateral circulation is poor, a bypass surgery is necessary. Satisfactory results can be achieved in the majority of SA patients after treatment. However, the size of the aneurysm may increase in some patients after endovascular treatment. Special attention should be paid to cases exhibiting a significant mass effect to avoid subsequent SA excision due to an intolerable mass effect. Satisfactory results can be achieved with careful treatment of SA.
Keywords: intracranial serpentine aneurysm, natural history, surgical treatment, progress.
How to cite this article:
Xu K, Yu T, Guo Y, Yu J. Study and Therapeutic Progress on Intracranial Serpentine Aneurysms.
Int J Med Sci
2016; 13(6):432-439. doi:10.7150/ijms.14934. Available from
http://www.medsci.org/v13p0432.htm