Global reach, higher impact
International Journal of Biological Sciences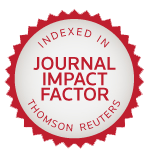 Int J Med Sci 2015; 12(12):952-957. doi:10.7150/ijms.13298
Research Paper
Effects of Active Mastication on Chronic Stress-Induced Bone Loss in Mice
1. Department of Anatomy, School of Medicine, University of Occupational and Environmental Health, Fukuoka, 807-8555, Japan
2. Department of Prosthodontics, Asahi University School of Dentistry, Mizuho, 501-0296, Japan
3. Department of Anatomy and Physiology, Faculty of Domestic economy, Nagoya Women's University, Nagoya, 467-8610, Japan
4. Seijoh University Graduate School of Health Care Studies, Tokai, 478-8588, Japan

Chronic psychologic stress increases corticosterone levels, which decreases bone density. Active mastication or chewing attenuates stress-induced increases in corticosterone. We evaluated whether active mastication attenuates chronic stress-induced bone loss in mice. Male C57BL/6 (B6) mice were randomly divided into control, stress, and stress/chewing groups. Stress was induced by placing mice in a ventilated restraint tube (60 min, 2x/day, 4 weeks). The stress/chewing group was given a wooden stick to chew during the experimental period. Quantitative micro-computed tomography, histologic analysis, and biochemical markers were used to evaluate the bone response. The stress/chewing group exhibited significantly attenuated stress-induced increases in serum corticosterone levels, suppressed bone formation, enhanced bone resorption, and decreased trabecular bone mass in the vertebrae and distal femurs, compared with mice in the stress group. Active mastication during exposure to chronic stress alleviated chronic stress-induced bone density loss in B6 mice. Active mastication during chronic psychologic stress may thus be an effective strategy to prevent and/or treat chronic stress-related osteopenia.
Keywords: Chewing, Corticosterone, Osteoporosis, Psychologic stress, X-ray microtomography
How to cite this article:
Azuma K, Furuzawa M, Fujiwara S, Yamada K, Kubo Ky. Effects of Active Mastication on Chronic Stress-Induced Bone Loss in Mice.
Int J Med Sci
2015; 12(12):952-957. doi:10.7150/ijms.13298. Available from
http://www.medsci.org/v12p0952.htm