Global reach, higher impact
International Journal of Biological Sciences
Journal of Bone and Joint Infection (JBJI)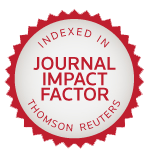 Int J Med Sci 2013; 10(8):995-1002. doi:10.7150/ijms.5963
Research Paper
Overexpression of Integrin-linked Kinase Promotes Lung Cancer Cell Migration and Invasion via NF-κB-mediated Upregulation of Matrix Metalloproteinase-9
1. Department of Respiratory Medicine,
2. Department of Pathology, The Fourth Affiliated Hospital of China Medical University, Shenyang 110032, People's Republic of China
# Mingjing Zhao and Ying Gao contributed equally to this work.

Integrin-linked kinase (ILK) is a highly conserved serine-threonine protein kinase which has been implicated in the regulation of various cellular processes. Previously, we have demonstrated that overexpression of ILK correlates with malignant phenotype in non-small cell lung cancer. Furthermore, forced overexpression of ILK promotes lung cancer cell invasion and migration. However, the molecular mechanisms by which ILK enhances the invasive phenotype of lung cancer cells are still not fully understood. In the present study, we found that overexpression of ILK stimulated matrix metalloproteinase-9 (MMP-9) expression and activity in lung cancer cells. ILK-induced cell migration and invasion were significantly inhibited by MMP inhibitor doxycycline as well as by anti-MMP-9 neutralizing antibody. In addition, overexpression of ILK induced phosphorylation and nuclear translocation of nuclear factor-κB (NF-κB) subunit p65. Finally, upregulation of MMP-9 was severely abolished by either BAY 11-7028, a specific NF-κB inhibitor, or small interfering RNA targeted to NF-κB p65 in ILK overexpression cells. Taken together, these findings suggest that ILK promotes lung cancer cell migration and invasion via NF-κB-mediated upregulation of MMP-9.
Keywords: integrin-linked kinase, matrix metalloproteinase-9, migration, invasion, lung cancer cell, nuclear factor-κB
How to cite this article:
Zhao M, Gao Y, Wang L, Liu S, Han B, Ma L, Ling Y, Mao S, Wang X. Overexpression of Integrin-linked Kinase Promotes Lung Cancer Cell Migration and Invasion via NF-κB-mediated Upregulation of Matrix Metalloproteinase-9.
Int J Med Sci
2013; 10(8):995-1002. doi:10.7150/ijms.5963. Available from
http://www.medsci.org/v10p0995.htm