Global reach, higher impact
International Journal of Biological Sciences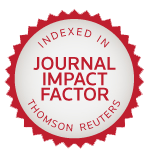 Int J Med Sci 2013; 10(2):133-140. doi:10.7150/ijms.5500
Research Paper
Reduced Expression of TFF1 and Increased Expression of TFF3 in Gastric Cancer: Correlation with Clinicopathological Parameters and Prognosis
Department of Hospital Pathology, St. Vincent's Hospital, College of Medicine, The Catholic University of Korea, Republic of Korea.

Objectives: The trefoil factor family (TFF) is composed of three thermostable, and protease-resistant proteins, named TFF1, TFF2 and TFF3, and plays a role in gastrointestinal mucosal defence and repair. Recently, TFFs have been found to be related to the development of various types of cancer. This study assessed the relationship between the expression of TFF1 and TFF3 and the clinicopathological parameters in gastric carcinoma (GC). Materials and Methods: The expression of TFF1 and TFF3 was analyzed by immunohistochemistry in 292 GCs and 20 normal gastric tissues. Results: All normal gastric tissues expressed TFF1, but 53.8% of GCs showed reduced TFF1 expression. However, TFF3 was not detected in normal gastric tissues and 44.2% of GCs showed a high level of expression. Highly expressed TFF3 was significantly correlated with lymph node metastasis, lymphatic invasion, vein invasion, and advanced stage. The overall survival was shorter in patients with high expression of TFF3 than in those with low expression of TFF3 in 292 GCs and in 125 early GCs (EGCs). Moreover, in patients with EGCs, high expression of TFF3, associated with reduced expression of TFF1, was determined as an independent poor prognostic marker. Conclusions: Reduced expression of TFF1 and increased expression of TFF3 may play a role in the carcinogenesis of gastric cancer. Furthermore, high expression of TFF3 with reduced expression of TFF1 may be a marker of poor prognosis for patients with EGC.
Keywords: TFF1, TFF3, gastric cancer
How to cite this article:
Im S, Yoo C, Jung JH, Choi HJ, Yoo J, Kang CS. Reduced Expression of TFF1 and Increased Expression of TFF3 in Gastric Cancer: Correlation with Clinicopathological Parameters and Prognosis.
Int J Med Sci
2013; 10(2):133-140. doi:10.7150/ijms.5500. Available from
http://www.medsci.org/v10p0133.htm