Global reach, higher impact
International Journal of Biological Sciences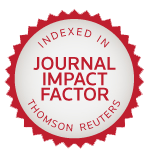 Int J Med Sci 2010; 7(3):136-146. doi:10.7150/ijms.7.136
Research Paper
Gain of a 500-fold sensitivity on an intravital MR Contrast Agent based on an endohedral Gadolinium-Cluster-Fullerene-Conjugate: A new chance in cancer diagnostics
1. Department of Medical Physics in Radiology, German Cancer Research Center, INF 280, D-69120 Heidelberg, Germany
2. Department of Electrochemistry and conducting Polymers; Leibniz-Institute for Solid State and Materials Research, Helmholtzstraße 20, D-01069 Dresden, Germany
3. Core Facility Peptide Synthesis, German Cancer Research Center, INF 580, D-69120 Heidelberg, Germany
4. Hefei National Laboratory for Physical Sciences at Microscale &Department of Materials Science and Engineering, Hefei 230026, China
5. Biophysics of Macromolecules, German Cancer Research Center, INF 580, D-69120, Heidelberg, Germany

Among the applications of fullerene technology in health sciences the expanding field of magnetic resonance imaging (MRI) of molecular processes is most challenging. Here we present the synthesis and application of a GdxSc3-xN@C80-BioShuttle-conjugate referred to as Gd-cluster@-BioShuttle, which features high proton relaxation and, in comparison to the commonly used contrast agents, high signal enhancement at very low Gd concentrations. This modularly designed contrast agent represents a new tool for improved monitoring and evaluation of interventions at the gene transcription level. Also, a widespread monitoring to track individual cells is possible, as well as sensing of microenvironments. Furthermore, BioShuttle can also deliver constructs for transfection or active pharmaceutical ingredients, and scaffolding for incorporation with the host's body. Using the Gd-cluster@-BioShuttle as MRI contrast agent allows an improved evaluation of radio- or chemotherapy treated tissues.
Keywords: inverse Diels Alder Reaction, BioShuttle, fullerenes, gadolinium, intravital Imaging, nitridecluster fullerenes, intracellular imaging, Magnetic Resonance Imaging (MRI), metallofullerenes, Molecular Imaging, Rare Earth compounds
How to cite this article:
Braun K, Dunsch L, Pipkorn R, Bock M, Baeuerle T, Yang S, Waldeck W, Wiessler M. Gain of a 500-fold sensitivity on an intravital MR Contrast Agent based on an endohedral Gadolinium-Cluster-Fullerene-Conjugate: A new chance in cancer diagnostics.
Int J Med Sci
2010; 7(3):136-146. doi:10.7150/ijms.7.136. Available from
http://www.medsci.org/v07p0136.htm