Global reach, higher impact
International Journal of Biological Sciences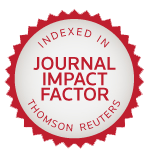 Int J Med Sci 2007; 4(1):36-44. doi:10.7150/ijms.4.36
Research Paper
Proteomic analysis of mechanisms of hypoxia-induced apoptosis in trophoblastic cells
Department of Obstetrics and Gynecology, Sapporo Medical University, School of Medicine, Sapporo, Japan

Preeclampsia is often accompanied by hypoxia of the placenta and this condition induces apoptosis in trophoblastic cells. The aim of this study was to characterize global changes of apoptosis-related proteins induced by hypoxia in trophoblastic cells so as to clarify the mechanism of hypoxia-induced apoptosis by using the PoweBlot, an antibody-based Western array. Human choriocarcinoma cell line JAR was cultured for 24 hours under aerobic and hypoxic conditions. Hypoxia induced apoptosis accompanied by increased expression of Bcl-x, Caspase-3 and -9, Hsp70, PTEN, and Bag-1. Bad, pan-JNK/SAPK-1, Bcl-2, Bid, and Caspase-8 showed decreased expression. Hypoxia-induced apoptosis was increased with the transfection of a bag-1 antisense oligonucleotide. The bag-1 antisense oligonucleotide affected the expression of Bid, Bad, Bcl-2, JNK, and phosphorylated JNK, although expression of PTEN and Bcl-X did not change. Bag-1 may inhibit apoptosis by suppressing the expression of Bid and Bad. It may also enhance apoptosis by inhibiting the expression of Bcl-2 and by modulating phosphorylation of JNK. Both mitochondrial and stress-activated apoptosis pathways played important roles in the hypoxia induced cell death of trophoblastic cells. These findings will contribute to establish new approach to detect hypoxic stress of the placenta, which leads to preeclampsia and other hypoxia-related obstetrics complications.
Keywords: Hypoxia, apoptosis, trophoblast, preeclampsia
How to cite this article:
Ishioka Si, Ezaka Y, Umemura K, Hayashi T, Endo T, Saito T. Proteomic analysis of mechanisms of hypoxia-induced apoptosis in trophoblastic cells.
Int J Med Sci
2007; 4(1):36-44. doi:10.7150/ijms.4.36. Available from
http://www.medsci.org/v04p0036.htm