Int J Med Sci 2021; 18(16):3674-3683. doi:10.7150/ijms.64312
Research Paper
miR-23b mediates TNF-α-Inhibited Osteogenic Differentiation of Human Periodontal Ligament Stem Cells by Targeting Runx2
1. Key Laboratory of Shaanxi Province for Craniofacial Precision Medicine Research, College of Stomatology, Xi'an Jiaotong University, Xi'an, China.
2. Clinical Research Center of Shaanxi Province for Dental and Maxillofacial Diseases, Department of Endodontics, College of Stomatology, Xi'an Jiaotong University, Xi'an, China.
3. Department of Pediatric Dentistry, Nanjing Stomatological Hospital, Medical School of Nanjing University, 30 Zhongyang Road, Nanjing, 210008, China.
4. State Key Laboratory of Military Stomatology & National Clinical Research Center for Oral Diseases & Shaanxi Clinical Research Center for Oral Diseases, Department of Preventive Dentistry, School of Stomatology, The Fourth Military Medical University.
*These authors contributed equally to this work.

This is an open access article distributed under the terms of the Creative Commons Attribution License (https://creativecommons.org/licenses/by/4.0/). See http://ivyspring.com/terms for full terms and conditions.
Citation:
Sun X, Li M, Ban J, Li Z. miR-23b mediates TNF-α-Inhibited Osteogenic Differentiation of Human Periodontal Ligament Stem Cells by Targeting Runx2.
Int J Med Sci
2021; 18(16):3674-3683. doi:10.7150/ijms.64312. Available from
https://www.medsci.org/v18p3674.htm
Abstract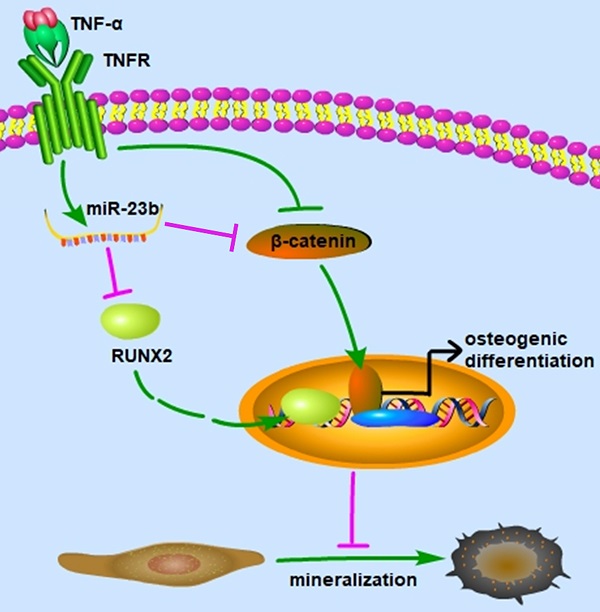 Periodontitis is the most prevalent oral infection disease, which causes the destruction of periodontal supporting tissues and eventual tooth loss. This study aimed to investigate the molecular mechanism of miRNA-23b (miR-23b) in regulating the osteogenic differentiation of human periodontal ligament stem cells (hPDLSCs) in an inflammatory environment. Results revealed that tumor necrosis factor-α (TNF‐α), a notoriously inflammatory cytokine, remarkably attenuated the osteogenic differentiation of hPDLSCs, which were partially rescued by SKL2001 (Wnt/β-catenin agonist). We further explored the underlying roles of miRNAs involved in TNF-α-inhibited osteogenesis of hPDLSCs. The miR-23b significantly increased with TNF-α stimulation, which was abolished by SKL2001. Similar to the effect of TNF-α, miR-23b agonist (agomir-23b) dramatically reduced the expression of runt-related transcription factor 2 (Runx2) and suppressed the osteogenic differentiation of hPDLSCs. The inhibition of miR-23b significantly increased Runx2, which is the major transcription factor during osteogenesis, thereby indicating that miR-23b was an endogenous regulator of Runx2 in hPDLSCs. Bioinformatic analysis and dual luciferase reporter assays confirmed that Runx2 was a target gene of miR-23b. Furthermore, the gain function assay of Runx2 revealed that the Runx2 overexpression efficiently reversed the suppression of the osteogenic differentiation of hPDLSCs with miR-23b agonist, suggesting that the suppressing effect of miR-23b on osteogenesis was mediated by Runx2 inhibition. Our study clarified that miR-23b mediated the TNF-α-inhibited osteogenic differentiation of hPDLSCs by targeting Runx2. Therefore, the expanded function of miR-23b in the osteogenesis of hPDLSCs under inflammatory conditions. This study might provide new insights and a novel therapeutic target for periodontitis.
Keywords: miR-23b, TNF-α, Runx2, hPDLSCs, Osteogenic differentiation