Int J Med Sci 2021; 18(16):3665-3673. doi:10.7150/ijms.64045
Research Paper
Self-emulsified annatto tocotrienol improves bone histomorphometric parameters in a rat model of oestrogen deficiency through suppression of skeletal sclerostin level and RANKL/OPG ratio
Department of Pharmacology, Faculty of Medicine, Universiti Kebangsaan Malaysia, 56000 Cheras, Kuala Lumpur, Malaysia.

This is an open access article distributed under the terms of the Creative Commons Attribution License (https://creativecommons.org/licenses/by/4.0/). See http://ivyspring.com/terms for full terms and conditions.
Citation:
Mohamad NV, Ima-Nirwana S, Chin KY. Self-emulsified annatto tocotrienol improves bone histomorphometric parameters in a rat model of oestrogen deficiency through suppression of skeletal sclerostin level and RANKL/OPG ratio.
Int J Med Sci
2021; 18(16):3665-3673. doi:10.7150/ijms.64045. Available from
https://www.medsci.org/v18p3665.htm
Abstract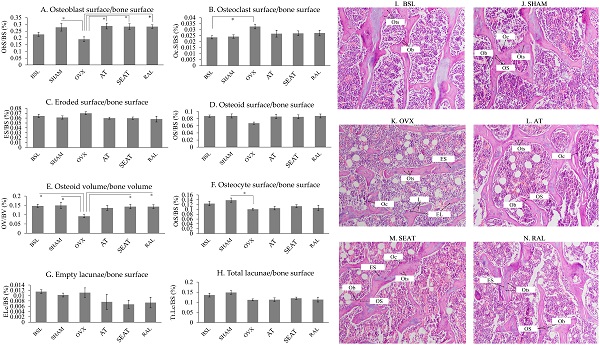 Menopause is the leading cause of osteoporosis for elderly women due to imbalanced bone remodelling in the absence of oestrogen. The ability of tocotrienol in reversing established bone loss due to oestrogen deficiency remains unclear despite the plenitude of evidence showcasing its preventive effects. This study aimed to investigate the effects of self-emulsified annatto tocotrienol (SEAT) on bone histomorphometry and remodelling in ovariectomised rats. Female Sprague Dawley rats (n=36) were randomly assigned into baseline, sham, ovariectomised (OVX) control, OVX-treated with annatto tocotrienol (AT) (60 mg/kg), SEAT (60 mg/kg) and raloxifene (1 mg/kg). Daily treatment given through oral gavage was started two months after castration. The rats were euthanised after eight weeks of treatment. Blood was collected for bone biomarkers. Femur and lumbar bones were collected for histomorphometry and remodelling markers. The results showed that AT and SEAT improved osteoblast numbers and trabecular mineralisation rate (p<0.05 vs untreated OVX). AT also decreased skeletal sclerostin expression in OVX rats (p<0.05 vs untreated OVX). Similar effects were observed in the raloxifene-treated group. Only SEAT significantly increased bone formation rate and reduced RANKL/OPG ratio (p<0.05 vs untreated OVX). However, no changes in osteoclast-related parameters were observed among the groups (p>0.05). In conclusion, SEAT exerts potential skeletal anabolic properties by increasing bone formation, suppressing sclerostin expression and reducing RANKL/OPG ratio in rats with oestrogen deficiency.
Keywords: menopause, oestrogen deficiency, osteopenia, sclerostin, skeleton, vitamin E