Int J Med Sci 2021; 18(16):3644-3651. doi:10.7150/ijms.46834
Review
The Peripheral Immune System and Traumatic Brain Injury: Insight into the role of T-helper cells
Department of Rehabilitation Medicine, First Affiliated Hospital, Zhejiang University School of Medicine, Hangzhou, China.

This is an open access article distributed under the terms of the Creative Commons Attribution License (https://creativecommons.org/licenses/by/4.0/). See http://ivyspring.com/terms for full terms and conditions.
Citation:
Bao W, Lin Y, Chen Z. The Peripheral Immune System and Traumatic Brain Injury: Insight into the role of T-helper cells.
Int J Med Sci
2021; 18(16):3644-3651. doi:10.7150/ijms.46834. Available from
https://www.medsci.org/v18p3644.htm
Abstract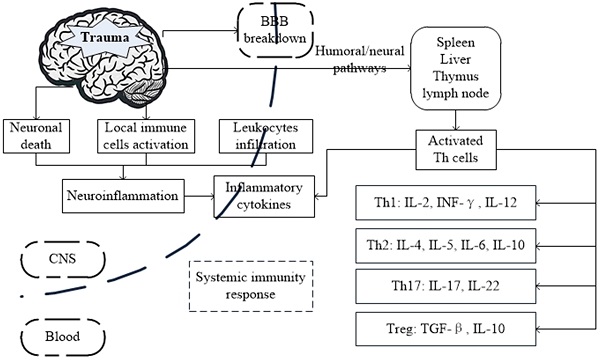 Emerging evidence suggests that immune-inflammatory processes are key elements in the physiopathological events associated with traumatic brain injury (TBI). TBI is followed by T-cell-specific immunological changes involving several subsets of T-helper cells and the cytokines they produce; these processes can have opposite effects depending on the disease course and cytokine concentrations. Efforts are underway to identify the T-helper cells and cytokine profiles associated with prognosis. These predictors may eventually serve as effective treatment targets to decrease morbidity and mortality and to improve the management of TBI patients. Here, we review the immunological response to TBI, the possible molecular mechanisms of this response, and therapeutic strategies to address it.
Keywords: traumatic brain injury, cytokines, T-helper cell