Int J Med Sci 2021; 18(11):2449-2456. doi:10.7150/ijms.58452 This issue
Research Paper
Correlations among Pulmonary DJ-1, VDR and Nrf-2 in patients with Chronic Obstructive Pulmonary Disease: A Case-control Study
1. Respiratory and critical care medicine, Second Affiliated Hospital of Anhui Medical University, Hefei, 230601, China.
2. Department of Toxicology, Anhui Medical University, Hefei, 230032, China.
*These authors contributed equally to this work.

This is an open access article distributed under the terms of the Creative Commons Attribution License (https://creativecommons.org/licenses/by/4.0/). See http://ivyspring.com/terms for full terms and conditions.
Citation:
Xiang Y, Fu L, Xiang HX, Zheng L, Tan ZX, Wang LX, Cao W, Xu DX, Zhao H. Correlations among Pulmonary DJ-1, VDR and Nrf-2 in patients with Chronic Obstructive Pulmonary Disease: A Case-control Study.
Int J Med Sci
2021; 18(11):2449-2456. doi:10.7150/ijms.58452. Available from
https://www.medsci.org/v18p2449.htm
Abstract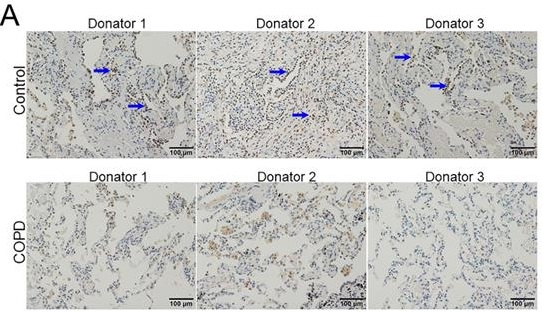 Parkinson protein 7 (PARK7)/DJ-1 (DJ-1) is a redox sensitive molecular and stabilizer of nuclear factor erythroid 2-related factor 2 (Nrf-2). Nrf-2 regulates the downstream antioxidant defense system and exerts a significant function in patients with chronic obstructive pulmonary disease (COPD). Vitamin D receptor (VDR) is the nuclear receptor that regulates the downstream target genes. This study aimed to analyze the associations among pulmonary function, DJ-1, VDR and Nrf-2 in COPD patients. Serum was collected from 180 COPD patients and control subjects. Thirty-five lung tissues were obtained. DJ-1 was measured using ELISA and western blotting. Nrf-2 and VDR were detected by immunohistochemistry. Serum and pulmonary DJ-1 levels were lower in COPD patients than those in control subjects. Pulmonary VDR-positive nuclei were reduced in COPD patients. Nrf-2-positive nuclei were reduced in lung tissues of COPD patients. On the contrary, Nrf-2-related downstream target proteins were elevated in COPD patients. Further correlation analysis indicated that forced expiratory volume in 1 second (FEV1) was positively associated with pulmonary DJ-1, VDR and Nrf-2 in patients with COPD. In addition, there were positive correlations among DJ-1, VDR and Nrf-2 in lung tissues of COPD patients. In conclusion, DJ-1, VDR and Nrf-2 were decreased in COPD patients compared with control subjects. The reduction of DJ-1 and VDR associating with Nrf-2 downregulation may be involved in the process of COPD.
Keywords: DJ-1, VDR, Nrf-2, lung, COPD, pulmonary function