Int J Med Sci 2021; 18(11):2417-2430. doi:10.7150/ijms.54468 This issue
Research Paper
Cedrus atlantica Extract Suppress Glioblastoma Growth through Promotion of Genotoxicity and Apoptosis: In Vitro and In Vivo Studies
1. Institute of Medicine, Chung Shan Medical University, Taichung 40201, Taiwan, ROC.
2. Department of Medical Laboratory and Biotechnology, Chung Shan Medical University, Taichung 40201, Taiwan, ROC.
3. Department of Life and Death, Nanhua University, Chiayi 62249, Taiwan, ROC.
4. Department of Medical Imaging and Radiological Sciences, Chang Gung University, Taoyuan 33302, Taiwan, ROC.
5. Division of Nephrology, Department of Internal Medicine, Ditmanson Medical Foundation Chia-Yi Christian Hospital, Chia-Yi, 60002, Taiwan, ROC.
6. Department of Hospital and Health Care Administration, Chia Nan University of Pharmacy and Science, Tainan, 71710, Taiwan, ROC.
7. Clinical Laboratory, Chung Shan Medical University Hospital, Taichung 40201, Taiwan, ROC.
* The last three authors contributed equally to this work.

This is an open access article distributed under the terms of the Creative Commons Attribution License (https://creativecommons.org/licenses/by/4.0/). See http://ivyspring.com/terms for full terms and conditions.
Citation:
Chang KF, Chang JT, Huang XF, Huang YC, Li CY, Weng JC, Hsiao CY, Hsu HJ, Tsai NM.
Cedrus atlantica
Extract Suppress Glioblastoma Growth through Promotion of Genotoxicity and Apoptosis:
In Vitro
and
In Vivo
Studies.
Int J Med Sci
2021; 18(11):2417-2430. doi:10.7150/ijms.54468. Available from
https://www.medsci.org/v18p2417.htm
Abstract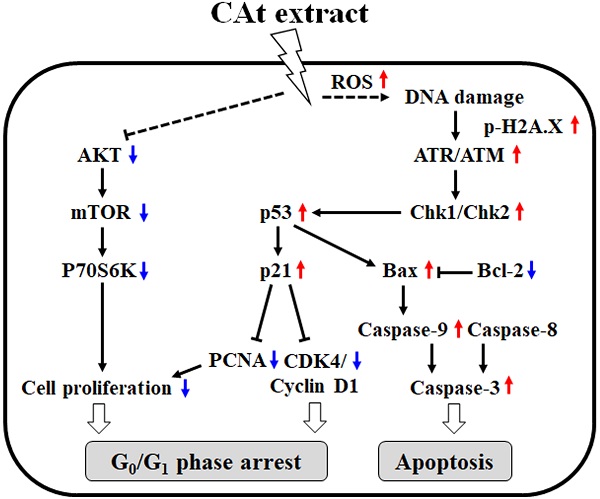 Glioblastoma (GBM) is the most common malignant primary brain tumor in humans, exhibiting highly infiltrative growth and drug resistance to conventional chemotherapy. Cedrus atlantica (CAt) extract has been shown to decrease postoperative pain and inhibit the growth of K562 leukemia cells. The aim of this study was to assess the anti-GBM activity and molecular mechanism of CAt extract in vitro and in vivo. The results showed that CAt extract greatly suppressed GBM cells both in vitro and in vivo and enhanced the survival rate in subcutaneous and orthotopic animal models. Moreover, CAt extract increased the level of ROS and induced DNA damage, resulting in cell cycle arrest at the G0/G1 phase and cell apoptosis. Western blotting results indicated that CAt extract regulates p53/p21 and CDK4/cyclin D1 protein expression and activates extrinsic and intrinsic apoptosis. Furthermore, CAt extract enhanced the cytotoxicity of Temozolomide and decreased AKT/mTOR signaling by combination treatment. In toxicity assays, CAt extract exhibited low cytotoxicity toward normal cells or organs in vitro and in vivo. CAt extract suppresses the growth of GBM by induction of genotoxicity and activation of apoptosis. The results of this study suggest that CAt extract can be developed as a therapeutic agent or adjuvant for GBM treatment in the future.
Keywords: Glioblastoma, Cedrus atlantica, DNA damage, cell apoptosis, drug combination.