Int J Med Sci 2021; 18(11):2401-2408. doi:10.7150/ijms.55789 This issue
Review
Traditional Chinese medicine prescription Guizhi Fuling Pills in the treatment of endometriosis
1. College of Traditional Chinese Medicine, Shandong University of Traditional Chinese Medicine, Jinan 250355, PR China.
2. Department of Gynecology, Affiliated Hospital of Shandong University of Traditional Chinese Medicine, Jinan 250014, PR China.
3. Provincial Hospital Affiliated to Shandong First Medical University, Jinan 250012, PR China.
#Co-first authors with equal contributions to this work.

This is an open access article distributed under the terms of the Creative Commons Attribution License (https://creativecommons.org/licenses/by/4.0/). See http://ivyspring.com/terms for full terms and conditions.
Citation:
Wang X, Shi Y, Xu L, Wang Z, Wang Y, Shi W, Ma K. Traditional Chinese medicine prescription Guizhi Fuling Pills in the treatment of endometriosis.
Int J Med Sci
2021; 18(11):2401-2408. doi:10.7150/ijms.55789. Available from
https://www.medsci.org/v18p2401.htm
Abstract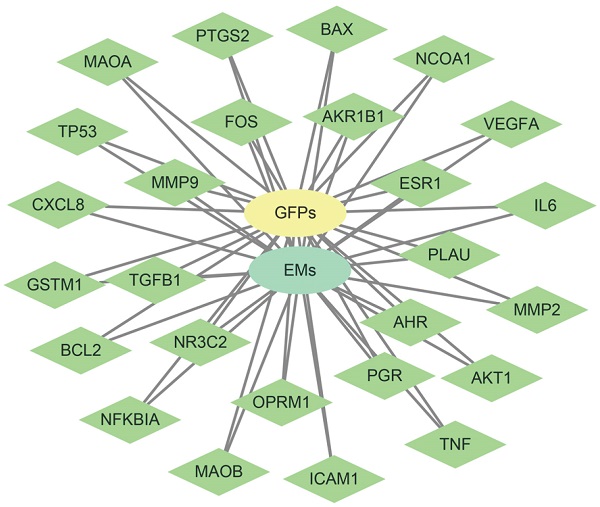 Endometriosis (EMs) is recorded as Zheng Jia in traditional Chinese medicine (TCM) books. Guizhi Fuling Pills (GFPs), a classic prescription for promoting blood circulation and removing blood stasis, is widely used for women's blood stasis diseases represented by Zheng Jia. At present, it has been applied to treat EMs in clinical settings. In this review, we systematically summarized the active ingredients and pharmacological mechanism of five Chinese herbs contained in GFPs and clinical applications of GFPs. The potential pathways of GFPs in the treatment of EMs were explored through network pharmacology. The current researches results indicate that the mechanisms of GFPs in the treatment of EMs mainly include acesodyne, anti-inflammation and improvement of hemodynamics. The main active compounds that are responsible for pharmacological effects in five Chinese herbs are paeonol, pachymic acid, cinnamaldehyde, amygdaloside and Paeoniflorin. This review can lay the foundation and identify the research direction for the development of GFPs as a new drug therapy for the treatment of EMs.
Keywords: Endometriosis, Zheng Jia, Guizhi Fuling Pills, traditional Chinese medicine, pharmacological