Int J Med Sci 2021; 18(11):2389-2393. doi:10.7150/ijms.59382 This issue
Review
Value of anal swabs for SARS-COV-2 detection: a literature review
1. Department of Clinical Laboratory Medicine, the Second Hospital of Tianjin Medical University, Tianjin Institute of Urology, Tianjin, China.
2. Unicell Life Science Development Co., Ltd, Tianjin, China.
3. Department of Genetics, School of Basic Medical Sciences, Tianjin Medical University, Tianjin, China.
4. Department of rheumatology and immunology, Tianjin medical university general hospital, Tianjin, China.
* These authors contributed equally in this manuscript.

This is an open access article distributed under the terms of the Creative Commons Attribution License (https://creativecommons.org/licenses/by/4.0/). See http://ivyspring.com/terms for full terms and conditions.
Citation:
Wang Y, Chen X, Wang F, Geng J, Liu B, Han F. Value of anal swabs for SARS-COV-2 detection: a literature review.
Int J Med Sci
2021; 18(11):2389-2393. doi:10.7150/ijms.59382. Available from
https://www.medsci.org/v18p2389.htm
Abstract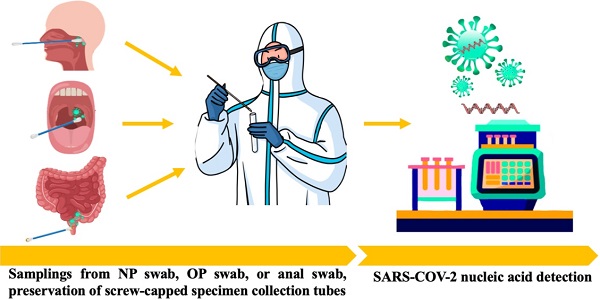 Facing the unprecedented global public health crisis caused by coronavirus disease 2019 (COVID-19), nucleic acid tests for severe acute respiratory syndrome coronavirus 2 (SARS-CoV-2) are the gold standard for diagnosing COVID-19. The asymptomatic carriers were not suspected of playing a significant role in the ongoing pandemic, and universal nucleic acid screening in close contacts of confirmed cases and asymptomatic carriers has been carried out in many medium- and high-risk areas for the spread of the virus. Recently, anal swabs for key population screening have been shown to not only reduce missed diagnoses but also facilitate the traceability of infectious sources. As a specimen for the detection of viruses, the goal of this paper is to briefly review the transmission route of SARS-CoV-2 and the necessity of using anal swabs for SARS-CoV-2 screening to minimize transmission and a threat to other people with COVID-19.
Keywords: coronavirus disease 2019, severe acute respiratory syndrome coronavirus 2, anal swab, nucleic acid, screening, asymptomatic infections, close contact.