Int J Med Sci 2021; 18(11):2347-2354. doi:10.7150/ijms.57990 This issue
Review
The associations and roles of microRNA single-nucleotide polymorphisms in cervical cancer
Department of Immunogenetics, Institute of Medical Biology, Chinese Academy of Medical Sciences & Peking Union Medical College, Kunming 650118, Yunnan, China.
*These authors contributed equally to this work.

This is an open access article distributed under the terms of the Creative Commons Attribution License (https://creativecommons.org/licenses/by/4.0/). See http://ivyspring.com/terms for full terms and conditions.
Citation:
Li Y, Li C, Liu S, Yang J, Shi L, Yao Y. The associations and roles of microRNA single-nucleotide polymorphisms in cervical cancer.
Int J Med Sci
2021; 18(11):2347-2354. doi:10.7150/ijms.57990. Available from
https://www.medsci.org/v18p2347.htm
Abstract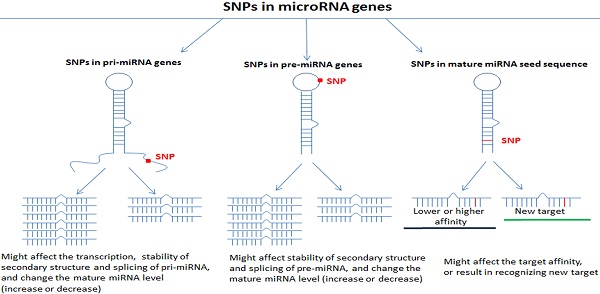 Cervical cancer is one of the fourth most common gynecological malignancies and has been identified as the fourth leading cause of cancer death in women worldwide. MicroRNAs (miRNAs) are single-stranded sequences of noncoding RNAs that are approximately 22-24 nucleotides in length. They modulate posttranscriptional mRNA expression and play critical roles in cervical cancer. Single nucleotide polymorphisms (SNPs) in miRNA genes may alter miRNA expression and maturation and have been associated with various cancers. This review mainly focuses on the roles of SNPs in miRNA genes in the development of cervical cancer and summarizes the research progress of miRNA SNPs in cervical cancer and their molecular regulation mechanisms.
Keywords: cervical cancer, miRNAs, single nucleotide polymorphisms, regulation