Int J Med Sci 2021; 18(11):2321-2326. doi:10.7150/ijms.54675 This issue
Research Paper
Completed absorption of coronavirus disease 2019 (COVID-19) pneumonia lesions: a preliminary study
1. Department of Radiology, The First Affiliated Hospital of Chongqing Medical University, Chongqing, 400016, China.
2. Department of Radiology, Chongqing Public Health Medical Center, Chongqing, 400036, China.
*Co-first authors with equal contributions to this work.

This is an open access article distributed under the terms of the Creative Commons Attribution License (https://creativecommons.org/licenses/by/4.0/). See http://ivyspring.com/terms for full terms and conditions.
Citation:
Liu Xy, Lv Fj, Lv Sx, Fu Bj, MD WjL, Ouyang Y, Chu Zg. Completed absorption of coronavirus disease 2019 (COVID-19) pneumonia lesions: a preliminary study.
Int J Med Sci
2021; 18(11):2321-2326. doi:10.7150/ijms.54675. Available from
https://www.medsci.org/v18p2321.htm
Abstract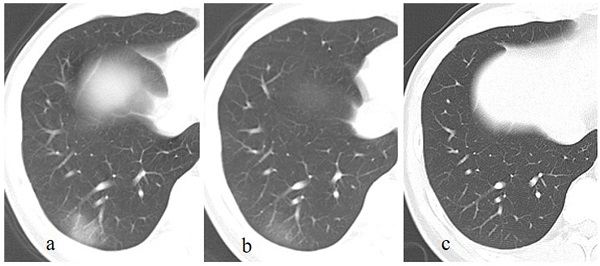 Background: Complete absorption of coronavirus disease 2019 (COVID-19) pneumonia in a short term was not detailedly reported. We aimed to investigate the clinical and imaging characteristics of COVID-19 patients with complete absorption of pulmonary lesions.
Methods: Retrospectively collected the clinical and chest CT data of 224 patients with COVID-19 in one regional medical center. Currently, pulmonary lesions in 37 patients were completely absorbed. The clinical manifestations, laboratory examinations, and CT findings of lesions for these patients were summarized.
Results: Among the 37 patients (age, 39.0 ± 12.4 [14-63] years, 20 males), disease in 36 (97.3%) was mild and in 1 (2.7%) was from severe to mild. The most common symptoms were cough (24/37, 64.9%) and fever (23/37, 62.2%). Their laboratory indicators at admission were usually normal, while the white blood cell and neutrophil count significantly increased at discharge (p = 0.004, p = 0.006). On initial CT images, all patients had various pulmonary lesions (mean involved lobes: 2.8 ± 1.5, range: 1-5; mean involved segments: 6.6 ± 4.3, range: 1-16), which mainly manifested as multiple patchy and or spherical ground glass opacities (GGOs) (30/37, 81.1%) with fibrous strips (19/30, 63.3%) or consolidation (11/30, 36.7%). After treatment, lesions in most (33/37, 89.2%) patients were continuously absorbed. At discharge, previous lesions were mostly absorbed in 11 patients (11/37, 29.7%), the main residues were GGOs (24/37, 64.9%), followed by fibrous strips (13/37, 35.1%). On the latest CT, all the pulmonary lesions were completely absorbed, the duration of lesions was 31.6 ± 11.4 days (range: 5-50 days).
Conclusion: The pulmonary lesions in some mild COVID-19 patients (generally with normal laboratory indicators at admission, GGOs as the main manifestation on initial CT, and representation of continuous absorption after treatment) could be completely absorbed with a mean duration of 31.6 days.
Keywords: Coronavirus Disease 2019, chest CT imaging, acute respiratory disease