Int J Med Sci 2021; 18(11):2303-2311. doi:10.7150/ijms.50748 This issue
Research Paper
H. pylori is related to NAFLD but only in female: A Cross-sectional Study
Beijing Shijitan Hospital, Capital Medical University, Beijing, China.

This is an open access article distributed under the terms of the Creative Commons Attribution License (https://creativecommons.org/licenses/by/4.0/). See http://ivyspring.com/terms for full terms and conditions.
Citation:
Wang J, Dong F, Su H, Zhu L, Shao S, Wu J, Liu H. H. pylori is related to NAFLD but only in female: A Cross-sectional Study.
Int J Med Sci
2021; 18(11):2303-2311. doi:10.7150/ijms.50748. Available from
https://www.medsci.org/v18p2303.htm
Abstract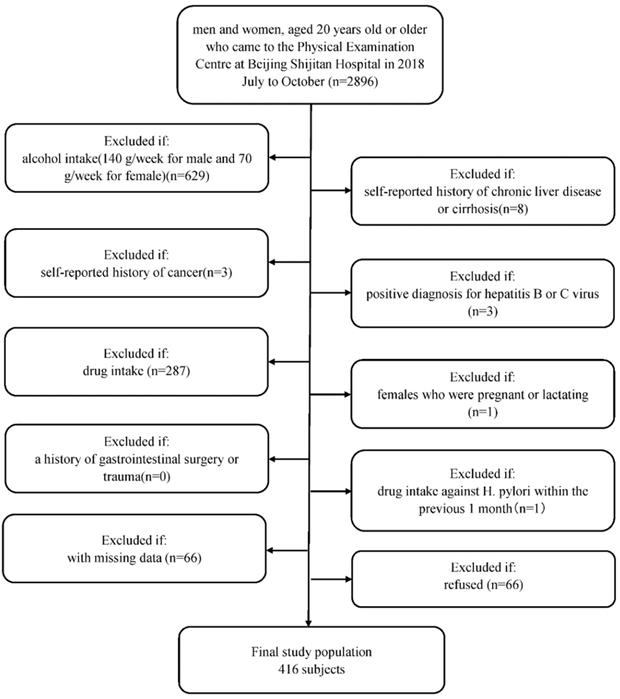 Background: Recently, an increasing number of studies have focused on the extragastrointestinal effects of Helicobacter pylori (H. pylori), including metabolic syndrome, fatty liver, and rheumatic and skin diseases. Nonalcoholic fatty liver disease (NAFLD) is a common chronic disease worldwide that conveys a heavy economic burden on patients and society. The aim of this study was to investigate the relationship between H. pylori and NAFLD and to identify potential influencing factors.
Methods: We conducted a cross-sectional study of individuals who had undergone regular physical examinations at the Beijing Shijitan Hospital Health Examination Center from July to October 2018. We evaluated the associations between NAFLD and NAFLD with H. pylori infection and related serum markers using multiple linear regression and logistic regression.
Results: There were significant relationships between H. pylori infection status and NAFLD in females (P=0.034) but not in males (P=0.795) according to Fisher's exact test. The association persisted after further adjustment for metabolic variables, gastrin factors, and liver enzymes. Waist-to-Hip Ratio, Body Mass Index, triglycerides, High-density lipoprotein cholesterol, glucose, uric acid, alkaline phosphatase, and Alanine aminotransferase are related to NAFLD after adjusting for age or interaction between biochemical indexes.
Conclusion: H. pylori infection is related to NAFLD in female patients. The relationship between H. pylori and NAFLD may be mediated by markers of lipid metabolism and glycometabolism.
Keywords: Female, H. pylori infection, Nonalcoholic fatty liver disease