Int J Med Sci 2021; 18(9):2086-2092. doi:10.7150/ijms.54644 This issue
Research Paper
Protective Effects of Ocimum gratissimumAqueous Extracts on HaCaT Cells Against UVC-Induced Inhibition of Cell Viability and Migration
1. Tsaotun Psychiatric Center, Ministry of Health and Welfare, Nantou, Taiwan.
2. Graduate Institute of Biomedical Sciences, China Medical University, Taichung, Taiwan.
3. Center for Molecular Medicine, China Medical University Hospital, Taichung, Taiwan.
4. School of Applied Chemistry, Chung-Shan Medical University, Taichung, Taiwan
5. Institute of Nutrition, College of Biopharmaceutical and Food Sciences, China Medical University, Taichung, Taiwan.
6. Department of Bachelor's Degree Program for Indigenous Peoples in Senior Health and Care Management, National Taitung University, Taitung, Taiwan.
7. Master Program in Biomedical Science, National Taitung University, Taitung, Taiwan.
* These authors have equal contribution.

This is an open access article distributed under the terms of the Creative Commons Attribution License (https://creativecommons.org/licenses/by/4.0/). See http://ivyspring.com/terms for full terms and conditions.
Citation:
Chang SH, Liu JY, Hsiao MW, Yang H, Wang GW, Ye JC. Protective Effects of
Ocimum gratissimum
Aqueous Extracts on HaCaT Cells Against UVC-Induced Inhibition of Cell Viability and Migration.
Int J Med Sci
2021; 18(9):2086-2092. doi:10.7150/ijms.54644. Available from
https://www.medsci.org/v18p2086.htm
Abstract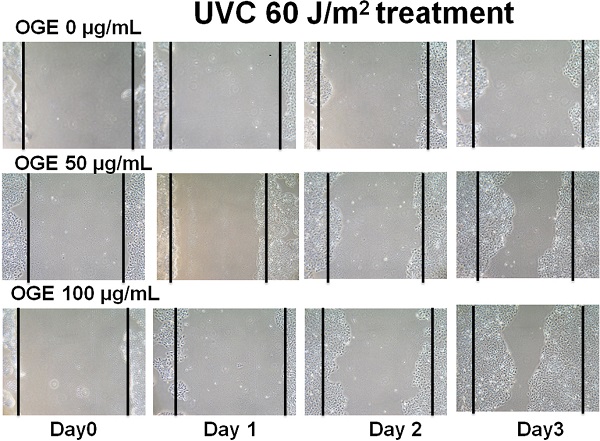 Ultraviolet C (UVC) has been applied to treatment of infections in wounds for at least the last two decades, however, cells being treated can be damaged if exposure is prolonged, which calls for protective measures, such as drug or herbal pre-treatment, to minimize damage. Ocimum gratissimum contains plant polyphenols such as isoflavones and caffeic acid, which have antioxidant effects. We hypothesize that Ocimum gratissimum aqueous extracts (OGE) can inhibit UVC-induced oxidative damage on skin cells. In this study, HaCaT skin cells are used to test the protective effects of OGE on cell proliferation and migration after exposure to UVC radiation. Pretreatment with OGE (50~150μg/mL) before 40 J/m2 UVC exposure was able to restore survival from 32.25% to between 46.77% and 68.00%, and 80 J/m2 UVC exposure from 11.49% to between 19.07% and 43.04%. Morphological observation of primarily apoptotic cell death confirms the above findings. The flow cytometry analysis revealed that UVC increased the number of cells at the sub-G1 phase in a dose dependent manner, and when pre-treated with OGE the changes were partially reversed. Moreover, the wound healing test for observing migration showed that UVC 40-80 J/m2 decreased cell migration to 47-28% activity and 100 μg/mL OGE was able to restore cell activity to81-69% at day 3. Based on the above results, we suggest that OGE has a protective effect on UVC-induced inhibition of cell proliferation and migration of skin cells and thus has potential application in wound care.
Keywords: Ultraviolet C, Skin cells, proliferation, migration, Ocimum gratissimum.