Int J Med Sci 2021; 18(9):2051-2062. doi:10.7150/ijms.51497 This issue
Research Paper
A novel prognostic factor TIPE2 inhibits cell proliferation and promotes apoptosis in pancreatic ductal adenocarcinoma (PDAC)
1. Department of Gastrointestinal Surgery, The Affiliated Hospital of Qingdao University, Qingdao, Shandong, People's Republic of China.
2. Department of Hepatology, The First People's Hospital of Luoyang City, Luoyang, Henan, People's Republic of China.
3. Department of Anorectal Surgery, Weifang People's Hospital, Weifang, Shandong, People's Republic of China.

This is an open access article distributed under the terms of the Creative Commons Attribution License (https://creativecommons.org/licenses/by/4.0/). See http://ivyspring.com/terms for full terms and conditions.
Citation:
Sun Y, Cao S, Li Z, Liu X, Xu J, Tian Y, Shen S, Zhou Y. A novel prognostic factor TIPE2 inhibits cell proliferation and promotes apoptosis in pancreatic ductal adenocarcinoma (PDAC).
Int J Med Sci
2021; 18(9):2051-2062. doi:10.7150/ijms.51497. Available from
https://www.medsci.org/v18p2051.htm
Abstract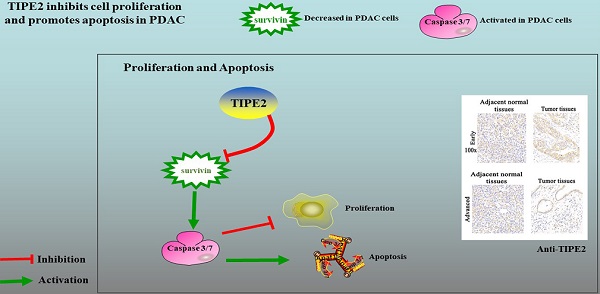 Background: Tumor necrosis factor (TNF)-alpha-induced protein 8-like 2 (TIPE2 or TNFAIP8L2) is a newly discovered negative immune regulator. Studies have shown that TIPE2 causes significant malignant biological effects and is differentially expressed in various malignant tumors. However, the expression and roles of TIPE2 in pancreatic ductal adenocarcinoma (PDAC) are largely unknown.
Materials and Methods: The expression of TIPE2 in PDAC tissues was assessed by immunohistochemistry, qPCR and western blot analysis and related clinicopathological parameters including survival time were analyzed. After overexpression of TIPE2, cell proliferation and apoptosis analysis were conducted, and the associated underlying molecular mechanism was also explored.
Results: In the present study, TIPE2 was upregulated in early PDAC tissues, and TIPE2 expression decreased as the tumor progressed (P<0.001). TIPE2 expression was negatively associated with tumor size, TNM stage and metastasis of lymph nodes. Furthermore, as an independent risk factor, TIPE2 could be used to predict the survival of patients with PDAC (P=0.035). TIPE2 overexpression significantly suppressed the viability, proliferation and induced apoptosis of PDAC cells by inhibiting survivin and increasing the activity of caspase3/7.
Conclusions: For the first time, this study demonstrated that TIPE2 is an independent prognostic factor in PDAC. TIPE2 inhibited the proliferation and induced apoptosis via regulating survivin/caspase3/7 signaling pathway. These results indicated that TIPE2 is a potential biomarker for predicting the prognosis of PDAC patients and plays a pivotal role in the progression of PDAC.
Keywords: TIPE2, PDAC, prognosis, proliferation, survivin