Int J Med Sci 2021; 18(9):1999-2007. doi:10.7150/ijms.46474 This issue
Research Paper
miR-143 is implicated in growth plate injury by targeting IHH in precartilaginous stem cells
1. Department of Orthopaedics, Children's Hospital of Soochow University, Suzhou, 215000, China.
2. Department of Radiology, Children's Hospital of Soochow University, Suzhou, 215000, China.
#Co-first authors with equal contributions to this work.

This is an open access article distributed under the terms of the Creative Commons Attribution License (https://creativecommons.org/licenses/by/4.0/). See http://ivyspring.com/terms for full terms and conditions.
Citation:
Zhang FY, Zhen YF, Guo ZX, Dai J, Zhu LQ, Liang PR, Su GH, Zhang WY, Fang JF, Yuan QW, Yao F, Liu Y, Qiao Y, Zhang Y, Guo WL, Liu Y, Wang XD. miR-143 is implicated in growth plate injury by targeting IHH in precartilaginous stem cells.
Int J Med Sci
2021; 18(9):1999-2007. doi:10.7150/ijms.46474. Available from
https://www.medsci.org/v18p1999.htm
Abstract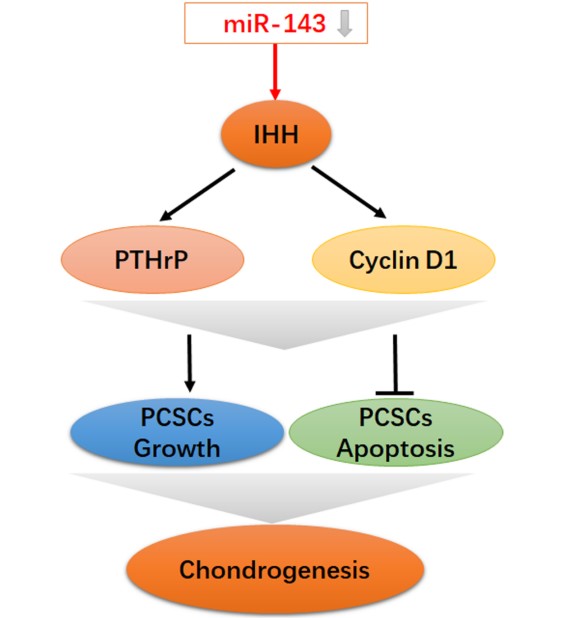 Precartilaginous stem cells (PCSCs) are able to initiate chondrocyte and bone development. The present study aimed to investigate the role of miR-143 and the underlying mechanisms involved in PCSC proliferation. In a rat growth plate injury model, tissue from the injury site was collected and the expression of miR-143 and its potential targets was determined. PCSCs were isolated from the rabbits' distal epiphyseal growth plate. Cell viability, DNA synthesis, and apoptosis were determined with MTT, BrdU, and flow cytometric analysis, respectively. Real time PCR and western blot were performed to detect the mRNA and protein expression of the indicated genes. Indian hedgehog (IHH) was identified as a target gene for miR-143 with luciferase reporter assay. Decreased expression of miR-143 and increased expression of IHH gene were observed in the growth plate after injury. miR-143 mimics decreased cell viability and DNA synthesis and promoted apoptosis of PCSCs. Conversely, siRNA-mediated inhibition of miR-143 led to increased growth and suppressed apoptosis of PCSCs. Transfection of miR-143 decreased luciferase activity of wild-type IHH but had no effect when the 3'-UTR of IHH was mutated. Furthermore, the effect of miR-143 overexpression was neutralized by overexpression of IHH. Our study showed that miR-143 is involved in growth plate behavior and regulates PCSC growth by targeting IHH, suggesting that miR-143 may serve as a novel target for PCSC-related diseases.
Keywords: miR-143, precartilaginous stem cells, IHH