Int J Med Sci 2021; 18(9):1980-1989. doi:10.7150/ijms.52109 This issue
Research Paper
Overexpression of Teashirt Homolog 2 suppresses cell proliferation and predicts the favorable survival of Lung Adenocarcinoma
1. Department of Thoracic Surgery, The First Affiliated Hospital of Dalian Medical University, Dalian, China.
2. Department of Thoracic Surgery, Kanazawa Medical University, Ishikawa, Japan.
3. Department of Pathology and Laboratory Medicine, Kanazawa Medical University, Ishikawa, Japan.
4. Department of Dermatology, Kanazawa Medical University, Ishikawa, Japan.

This is an open access article distributed under the terms of the Creative Commons Attribution License (https://creativecommons.org/licenses/by/4.0/). See http://ivyspring.com/terms for full terms and conditions.
Citation:
Zhao S, Guo X, Mizutani Ki, Yamaguchi R, Yamada S, Gu C, Uramoto H. Overexpression of Teashirt Homolog 2 suppresses cell proliferation and predicts the favorable survival of Lung Adenocarcinoma.
Int J Med Sci
2021; 18(9):1980-1989. doi:10.7150/ijms.52109. Available from
https://www.medsci.org/v18p1980.htm
Abstract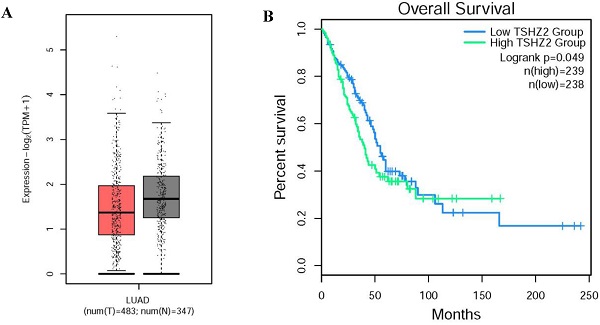 Background: Teashirt homolog 2 (TSHZ2) is essential for maintaining cellular homeostasis and regulating transcription on neoplasia development. However, the regulation of TSHZ2 in lung tumorigenesis and the underlying mechanisms remain unclear.
Objective: To evaluate the relationship between TSHZ2 expression in patients' tumor tissue and prognosis in lung adenocarcinoma.
Methods: TSHZ2 expression in different lung adenocarcinoma cell lines and human tissue were detected by Western blotting. The effect of TSHZ2 on cell proliferation, apoptosis and migration in lung adenocarcinoma cells was measured by CCK8, colony formation, flowcytometric analyses and wound-healing, respectively. TSHZ2 expression in different lung adenocarcinoma cell lines and human tissue from patients was detected using Western blotting and immunohistochemical staining. We also retrospectively analyzed 226 lung adenocarcinoma patients after surgical resection using immunohistochemical staining, and the association of TSHZ2 expression with the patient survival was evaluated.
Results: TSHZ2 was lowly expressed in certain lung adenocarcinoma cell lines (PC9 and B203L), but other cells showed a high expression. Low expression of TSHZ2 was also observed in most lung adenocarcinoma tissues compared with adjacent tissues. Furthermore, we found that the overexpression of TSHZ2 plasmids led to the dramatic inhibition of cell proliferation, colony formation ability, migration and apoptosis induction in PC9 lung adenocarcinoma cells. In contrast, no obvious effect was found when the TSHZ2 expression was down-regulated by si-TSHZ2. An elevated TSHZ2 expression was observed in 155(68.6%) tumor tissues samples of lung adenocarcinoma patients. Notably, the lung adenocarcinoma patients with a high TSHZ2 expression tended to have EGFR mutations less frequently and a preferable prognosis to those with a lower expression.
Conclusion: A high TSHZ2 expression inhabited cell proliferation and predicted a better prognosis of lung adenocarcinoma, possibly representing a useful therapeutic target for lung adenocarcinoma.
Keywords: Teashirt homolog 2, proliferation, prognosis, lung adenocarcinoma